Tour Details
Tour Description
Dante Alighieri was born in Florence in 1265 A.D. He is widely accepted as the first author who wrote in the everyday vernacular that soon evolved into modern Italian, as well as credited with the creation of Italy's most enduring literary work, The Divine Comedy. Comprised of three separate volumes, the poem details a journey in the afterlife through L'inferno (Hell), Purgatorio (Purgatory), and Paradiso (Paradise), and is as much a historical chronicle as it is a literary achievement. Written entirely after Dante's 1301 exile from the city, The Divine Comedy is a window into nearly every aspect of medieval history, theology, politics, art, and culture; in particular, as it relates to Florence. During the course of this three-hour Dante Tour in Florence, led by a scholar of Italian literature, we will follow Dante's path through the city, exploring the places and characters that inspired his masterpiece—and, by extension explore both the life of Dante Alighieri as a historical figure and The Divine Comedy as a work of fiction where Florence as a city plays a central role.


Dante Tour Florence
We usually begin at the Baptistery, where Dante himself was baptized and where he later took inspiration for writing his L'inferno, drawing from the building's Biblical mosaics depicting the Last Judgment. We will move from here to Dante's neighborhood, deep in the heart of medieval Florence, where we will find Dante's home and his local church. It was here that he first encountered Beatrice, his beloved muse and spiritual guide for whom he wrote The Divine Comedy.
Then and Now
Along the way, we will see where Dante's enemies lived and explore the innumerable tucked away locations important to Dante's story: corners, side streets, and piazzas where many of his characters came to life. We will also visit Palazzo della Lana, important during Dante's time, as the location of the Wool Guild, but which today serves as The Dante Society meeting place, as well as the Dante Library where scholars from around the world come to continue to study his over 700-year-old poem.


Where You'll Start
Tour Experts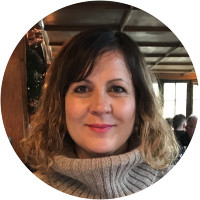 Susanna was born in Arezzo (Tuscany) where she currently resides. She is a PhD Art Historian (University of Florence) and is a researcher of the Medici family collections and Renaissance art of Florence. She is a member of the prestigious Accademia delle Arti del Disegno, worlds' oldest Art Institution, established in 1563 by Duke Cosimo I de' Medici and Giorgio Vasari. The author of several books and other publications about her subject area, including works on the Uffizi Gallery and Florentine art that have been translated into many languages, Susanna is also a teacher and educator. Susanna has collaborated with the Piero della Francesca Project and Susanna is also a certified Sommelier. Her passion for Tuscany, art and Italian wine inform her tours and lectures. She is a licensed tour guide in Florence and Arezzo.
Reviews can only be left by Context customers after they have completed a tour. For more information about our reviews, please see our FAQ.
Martino was fantastic. He is extremely knowledgeable. The tour was very good and we some many interesting things that we would have otherwise missed. I think the tour would have even been better if we had a deeper knowledge of Dante prior to the tour. I suspect Martino would have been able to get much deeper into Dante's time in Florence.
Jul. 1, 2018
Our tour guide, Molly, was so great to work with. She was professional but also personable. She began by taking time to get to know us and understand our already existing knowledge of Dante. She then tailored her tour information to fit our needs/already existing knowledge. WOW! All throughout the tour, she offered insight that was both keen and articulate. She also never had a problem with us asking questions along the way. At the end of the tour, she treated us to coffee and read Dante to us in Italian!! Getting to dive in and discuss the actual text of Dante was the icing on the cake! What a fun and unexpected treat!! Even once the tour was official over, Molly offered us some helpful tips for exploring the rest of the city and ways to further our exploration of Dante while there. All around, Molly was top notch. We would very very much appreciate it if you could let her know how thoroughly we enjoyed her and the tour she provided us with. We were so looking forward to this tour and it was an absolute highlight!
Apr. 25, 2016
An absolutely excellent tour ( in poor weather conditions! ) All three of us are buying books about Dante ! Brilliant docent.
Jan. 14, 2016