Tour Details
Tour Description
Dante Alighieri was born in Florence in 1265 A.D. He is widely accepted as the first author to write in the everyday vernacular that soon evolved into modern Italian, as well as credited with the creation of Italy's most enduring literary work, The Divine Comedy. Comprised of three separate canticles, the poem details a journey in the afterlife through L'inferno (Hell), Purgatorio (Purgatory), and Paradiso (Paradise), and is as much a historical chronicle as it is a literary achievement. Written entirely after Dante's 1302 exile from the city, The Divine Comedy is a window into nearly every aspect of medieval history, theology, politics, art, and culture; in particular, as it relates to Florence. During this three hour Dante tour in Florence, led by a scholar, we will follow Dante's path through the city, exploring the places and characters that inspired his masterpiece—and, by extension explore both the life of Dante Alighieri as a historical figure and The Divine Comedy as a work of fiction where Florence as a city plays a central role.


Dante Tour Florence
We begin with a discussion of the Baptistery where Dante himself was baptized and where he later drew inspiration for L'inferno, drawing from the building's biblical mosaics depicting the Last Judgment. We will move from here to Dante's neighborhood, deep in the heart of medieval Florence, where we will find the exterior of Dante's home as well as his local church. It was at the church that he first encountered Beatrice, his beloved muse and spiritual guide for whom he wrote The Divine Comedy.

Please Note: As of recently the dome of the Baptistery is under restoration so the mosaics can't fully be seen. The rest of the structure is visitable, though there is a large scaffolding in the centre of the baptistery. Unfortunately, this restoration is said to take several years.
Then and Now
Along the way, we will see where Dante's enemies lived and explore the innumerable tucked away locations important to Dante's story: corners, side streets, and piazzas where many of his characters came to life. We will also visit Palazzo dell'Arte della Lana, important during Dante's time, as the location of the Wool Guild, but which today serves as The Dante Society meeting place, as well as the Dante Library where scholars from around the world come to continue to study his legendary poem.


Where You'll Start
Tour Experts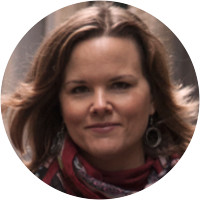 Molly holds an MA in Italian literature from the University of Wisconsin-Madison where she completed her PhD coursework and exams with a specialization in Renaissance and Early Modern periods. She spent a year in Venice as an undergraduate while at the University of California-Santa Cruz and afterwards worked in Siena for two years for the University of California Education Abroad Program. She later went to graduate school and, after finishing her studies in Madison, found herself back in Venice once again for another year, this time conducting archival research for her doctoral dissertation. She has remained in Italy ever since, has taught courses in Renaissance history in Florence, and is a licensed tour guide of Florence and its province.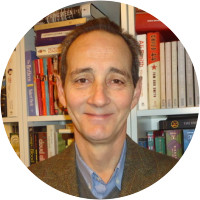 After a well-traveled childhood, Martino completed a Ph.D in philosophy at Cornell University. He then taught philosophy for a few years in the States before returning to Italy. Here, he teaches college courses in ethics, Italian culture, and history at various study-abroad programs. He has lectured at the British Institute in Florence on contemporary moral topics. Teaching rekindled his interest in Dante and "The Divine Comedy," as well as the controversy between Galileo's astronomy and the Church. Martino lives in the countryside with his wife and their too many dogs.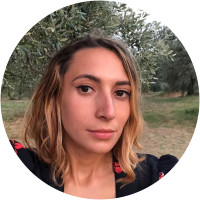 Sally holds an MA in art history from Syracuse University with a focus on Italian Renaissance art and is a current PhD student in Italian Studies at University of California Berkeley. She moved to Florence in 2014 to finish her master's research and continued to live and work there full-time until starting her PhD in 2021, sharing her passion for her adoptive city's fascinating history with visitors and lecturing on Italian art and culture for university field studies programs. Now, she lives much of the year in Berkeley, CA, but often returns to Florence for research and for pleasure. Her interests include sixteenth-century Italian art and history and the intersections between Renaissance literature and visual culture and sixteenth and seventeenth-century art and architectural theory.
Reviews can only be left by Context customers after they have completed a tour. For more information about our reviews, please see our FAQ.
Susanna was such a wonderful guide to Dante in Florence and to the sources of the Divine Comedy. We loved her passion for the city and for Dante's role in creating modern Italian. We would love to have her as our guide again!
Oct. 20, 2022
Excellent tour. Martino brought the era of Dante alive.
Oct. 10, 2022
Kristin was great and just what I was looking for. The other tours seemed to focus on Dan Brown, and I wanted a true Dante scholar, a tour that wasn't distorted by 20th century pop fiction. She was knowledgable, funny, and very informative and challenged many ideas in the criticism and in my head. I learned so much that I feel I have to come back to Florence and spend more time in the areas she pointed out. I would recommend this tour to anyone who wants a serious study in the world of Dante. It was expensive but totally worth it. Money well spent for a bucket list opportunity.
Aug. 21, 2019