Tour Details
Tour Description
Florence is a feast for the senses, and no other art form engages all five of them like cooking. Our Florence cooking class, led by a local chef, offers visitors an unparalleled opportunity to delve into local food traditions, and to fully appreciate their historical, social, and cultural components. This half day experience covers all aspects involved in preparing an unforgettable meal, from selecting fresh products at the market, to a hands-on experience turning them into meaningful and mouthwatering dishes.
Florence Cooking Class
We'll begin our walk in Piazza Ghiberti, where the St. Ambrogio market takes place every morning in and around a structure dating back to 1873. In this authentic setting, we will wade through the local farmers' stalls, familiarizing ourselves with a variety of fresh produce such as seasonal organic fruits, vegetables, and eggs, some of which will be carefully selected to become our lunch ingredients. We will also linger over and discuss specialties (cured meats, bread, cheese) that make up the heart of the Florentine and Tuscan gastronomic tradition, such as savory pecorino cheese and lampredotto, a tripe-based peasant dish, usually served in a sandwich.
In the Kitchen
On the second part of the experience, we'll spend about four hours in a Florentine kitchen in a private home where we will learn about and savor the basics and the nuances of Tuscan cuisine. Under the expert eyes and directions of our guide, we'll combine all the ingredients to create scrumptious dishes, which can include fresh tagliatelle pasta made from scratch and topped with a rich sauce, peposo (a delicious peppery stew), and cantuccini (biscuits with almonds, served with wine to dip).
Take Aways
By the end of our time together, we'll be more familiar with the regional food culture and its importance in the social context of Florence, and we'll be carrying back exquisite memories from Florence, in the form of step-by-step simple recipes to recreate at home.


Please specify any food allergies or intolerances in the "additional details" section of the order. The menu can be adjusted according to your preferences. We are happy to work around dietary restrictions provided we are notified in advance.
FAQ
Can I bring a big group of people with me for this cooking experience?
No, the maximum number of cooks we can accommodate at once is 4. Please contact us to discuss other food and wine options in Florence for groups larger than 4 participants
Where You'll Start
Tour Experts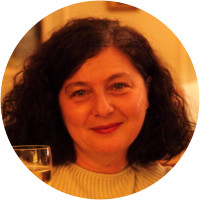 Florence native Patrizia has a degree in Italian Literature from the University of Florence. She is a wine and food journalist and has published works on Whisky, Champagne, Spumante, and Vinsanto. Patrizia has taught cooking classes since 2011 and published her first Italian Cookbook in 2016 "100 Recipes from Tuscany and Emilia Romagna".
Reviews can only be left by Context customers after they have completed a tour. For more information about our reviews, please see our FAQ.
Patrizia was fantastic. A delightful woman who is an experienced chef and a great teacher. My 15 year old daughter and I had so much fun. And she really tailored the whole experience to my daughter. She was terrific. The pasta making was quite an experience. So fun. I highly recommend Patrizia.
Mar. 21, 2023
Patrizia is simply wonderful. I cannot imagine having a better experience.
Feb. 21, 2023
We loved every part of this experience! Patrizia was a wonderful teacher and we enjoyed the visit to the market to purchase the ingredients for our meal.
Sep. 25, 2022