Tour Details
Tour Description
This two and a half hour long tour pairs families with
specially trained guides
for an interactive exploration of the Uffizi Gallery designed to bring this world famous collection of Renaissance art to life for budding art enthusiasts and introduce them to the great masters of Italy.
We'll begin our time together with a short introduction in Piazza della Signoria, discussing the Uffizi's structure and its relation to Palazzo Vecchio, Florence's town hall, as well as the importance of the Medici family. After spending some time outside, we will continue on to the museum, where we will spend roughly two hours exploring the collection. Looking for the grown up version of this tour? Try our
Uffizi Tour
.
The guide will begin an engrossing dialogue with children about the art, focusing on recurring subjects, themes and symbols, the historical background in which these works were created and biographical information about the artists, while creating an atmosphere of exploration and participation. By the end of the walk, the children will have a very clear idea of how and why art is created and will be able to better appreciate the artwork they will encounter throughout their trip. Looking for more family-friendly activities? Try our
Florence for Kids Tour
.
About You
In order to plan the best possible experience for your children, it would be helpful for us to know some background. Have they traveled to other countries in the past? If so, where? Have they studied any subjects in school that would relate to the walk? Are they interested in art, music, even food? The more you can tell us, the better.


FAQ
What is a private tour?
Our private tours are limited exclusively to travelers in your party. They are designed to provide a learning experience that is completely tailored to you and your traveling companions. Private tours give you more flexibility with scheduling (you decide when the walk best fits in your trip), the ability to tailor your itinerary (we'll work to match the itinerary to the interests and dynamics of your group), and more personalized time with your guide.
Will you pre-purchase tickets?
Yes, we pre-purchase timed tickets to the Uffizi. Your guide will have them on hand, and we will enter the museum together as a group. However, please keep in mind that we will still be required to wait in the security line. The Uffizi is extremely crowded, and at times, this line may take up to 20 minutes. Regardless, our guide will spend this time wisely by providing an overview of the history of the collection.


There are 10 in my group but your website won't allow me to include more than 9 participants. Can't you make an exception?
No, unfortunately, due to venue reservation restrictions, we cannot accommodate groups larger than 9 people. If your group is larger, we recommend you split into multiple groups.
Where You'll Start
Tour Experts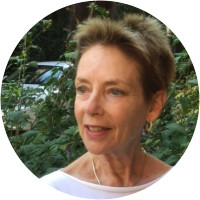 Cornelia has a PhD in art history from Columbia University and wrote her dissertation on Renaissance city planning. She is especially knowledgeable about Medici patronage. In addition to her research and teaching, Cornelia, a mother of a disabled child, runs an association dedicated to barrier-free travel in Florence and is author of "The Accessible Guide to Florence."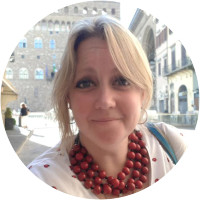 Originally from Virginia Beach, Virginia Elizabeth has lived in Italy for over 20 years , before Italy she lived in London and Boston, as well as studying abroad in Europe her juinor year at University. A licensed guide, Elizabeth received her MA in Florentine Renaissance art from Syracuse University in Florence. Her accademic interests include women's history and women artists, particularly by women in convents; museum studies and teaching art to children. In fact one goal of Elizabeth's work is to make art accessible to everyone! In addition to leading walks, she also lectures at various universities and institutions in Florence.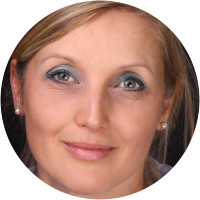 Valerie received her BA with distinction in Art History and Museology at the University of Florence, focusing on the Renaissance art market. Although German, Valerie was born and raised in Rome, making her eager to build bridges across different cultures. She also works for the educational department of the state museums in Florence, where her mission is to communicate art and culture as a means of understanding the visual signs that surround us.
Reviews can only be left by Context customers after they have completed a tour. For more information about our reviews, please see our FAQ.
Manolo did a great job telling us about the best masterpieces. We definitely learned so much. We would totally recommend this tour to our friends and family.
Apr. 13, 2023
Manoli was great and very accommodating with the kids!
Apr. 11, 2023
Manoli was amazing - kept our whole family engaged. He was a fantastic guide and I would highly recommend him.
Apr. 5, 2023