Tour Details
Tour Description
Far from being merely a playground for the wealthy, Como and the other towns that dot its namesake lake are scenic respites rich in history and culture. On this full-day Lake Como Excursion in the company of a local Como expert, we will head to Como by train, popping into some notable locations in the city before taking a local public boat to take in the verdant hills and quaint towns that dot the shoreline. We'll also stop by the towns of Bellagio and Varenna, taking an insider's look at the history and daily life of these idyllic getaways, before returning to Milan at the end of the day. This is a great tour for those who wish to sail the expanses of Lake Como like a local and take in a few of the region's most beautiful towns.
Train Intro
Meeting our guide at Milan's Cardona train station, we'll take the train out to Como together, using the time to get an overview on the area's history, as well as determine our itinerary for the day. Our conversation will likely span a number of topics, from the town's important role protecting trading routes for the Roman empire, to its distinct climate, association with the silk trade, and, more so today, grand villas. We'll talk through our plan and logistics while we get to know each other on the hour ride to Lake Como.
From Como to Bellagio
Upon arrival in Como, we'll spend some time strolling through Como's center, taking in its narrow streets and picturesque stairways. We'll pop into its cathedral, wander through some of its loveliest piazze, and get an overall sense of the city in the company of local expert. Next, we'll make our way to a nearby public boat, where we will begin our first ferry expedition of the day. Using the services of the local public boat, we will be able to experience life on the water of Lake Como as our guide discusses the various villas and other noteworthy architecture on the shore. We'll also spend our 45 minute ride gazing out at the stunning surroundings, getting a better understanding of the lush splendor around us. We'll disembark from our peaceful, astonishingly beautiful ride at Bellagio, a tiny village of under 4,000 on the edge of Lake Como that has inspired poets and musicians for centuries. We'll spend some time with our guide navigating the charming scenes of Bellagio, from the beautiful gardens of Villa Melzi to the picturesque cobbled lanes adorned with Italian restaurants, before stopping for a local lunch as our guide continues their narrative of Lake Como and its surroundings.
Villas and Varenna
After our relaxing (but brief) sojourn we'll board another, shorter ferry to Varenna—the final stop on our Lake Como excursion before we return to Milan. With a characteristic lake harbor and charming approach, this eleventh century fishing village is a must-see in Lake Como. It offers one of the best-preserved medieval centers of the entire lake region, with its porticos and historic churches, such as the Church of San Giovanni Battista (one of the oldest in the Lario area). We may visit one of Varenna's villas, such as Monastero or Cipressi, each with their striking views and perfectly manicured gardens. After we finish in Varenna, we will take the train back to Milan and reflect on our visit on our return journey.
Take Aways
At the end of our full day together, we'll leave each other with a better understanding of the charming and iconic body of water that has played such a critical role in the region's history and identity. Using the public boats, we will have navigated the water as Romans, poets, and celebrities have, and gained a deeper appreciation of Como, Bellagio, and Varenna.
FAQ
Where do we meet? Where does it end?
We meet and end at a train station in Milan. Your confirmation email will have the exact details.


How long is the train ride?
The train journey lasts about one hour each way.


Is the train included in the price?
No, you will need to purchase your tickets at the station. Your guide can help you.


Can we book a private car service instead?
Yes, please add this to your client notes or send us an email request.


Are the ferry and boat rides included in the price?
No, you will need to purchase these on site. Your guide can help you.


How many public boats will we take? How long will they take?
We will take two public boats. The first ride will last 45 minutes and the second ride will last around 10 minutes.


Can we stay in Como at the end of our tour together?
Yes, this is possible. Please let us know in your client notes.
Where You'll Start
Tour Experts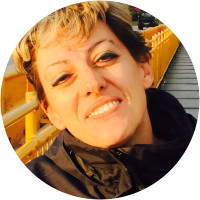 Laura was born in Turin, where she studied history of art, but moved to Milan in 2002. Since her graduation, she has accumulated a long experience as an art consultant and registrar in a few museums in Turin, as well as an expertise as a local Milan guide. She speaks both English and French and she loves to meet people from all over the world, loving mostly exchanges about art, but also about traditions, day by day life, cuisine and local recipes. She loves to be both an experienced and friendly local ambassador of Milan and Como area for her travellers.
Reviews can only be left by Context customers after they have completed a tour. For more information about our reviews, please see our FAQ.