Tour Details
Tour Description
As the business hub of Italy and a fashion capital, we might assume that Milan is all contemporary dynamism. But beneath this surface energy lays a old city with deep history that extends back through Renaissance, medieval, and Roman times. During this 3-hour Milan Walking Tour we'll join a local historian or expert for an in-depth look at Milan's history. We'll visit sites such as the renowned white marble Duomo, Galleria Vittorio Emanuele, and the Sforza Castle, while popping into medieval churches and admiring some Renaissance art. This is a great introductory tour, both for first-timers and repeat visitors looking to deepen their appreciation for the city.
Marvel at the Marble Duomo
We'll begin at one of our favorite cathedrals in the world, the Duomo di Milano. As we enter this magnificent Gothic structure, our guide will explain the building's origins as well as the 600 year timeframe to it took to complete. Together, we'll admire the 3000+ ornate statues on the facade and within. We'll spend some time inside the cathedral: we might discuss the stained glass windows in Christendom, the politics behind the creation of this gothic structure (with many other influences) and the redesign of Milan's canals in order to transport the tons of marble needed for its construction into the city. (Interested in canals? Try our
Navigli Aperitivo tour
).
Renaissance Churches and Galleria Vittorio Emanuele
As we leave the spectacular edifice behind us, we may pop to a lesser-known church moments away from the Duomo. Santa Maria presso San Satiro is set apart from bustling central district and would be easy to walk past unknowingly. Known for its unique architecture and work by Bramante, our guide will touch upon the Renaissance style of design and the influence of such architects on Milan. We'll then proceed onward through Piazza del Duomo to approach the grand arch of Galleria Vittorio Emanuele. Our guide will talk about the construction and the architectural methods in place, such as the combination of iron and glass. The glittering designer stores surrounding us will offer a good diving off point to talk about Milan's status as a fashion capital. We may pop into the original Prada Store, which opened in Milan in 1913 to touch on this theme further. (For a deeper dive into Italian fashion try our
Milan Fashion Tour
). We'll follow in the footsteps of centuries of locals as we stroll down the passageway from the Duomo to Piazza del Duomo to Piazza di Marino as we reach La Scala Theater. From the outside of the building, we'll talk about the famous Italian architect behind the masterpiece, Giuseppe Piermarini. We may discuss the origins of the opera in Milan and why this city in particular projected itself to fame in the 18th century. We'll talk about the key players associated with this Opera House such as Verdi and Puccini as well as the impact of WW2 bomb damage on this celebrated musical venue.
From Brera to the Castle
From here, our Milan Walking Tour may take a number of different directions depending on time and the proclivities of the group. We might head in the direction of Sant'Maurizio to admire an early Christian church, totally rebuilt during Renaissance times. Alternatively, we could walk in the direction of Piazza San Fedele to talk about the 16th century church and the statue of Alessandro Manzoni, an important Italian literary figure. We may continue wandering in the direction of the Brera district to Palazzo Belgioioso, another Milanese architectural treasure (designed by the same architect as La Scala). Inspired by Luigi Vanvitelli's Reggia di Caserta, the building was completed in 1781 as a stylish mansion for Alberico XII of Belgioioso. As we amble through the cobblestoned streets of Brera, our guide will talk about this particular neighborhood and the bohemian and leisurely style associated with it. Our last stop on our tour will certainly be the sturdy Sforza Castle, just by Parco Sempione. We'll talk about the Sforza dynasty and their rule in Milan, the design of the castle's defences by Leonardo da Vinci, and the various museums and works on display in the surroundings. As we walk through ancient courtyards and grandiose spaces, we'll harken back to the times of the Renaissance.
Take Aways
Over the course the walk, we will learn about the early beginnings of Milan and how the city has developed over the years. As we take in some of the most significant buildings, monuments and ancient artifacts, the richness of Milan's past will come to life.
FAQ
Where does it start and where does it end? We start near the Duomo (including going inside) and we will end at the castle. We do not visit the inside rooms of the castle, however you can explore these at your leisure after the tour finishes.


Does this include the Last Supper? This tour does not include the Last Supper.


Is this tour walking intensive, and/or wheelchair accessible? We do cover some ground on this tour, however we can adjust according to the mobility of your group. Please contact us with any mobility questions; we will be happy to advise if this tour will be appropriate for you or propose modifications where necessary.


Is this tour appropriate for children? This walk is not a part of our official family program. That said, we may be able to arrange a visit with a family-friendly expert. Please contact us.
Where You'll Start
Tour Experts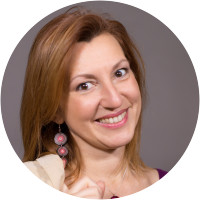 Originally from Bulgaria, Katerina has been living in Italy for 25 years now, 20 of which in Milan. Her degrees are MSc in Economics at the University of Economics of Varna (Bulgaria) followed by a BA in Linguistic and Cultural Mediation at UNIMI (University of Milan) several years later. After a short experience in finance, she changed work field following her true passion for languages, culture and communication and worked for about 10 years as an interpreter and translator. In the meanwhile she cultivated her multitude of interests in travelling, art, history, tradition, italian food and wine, which led her to new studies and eventually to a new profession. Now she is specialized in art and history tours in Milan with particular focus on Leonardo da Vinci and Italian Renaissance art. She offers also guided wine tastings, food tours -- not only in Milan, but also combined with truffle hunting in Piedmont -- and tours from Milan to the greater Italian lakes, including guided cruises mainly along the beautiful Lake Como,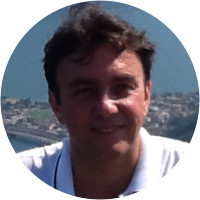 After obtaining a University Degree in Foreign Languages and Literatures in 1995, Mirko started leading tours in the Lombardy area. He enjoys guiding groups within the Milan city center and further afield, such as the Como region. Most recently, he enjoys taking guests to the new district of Porta Nuova and showing Milan's sustainable side and contemporary architects displaying their designs there. He speaks fluent English, Spanish and Portuguese.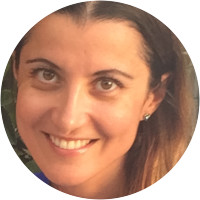 Giulia was born and raised in Milan, where she graduated in art history and post graduated in higher education at the Università Cattolica. She has experience in teaching, in cultural and leisure events and tourism and is a passionate traveler herself. She loves to meet people from all over the world and to make them experience the real atmosphere of her city in every aspect of it: from the old centre to the Porta Ticinese and Navigli district, to the charming narrow streets and shops of the glamorous Brera district, to the vibrant atmosphere of the new buildings in Porta Nuova and finally the traditional dishes to contemporary food creations. Her main goal is always the same: to make her clients feel Milanese for a day.
Reviews can only be left by Context customers after they have completed a tour. For more information about our reviews, please see our FAQ.
This was a great introduction to Milan for visitors here for the first time. And, Veronica was extremely knowledgeable and personable. She was also able to make suggestions about things that might do on our own on subsequent days and to forewarn us that many attractions are closed on Mondays.
May. 18, 2019
Our tour happen on the day of the Milan marathon and there were challenged navigating the central area. Our guide should have been more aware and planned accordingly. We only saw the cathedral and the castle. She was very knowledgeable about the cathedral.
Apr. 17, 2019
Giulia was delightful and made our first visit to Milan all the better. She was deliberate in the timing of the tour but never rushed. Her presentation was professional and personal - well done.
Mar. 25, 2019