Tour Details
Venues

Duomo - Cathedral of Milan
Sforza Castle
La Scala Theater
Poldi Pezzoli Museum
Tour Description
Join Laura, art historian, in Milan to explore the classic to the contemporary sides of the financial capital of Italy.  
Laura has been leading walking tours with Context since 2018, and is thrilled to welcome travelers back to Milan. She has thoughtfully designed a full day itinerary packed with iconic must-sees and deep-dives into the local favorites. She speaks both English and French, and is passionate about sharing her love of Milan's art, architecture, and culture with travelers from all over the world. Laura has worked for several museums and art galleries across the city and has tailored this experience to provide curious travelers with a unique view of the city's remarkable past and bright future. 
Our journey will begin with a visit to the iconic historical sites in the heart of the city, from the soaring Duomo, to La Scala Theatre, to the elegant Galleria Vittorio Emanuele II and the mighty Sforza Castle.  As we stroll through Brera, the bohemian district with its charming shops, cafes, and galleries, we'll pause for lunch and then move on to the contemporary heart of Milan. Starting with Porta Garibaldi we'll move into the renowned Piazza Gae Aulenti and the iconic Bosco Verticale, Vertical Forest building to end our day with the contemporary. 
Inspired Itinerary
We will meet Laura at the entrance to Milan's Duomo and begin our exploration of the largest church in Italy. This magnificent gothic cathedral took nearly six hundred years to complete; construction began in 1386 and was not completed until 1965. Laura will lead us through the breathtaking interior spaces, pausing to explain the key artworks and monuments contained within. From there we will venture to Teatro alla Scala, which houses one of the world's largest collections of opera memorabilia–belonging to composers, dancers, and artists throughout the years. Rehearsal schedules permitting, we also will step inside the famous music hall itself to experience the grandeur of this remarkable venue. 
A trip to the fashion capital of the world would be incomplete without a little window shopping, so we will stroll through the city's most historic shopping mall–Galleria Vittorio Emanuele II–as we make our way to Sforza Castle.  Once there, we'll learn about the Sforza dynasty, their rule in Milan, and the design of the castle's defenses by Leonardo da Vinci. As we walk through the castle's ancient courtyards and grand halls, it will feel as though we've stepped back in time to the Renaissance period. Schedules permitting, we will stop in to admire The Rondanini Pieta' one of Michelangelo's finest works.
Just a few blocks away from the castle, Laura will lead us through the cobblestoned streets of the Brera neighborhood, as we make our way towards the modern side of Milan. Along with its artsy and bohemian architectural style, the Brera neighborhood is full of high-quality leather shops and delightful cafes. Following a pause for lunch, we'll venture with Laura into the Poldi Pezzoli Museum–containing an extensive collection of Italian art and paintings by the Flemish masters. These masterpieces hang in what was once a private residence, providing us a glimpse into the daily lives of Italian aristocrats and art collectors as we admire the works of artists such as Botticelli, Piero della Francesca, Pollaiuolo, Tiepolo, Canaletto, and more. 
To round out our day together, we'll move north into the Porta Garibaldi, a vibrant neighborhood filled with upscale fashion boutiques, charming sidewalk cafes, and pedestrian boulevards like Corso Como. And from there we will make our way to Piazza Gae Aulenti, named for one of the city's preeminent contemporary architects, admiring its many unique sculptural features, fountains, light displays, and shops. By the end of our tour, we will appreciate how classic, historic Milan relates to forward-looking, futuristic Milan, and our final stop will be the Bosco Verticale, a famous example of "green architecture" and urban forestry.  From here, there are several fabulous restaurants in the vicinity where travelers can enjoy a delicious aperitif before dinner on their own or Laura can direct you back towards the historic city center.
FAQ 
What is included in the itinerary?
Milan Private Guide itineraries include the cost of your time with your private guide and usually include museum or monument entrance tickets.  Lunch and refreshments are at your expense. Accommodation is not included.  
What if I want a different itinerary with this expert?
The published itinerary represents Laura's favorite way to visit Milan. Feel free to check out our other Milan offerings if you are looking for something different.
Is this suitable for children and/or travelers with mobility challenges? 
Yes. We can adapt the itinerary based on the ages, needs, and interests of travelers in your party. Please share any mobility concerns with us at the time of booking.

Where do we meet? Where does it end?
Laura's full-day itinerary in Milan will meet at the Milan Duomo and end near Bosco Verticale.

What if it's raining?
Tours operate rain or shine, but in the case of inclement weather, your expert will modify the tour so more time is spent indoors. It never hurts to be prepared; we encourage keeping an eye on the weather and bringing along an umbrella, sunscreen, water, or a hat as needed.

Do you reserve headsets for this tour? 
Depending on your group size, we may be required by the venue to order headsets in which case you'll see a "Headset Fee" added to your order. If you would like to guarantee headsets for your tour regardless of your group size, please email us and we'll be happy to get them reserved for you.
Meet Your Expert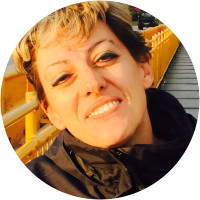 Laura was born in Turin, where she studied history of art, but moved to Milan in 2002. Since her graduation, she has accumulated a long experience as an art consultant and registrar in a few museums in Turin, as well as an expertise as a local Milan guide. She speaks both English and French and she loves to meet people from all over the world, loving mostly exchanges about art, but also about traditions, day by day life, cuisine and local recipes. She loves to be both an experienced and friendly local ambassador of Milan and Como area for her travellers.
Where You'll Start