Tour Details
Tour Description
Please note: Tickets for the Last Supper painting are among the most difficult to procure in all of Italy. We often cannot confirm Last Supper viewings until one week prior to your tour date, and we will let you know if we are unable to secure them.

Milan is perhaps most celebrated for housing Leonardo da Vinci's 'Last Supper'. On this three hour Last Supper painting tour, in the company of a local art historian or expert, we will delve deep into the subject of Leonardo, his life and works, the city that made him and, of course, the iconic masterpiece. This tour focuses almost entirely on da Vinci and his relationship to the city, with a visit to the Last Supper and Santa Maria delle Grazie as well as the Pinacoteca Ambrosiana Museum. We'll also spend time admiring the exterior of the Duomo as we talk about Leonardo's role in the construction of this formidable structure. This tour is ideal for anyone with a keen eye for art looking for a deeper understanding of one of Italy's greatest geniuses, Leonardo da Vinci.
Small group Last Supper Painting Tour
Visits the Last Supper and Santa Maria delle Grazie
Led by an art historian or local expert
Viewing the Last Supper Painting
Our Last Supper painting tour may vary in terms of its order as we will adapt according to when we have a slot to view the painting. We may begin at Santa Maria delle Grazie, the fifteenth century convent and UNESCO World Heritage Site. Our expert will give some background information about the striking church, associated with architect Bramante. We may talk about the features of the building, from the tiburio and collonados to the cloisters and impressive apses. Before we head in to view the revered painting in the museum, our expert will detail the background of the artwork and the story behind Leonardo's work. Due to venue restrictions, we may or may not have our expert with us during the fifteen minutes we will spend with the painting. Either way, we will take time to admire and absorb the details outlined by our expert before we say farewell to da Vinci's masterpiece. Afterwards, we may take time to reflect on what we have seen together, with our expert adding relevant information.
Perusing the Pinacoteca
Another venue we will soak in on this Last Supper tour is the Pinacoteca Ambrosiana. A true Milanese gem, the museum holds masterpieces by Caravaggio, Botticelli, Raphael, and, of course, Leonardo da Vinci. Our guide will spend some time discussing the section dedicated to da Vinci as we admire his original drawings, as well as the Codex Atlanticus, a set of writings and drawings from 1478 to 1519 covering everything from flight and weaponry, to mathematics and botany. Perhaps more importantly, the museum contains 'Portrait of a Musician', a Da Vinci oil on wood painting, believed to date from 1485. We'll talk about what da Vinci was doing during the time this was painted and the story behind the treasured artwork.

Disclaimer: On Wednesdays, Pinacoteca Ambrosiana is unavailable so it is replaced with the Sforza Castle Museum - which is a great alternative through which to continue the narrative.
Leonardo and Milan
We may also spend time talking about da Vinci's connection with the city more broadly and the influence he had on the scope and construction of everything from the Duomo to the Navigli canals. Wishing to expand his work to encompass his other interests, in the early 1480s da Vinci drafted a letter to offer the ruler of Milan, Ludovico Sforza, a litany of potential services, from military machines to artistic feats. While some canals existed prior to da Vinci's arrival, he greatly expanded their reach thanks to his innovative use of dams, all the while creating legendary works like Virgin on the Rocks and The Last Supper. We may talk about da Vinci's relationship with the French and the indelible impact he left on nearly every element of Milanese life, a theme we'll examine throughout our tour.
Take Aways
At the end of our Last Supper painting tour, we will leave each other with a deeper understanding of the life of Leonardo da Vinci, his connection with his beloved Milan, and the masterpieces that we are able to see in our three hours together. This is a fitting walk for anyone with a keen interest in this talented Italian figure.
FAQ
What is a private tour?
Our private tours are limited exclusively to travelers in your party. They are designed to provide a learning experience that is completely tailored to you and your traveling companions. Private tours give you more flexibility with scheduling (you decide when the walk best fits in your trip), the ability to tailor your itinerary (we'll work to match the itinerary to the interests and dynamics of your group), and more personalized time with your guide.
Where do we meet? Where does it end?
The meeting point will vary depending on when our tickets are timed. Your confirmation email will have the exact meeting point details along with a map.
I hear tickets are hard to get for the Last Supper. Will you let us know when you have tickets?
Yes. As soon as tickets are released by the venue and are booked by our staff, we will confirm the tour. If we can't secure tickets, we will let you know and we will not confirm your tour.

How can I increase my chances in securing Last Supper tickets?
It is helpful to our team if you provide two alternative dates/ times your party would be available to tour. Please also note that a Photo ID will be required on the day of your tour, due to entrance policies at the venue.


What if it's raining?
Tours operate rain or shine, but in the case of inclement weather, your expert will modify the tour so more time is spent indoors. It never hurts to have an umbrella on hand.
Where You'll Start
Tour Experts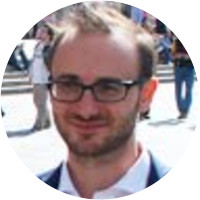 Giacomo has a degree in Preservation of Cultural Heritage with a specialization in Medieval Art. After an internship at Handel House Museum in London UK, he returned to Italy working as a professional translator. Since 2005 is a professional tour guide in Milano. Deeply in love with his city he likes to unveil her secret charm. He enjoys uncovering hidden stories of the most important monuments, to understand why figures from the past built them and how they looked at them. He loves to share lesser-known spots even locals do not know and is always looking for new places for the best gelato, food and drinks.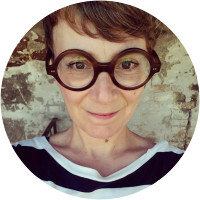 Born in Cremona in 1975, Silvia holds an Art and Art Critics PhD from Università Statale of Milan. She spent her university years working as a tourist guide, thus deepening the knowledge of the city's history and art and of the different languages and skills needed to communicate to all kinds of public. She's specialized in XIXth century and especially values the complex relationship between facts, interpretation, and how they develop through time. She currently works as Renaissance Art History professor at IES Abroad Milan.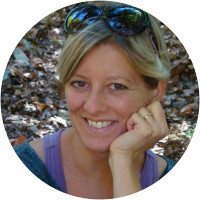 Paivi is an art historian and professional tour guide in Milan since 2003, with extensive knowledge of Milan's most important museums and hidden treasures. She graduated in Preservation of Cultural Heritage from the University of Pavia with a specialization in Poldi Pezzoli and Bagatti Valsecchi house-museums. Passion, competence and enthusiasm are her keys to appreciate the beauty, the history and the art of the city where she was born and where she's still living. She loves to "stroll in the history of the city", discovering Milan step by step trough its beautiful monuments.
Reviews can only be left by Context customers after they have completed a tour. For more information about our reviews, please see our FAQ.
So knowledgeable and answered all our questions!
May. 16, 2023
What a wonderful afternoon with Giacomo! My husband and I learned so much from him about Da Vinci and Milan. We saw places that we never would have seen without this tour. Giacomo was very knowledgeable and friendly and we couldn't have asked for a better guide for this tour. Thank you, Giacomo and Context for yet another fantastic tour!
May. 14, 2023
Giacomo made all the difference in our tour. It was a fun, wonderful and insightful morning.
May. 13, 2023