Tour Details
Tour Description
From sausages to pretzels to cabbage to potatoes, German food is often stereotyped. On this 3-hour Munich Food Tour, we'll deconstruct those stereotypes and examine many of the ways Munich has much more to offer, namely by pushing forward its cuisine while adhering to traditional Bavarian practices. Led by an industry professional, this German Food Tour gives us access to some of the city's top food shops along with Viktualienmarkt, where we'll taste artisanal products and discover some of Bavaria's best kept culinary secrets.
Viktualienmarkt Sausage Scene
We'll meet for our Munich Food Tour in Marienplatz, the former salt and cereal market for the city and hence a fitting spot to begin. Our expert guide will talk about the connection between the history and food traditions in Munich before we delve into Viktualienmarkt, the atmospheric market hub of the city. We'll stroll around the stands as we absorb the smells, sounds, and sights in this unique mercenary venue. Given Bavarian tradition, we may kick off our tasting with a Weißwurst (a traditional white sausage made from minced veal and pork back bacon). From here, we might potter to one of our favorite cheese suppliers to try some Obatzda or Bergkäse with some beer bread. We'll admire the wonderful displays in the market as we taste and discuss these hearty Bavarian treats.
Munich Food Tour
We may stop at a Franconian stall to taste test such typical foods from this region of Germany as liver sausage, white radish, and smoked salami; alternatively we could pause our German Food Tour at Fisch Witte to try some renowned Bismarck's herring rolls. We may move to a nearby butcher to see Schweinshaxe (pork knuckles) roasting as our guide describes popular traditions and dishes in Bavaria, such as Wiener Schnitzel and Sauerbraten. We'll walk to another location pointing out many traditional restaurants and venues along the way until we reach Dallmayr, an indoor food market housing some of the best food stalls in the city, including a new crop of global goods to feed your heart's content. Here, we might tuck into another snack such as a Leberkässemmel, akin to bologna sausage, or have a look at this season's trends at various stalls in the delicatessen as our guide talks through Munich´s evolving yet traditional food scene.
Eating Munich
We'll move onto a final location of the guide's choosing to finish up our Munich Food Tour together. We may jump on the metro to a nearby neighborhood to try treats from a local cafe as we talk about the Italian influence on Munich, given that the border is a mere 110 miles away. We might finish up with an ice cream from Amorino or Eataly, or a local coffee in a family run pastry shop. Alternatively, we could finish up in the summer sun in a local Biergarten as we conclude our time together with a refreshing drink.


Take Aways
At the end of the Munich Food Tour, we should have an excellent foundation in Bavarian gastronomy and be better prepared to appreciate some of the finer points of Munich's food scene for the remainder of our trip. We'll leave one another with a fuller belly and a deeper knowledge of traditional Bavarian cuisine, more than just potatoes and cabbage.
FAQ
Can I participate in your food tours if I have food allergies? Yes. If you have any specific allergies/intolerances, please indicate these in the Travel Notes section during booking. Your guide will do his or her best to accommodate, though please note that some shops we visit do use wheat flour and nuts in the kitchen for other items. Again, please make note of any dietary issues.
Where You'll Start
Tour Experts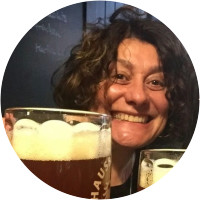 Sabina was born in the " eternal city" Rome, but has lived in various countries. She moved to Munich in 2012 and now calls this her home. She obtained a degree in Music criticism in Geneva, studying at the "Universitè de Genève". She also worked as a tour guide of the United Nations Office from 1991 to 1996 before moving back to Italy to continue a role in tour guiding and events management. In 2016 she attended the prestigious " Doemens Academy" in Munich and obtained a "Diplom Biersommelier". This award qualifies her as a trained expert in the world of beer: she knows her brews, their history and what food to pair with what beer. She loves sharing with her clients her knowledge of Bavarian history, point of interests and of course her beer and food knowledge. She's traveled extensively through Europe, USA, Japan and Brazil.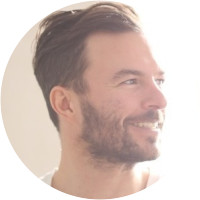 Stefan started working as a beer sommelier, hobby chef and cookbook author in 2013. In his function as a beer sommelier, he gives beer tutorials, writes for online craft beer shops and helps local breweries and small manufactories in promoting their beers. Through his broader work in the beers and beverages industry, he is always up to date when it comes to openings of new restaurants or food trends. Being a native Bavarian, he is highly knowledgeable about Bavarian history, culture and food, which is, of course, in many cases related to beer. Before beginning this phase of his professional life, Stefan worked for more than eight years for the picture agency StockFood as a content manager and editor with a focus on food, beverages and interior design. Besides his many other projects, he now also writes for different travel guides like Spotted by Locals, Aux Villes Du Monde and Nectar & Pulse. His cookbook, published in March 2017, is called "Angemacht & Weichgekocht" a guidebook for singles who want to impress their date with easy yet delicious dishes.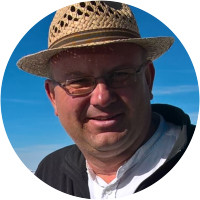 Franz is a native "Münchner" and has been a professional tour guide for more than a decade. After receiving a degree in Business Administration he began working in the travel industry. His passion is tour-guiding: he loves to be on the road showing people the beauty of his native Bavaria, especially his hometown Munich with its fascinating history. His motto: "This job can't be beaten!". Come and enjoy the beauty and history of Munich and Bavaria with a true local.
Reviews can only be left by Context customers after they have completed a tour. For more information about our reviews, please see our FAQ.
Rainer was wonderful and totally catered the tour for me and my three children.
Dec. 29, 2022
Sabrina was very nice, but we didn't learn much about Munich or the food we tasted. For the expense, it was a complete waste of money.
Jun. 21, 2022
Stefan was amazing and very knowledgeable! We had such a great time and would highly recommend him to everyone!
May. 31, 2022