Tour Details
Tour Description
New York City has long been hailed as the center of world trade–by Indigenous traders, Dutch merchants, American Revolutionaries, and 21st Century financiers. On this 3-hour tour of Lower Manhattan, we'll examine the narrative timeline of the city's emergence as a trading outpost, to the tragic events of September 11th, and follow through to the city's miraculous rebuilding of the World Trade Center that dominates the skyline today.
Sites Visited
One World Trade Center
Memorial Fountains
Liberty Park
St. Paul's Chapel
FDNY Ten Firehouse
Itinerary Details
In the company of a local historian, we will trace the original trade routes of Lower Manhattan north to the site of Ground Zero, where the 9/11 Memorial and One World Trade stand today.
Our tour begins at Liberty Park, where we will learn about the original trade route that the Lenape and Mohican people used between Manhattan and present-day Boston. Strolling up Broadway, we'll stop at the New York Stock Exchange to discuss the significance of the Exchange's founding and its important role as an American institution, including its historic shutdown in the aftermath of the September 11th attacks.
From there, we will continue our journey to St. Paul's Chapel. The oldest church in Manhattan, St. Paul's Georgian exterior, has survived since 1766 and stands as a symbol of Manhattan during the English occupation. After the September 11th attacks, the church became a beacon for thousands of victims, service people, and volunteers. With the guidance of our history expert, we'll view and discuss the extensive memorial that is now housed inside the Chapel and in the surrounding area.
Pivoting from St. Paul's, we'll cross into the revitalized World Trade Center campus. Our historian will guide us through a variety of buildings, parks, and memorials that now stand at Ground Zero. As we explore the new developments, we may enter any one of the World Trade Centers (there are five as of right now!), Oculus, and St. Nicholas Church. All of the new World Trade buildings were commissioned and designed by architects from across the globe and house important global financial institutions and retail spaces.
We will conclude our tour at the 9/11 Memorial, reflecting upon that tragic day–as part of the historical development of Lower Manhattan and the significance of these spaces in the cultural psyche. After our three hours together, we will have explored areas of New York City which hold heavy histories, not in an attempt to sensationalize the tragic events of September 11th, but rather to explore and contextualize the city and explore the lasting impact of the tragedy.
Optional: Skip-the-line One World Observatory Tickets
For visitors who would like to visit the One World Observatory after the tour, please let us know. We can purchase skip-the-line tickets for an independent visit at the end of the tour. Please add them to your order at check-out if you wish to purchase these tickets. Your guide will have the tickets and give them to you at the end of the tour. While the guide will accompany you to the entrance, they will not enter the observatory with you.


FAQ
For more information about Context tours,
we encourage you to
visit our FAQ
page.
Where does the tour start? Where does it end?
Our tour guide will meet you in Liberty Park and conclude at the 9/11 Memorial Fountains. Our team will provide details in your confirmation email 24 hours before the tour.
Do we need to pay for tickets and entrance fees as part of this tour?
No, the monuments included on this tour are free, or we will observe them from the exterior.
If you wish to enter the 9/11 Museum after the tour, you can purchase the tickets independently.
If you wish to visit the One World Observatory after the tour concludes, we can purchase skip-the-line tickets for your party. Please inform our team at the time of booking.
Is this tour accessible?
Yes, the route of this tour includes city streets with sidewalks that are are wheelchair and stroller accessible. Should you opt to purchase entry into One World Observatory, your guide will lead you to the accessible entrance.
Is this tour appropriate for kids and teens?
Yes! We have some excellent family-friendly experts who can appeal to the learning styles of children. While this tour does cover some heavy moments in history, the tour can be modified to engage families through activities and storytelling sensitively. Please provide us with information about your children when booking the tour, such as favorite school subjects and hobbies. This way, we can match you with the best possible expert.
Where You'll Start
Tour Experts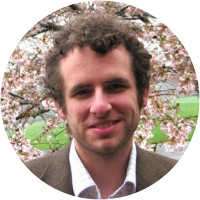 Ben Rubin holds a bachelor's degree from Hanover College, a Master's from Western Carolina University, and is completing his Ph.D. at Drew University. He is also a graduate of the Cornell School of Criticism and Theory at Cornell University. His work has been published in the Journal of Backcountry Studies and in Southern Campaigns of the American Revolution. In addition to academic experience, Ben worked as a docent at the Biltmore House in Asheville, and as a whitewater raft guide on the Nantahala River.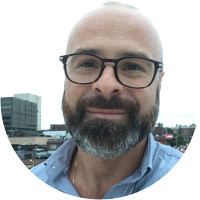 As an undergraduate student at St. Joesph's College, Ryan was able to obtain his bachelors degree in education, while minoring in history. It was during this time that his passion for history, specifically New York City history began to fully develop. Upon graduating, Ryan began working as a New York City public school teacher and completing his masters degree in history at Queens College. As a graduate student, Ryan was able to merge his passion for music with New York City history with the completion of his masters thesis, which analyzed Punk Rock and the social factors that led to its creation and development in New York City. Ryan continues to work as a social studies teacher in New York City and enjoys experiencing all things the world has to offer through travel, culture, and shared experiences with new people.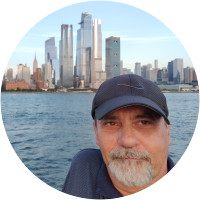 Francesco was born in Sicily and grew up in New York. He graduated with a Master's degree in Architecture and worked professionally in that field for his entire career. Once he retired, Frank began leading tours of his city as a way to share New York with visitors from all over the world. By leading tours on the history, architecture and food scene in NYC, Frank is introducing visitors, or new friends, to this intriguing city, revealing its hidden and sometimes forgotten past, in order to better understand its present. A true "Cicerone," storytelling is at the center of Frank's tours. He introduces visitors to the characters from New York's rich history, from his Sicilian grandmother to Emily Roebling, a little know contributor to the construction of the Brooklyn Bridge. Frank's passion for all things New York shines through on his tours all over Manhattan.
Reviews can only be left by Context customers after they have completed a tour. For more information about our reviews, please see our FAQ.
Loved how he worked with me and my teenagers.
Mar. 27, 2023
Fantastic tour, but it's not a 911 tour, it's a tour of lower Manhattan, which was amazing, but not what we had thought it would be. I thought it included a guided tour of the museum. I would definitely recommend this tour to others, but I would preface it with it's a tour of the history of lower Manhattan.
May. 9, 2022
Our guide frank made the tour ! Amazing
Apr. 8, 2022