Tour Details
Tour Description
Discover the Basilique Cathédrale Notre-Dame de Chartres on this half-day excursion from Paris in the company of a local medievalist, architect, or art historian. Just over an hour from Paris by train, Chartres Cathedral is an exemplary physical textbook on the Gothic style, known for its exquisite stained glass, labyrinthine floor plan, and extensive exterior carvings. During our exploration of its magnificent interiors and exteriors, we'll use the cathedral as a conduit for exploring not only Gothic architecture, sculpture, and stained glass, but also Medieval religious, secular, and intellectual life.
Sites Visited
Chartres Cathedral (interior and exterior)
Note that this tour does not include touring Chartres town
Included
Train tickets to and from Paris
Tickets to Chartres Cathedral
Itinerary Details
Our short journey to Chartres starts from the Montparnasse train station in Paris. On the train, your guide will recount the cathedral's riveting history of reincarnation—most notably, the series of fires that led to at least five different versions of the cathedral over the centuries. Indeed, the bulk of the Cathedral we see today was rebuilt after the crippling fire of 1194, taking only 30 years to complete—a dazzling display of architectural unity for the time.

Home to the Sancta Camisa, a tunic believed to have been worn by the Virgin Mary at the birth of Christ (which miraculously survived the 1194 fire), the Cathedral has long been a destination for pilgrims. Arriving at the cathedral as pilgrims ourselves, we will begin by examining the exterior. Each of the three heavily decorated entrances (west, north, and south) are comprised of three doorways, showing the stylistic transition from Early to High Gothic architecture. Once inside the cathedral, we will marvel at intricate original thirteenth-century stained glass.

While our half-day tour ends with a guided visit of the cathedral, we encourage you to have lunch or spend the rest of the afternoon visiting the charming town of Chartres and all of its attractions on your own.


This is an excellent excursion to take after our
Notre Dame Tour
, as it builds on ideas first explored there.
FAQ
What is a private tour?
Our private tours are limited exclusively to travelers in your party. They are designed to provide a learning experience that is completely tailored to you and your traveling companions. Private tours give you more flexibility with scheduling (you decide when the walk best fits your trip), the ability to tailor your itinerary (we'll work to match the itinerary to the interests and dynamics of your group), and more personalized time with your guide.

Where do we meet? Where does it end?
You'll meet in Paris, at the Montparnasse train station. The tour duration includes the train ride to Chartres with your guide. The tour will end in Chartres. You can then get lunch and explore the town on your own, or return to Paris with your guide.


What if it's raining?
Tours operate rain or shine, but in the case of inclement weather, your expert will modify the tour so more time is spent indoors. It never hurts to be prepared; we encourage keeping an eye on the weather and bringing along an umbrella, sunscreen, water, or a hat as needed.

Does this excursion include a visit to the town of Chartres?
No, our half-day tour is a guided visit of the cathedral only; however, we encourage you to have lunch or spend the rest of the afternoon visiting the charming town and all of its attractions on your own. Lunch is not included.
If I take your Chartres tour in the morning, will I have time for a second tour in Paris that same afternoon?
We usually take the train back to Paris at 1:34 pm arriving in Paris at 2:30/3 pm. Depending on the day of your tour we have some other tours which start later in the afternoon and may be able to fit your schedule. Please contact us for assistance!


Can I stay after the tour to see Chartres on my own?
Absolutely. We buy round-trip train tickets for this tour, but the return time is flexible and therefore allows you to return on a later train than that of your guide.


Is this suitable for children and/or travelers with mobility challenges?
Yes. We can adapt the route of our private tours based on the ages, needs, and interests of travelers in your party. In this particular tour, the terrain is easy. The walk is slightly uphill from the station to the cathedral, and then totally flat. There are no cobblestones. There are, however, certain parts of the cathedral which can be a bit more challenging. Please contact us to know more.
Where You'll Start
Tour Experts
Anna received her PhD in 2006 from the Institute of Fine Arts, New York University. A specialist in medieval art, she has published and presented numerous conference papers on illuminated manuscripts. She is preparing a book proposal based on her dissertation about representations of miraculous images of the Virgin Mary. She currently teaches at the American University of Paris. She is also a France Director of the International Medieval Society in Paris.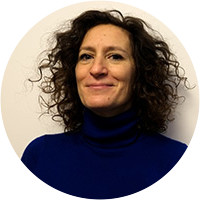 Since visiting her first art exhibition at 5 years old Nicole has been passionate about the world of art and architecture. Research for her dissertation brought Nicole to France in 2006. Her doctoral dissertation explores the idea of architecture as an expression of political power, specifically during the Gothic period of twelfth-century, France. Yet her interests extend beyond the medieval period to include the modernism. Holding a PhD and Masters degrees from the Columbia University and a BA from Barnard College, Nicole has worked as a university professor, writer, curator and consultant. Receiving a fine arts training in her youth, equally informs Nicole's approach to art and architectural history. Raised in a family of collectors and classic car aficionados Nicole is an avid classic car enthusiast, together with her husband an art collector.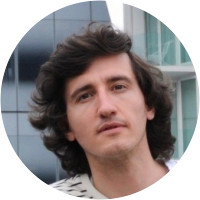 Pablo is a historian specialized in the interaction between arts, culture and politics in early modern Europe. In 2008 he received a PhD in European history from the Universidad Complutense, Madrid, and has been a postdoctoral research fellow at the European University Institute, The Italian Academy at Columbia University and the Metropolitan Museum of Art. Pablo is also the author of three books on court culture and royal identity. He lived in Naples, Washington, London, Florence and New York before arriving in Paris as a researcher at the Institute national d'histoire de l'art (INHA). He is currently writing a book on the display of antiquities discovered in Herculaneum and Pompeii in the 18th century.
Reviews can only be left by Context customers after they have completed a tour. For more information about our reviews, please see our FAQ.
Pablo is an extraordinary guide. He has a depth of knowledge in history, architecture, and theology. And he used it all telling us so much about the cathedral, as well as conveying his love for it. This was not just a tour, and Pablo was not just a guide. It was a day we will not forget, a cathedral we will not forget, and a new friend we will not forget.
Jun. 17, 2019
Pablo was a terrific tour guide. We learned a great deal and appreciated his wide ranging intellect and knowledge. He was sensitive to our needs.
May. 6, 2019
It was a pleasure to travel to Chartres with Nicole. She did a fine job, on a very chilly day, of teaching us about the architecture and restorations of the place.
Dec. 16, 2018