Tour Details
Tour Description
During the roaring twenties, Paris was considered the cultural capital of the Western world. Artists and writers flocked to the city from far and wide, including celebrated American writer Ernest Hemingway. During this 3-hour Hemingway-focused Paris literary tour with a literature expert, we'll explore St. Germain, a neighborhood in the city's Left Bank that was once the epicenter of Paris' avant-garde. We'll learn about a wide range of artists, writers, and thinkers in Hemingway's circle including Fitzgerald, Picasso, Pound, Matisse, and the inimitable Gertrude Stein, whose modernist salon provided the gravitational pull for the entire movement.
Paris Literary Tour
Hemingway loved to walk. His strolls provided him with moments of reflection but also connected him with his community, which we will experience together as we trace Hemingway's path across the Left Bank. We'll begin our walk not far from where the young writer and his new wife, Hadley, first established a home on rue Cardinal Lemoine. Here, we will set the tone, immersing ourselves in the life of the expat writers of the era. In the early 20th century, this was a working-class area of the Left Bank's Latin Quarter, close to the bustling rue Mouffetard, and tucked in behind the Panthéon and the Church of St. Etienne du Mont (upon the steps of which Woody Allen's hero waits for the midnight bell to toll).


Hemingway's Paris
Following Hemingway's path, we will continue our walk downhill, past the academic center of the city around the Sorbonne and towards the site of Sylvia Beach's original Shakespeare & Company bookshop. A hub of Parisian literary life between the two World Wars, Beach's shop famously published James Joyce's Ulysses for the first time in 1922. We may discuss Hemingway's friendship with Joyce, one of the many literary expats whom Hemingway knew and admired. In the area, we will also pass by some of the residences and other favorite haunts of the Fitzgeralds, Ezra Pound, or Ford Madox Ford.


"[Our guide had] a deep knowledge of Paris during the period that the Lost Generation was creating their mark on the world. We had a delightful tour and thoroughly enjoyed our morning learning about Hemingway, Fitzgerald, Stein, and their lives on the Left Bank."
Take Aways
Crossing the Luxembourg Gardens, as Hemingway did on so many occasions, and time-permitting, we may make our way towards the infamous
quartier
Montparnasse. He would later establish his second home close to Montparnasse. The neighborhood was another hub of artistic life in the 1920s, with its many famous
literary cafés
all patronized by "Hem." Entering the café-lined streets, we will discuss the role of café life during the twenties, stopping to experience it for ourselves. Our walk may come to a close with a well-earned coffee at perhaps one of the most emblematic cafés of them all, the
Closerie des Lilas
. Here, we will take a moment to reflect upon the insights we have gained on our journey through literary Paris with Hemingway as our guide. We will emerge from the experience with a better understanding of Paris as a unique place at a particular time in history—home of the "lost generation."
Note, those interested in the Modernist movement in Paris may want to couple this tour with our
Pompidou Center Tour
. The center is one of Paris' best collections of modern art.
FAQ
Will I need to have read any of Hemingway's work to enjoy this tour? While we encourage you to read the work of Hemingway and the other lost generation writers, this is not a pre-requisite for taking and enjoying this tour. Even if you are not familiar with his writings, join us to be inspired and foster a newfound appreciation!


Is this tour walking intensive, and/or wheelchair accessible? We do cover extensive territory on this tour. Please contact us with any questions; we will be happy to advise if this tour will be appropriate for you, and can also design a private, customized tour for visitors with mobility concerns.
Where You'll Start
Tour Experts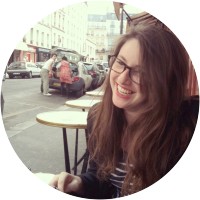 Hailing from the birthplace of American Liberty, Lexington Massachusetts, Laura crossed the Atlantic after graduating from Boston College with a B.A. in History and French to continue her studies in French history (with a specialization in the politics of the French Revolution) as part of New York University's M.A. program in French Language and Civilization. Her passions include history, literature, ballet, food, and of course, all things French. She loves sharing her experiences and all of the wonders that France has to offer with any visitors to the city of light.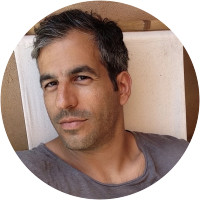 A native of San Diego (USA), Gil graduated in Politics and English from Brandeis University and later earned two Master's degrees: the first in Public Administration from New York University, and the second a Master of Fine Arts in Creative Writing. After earning his MFA and producing his first book, Gil moved to Paris for a Parisienne and hasn't looked back. For over a decade Gil has lived, written, worked, and led tours in Paris. His background in literature - both canonized and contemporary - combined with his understanding of the inner workings of cities have enabled Gil to tell his narratives as experiences and provide unique insights into Parisian life.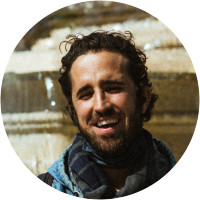 Samuél is a writer and musician who has lived in Paris since 2008. He holds an M.A. in European Society from University College London and an MFA in creative writing from Vermont College of Fine Arts. Samuél teaches creative writing at the Sorbonne and is also in an American folk-rock trio, Slim & The Beast, which has toured extensively throughout Europe and has been featured numerous times in Rolling Stone France.
Reviews can only be left by Context customers after they have completed a tour. For more information about our reviews, please see our FAQ.
Another amazingly informative and enjoyable Context tour with Gil! His depth of information, not just on Hemingway and his contemporary writers and all his women:) but the whole of the experience of the early 20th C in Paris, esp. concentrating on writers, artists, poets, literary figures, just a pleasure. We enjoyed seeing and strolling though Montparnasse, an area none of us knew much about, and seeing another side of Paris, the less touristy-more 'real for artists' area, which Hemingway and his pals haunted. Such history packed into a few short hours! Can't recommend Gil enough! He is so interesting and personable on these journeys, truly a gem. Looking forward to some online tours with him and to, hopefully, going back to France one day to experience more in person. Merci beaucoup ! lisa pruitt
Aug. 1, 2022
Laura was an excellent guide with so much knowledge about the writers and the Paris literary scene in the 20's. We thoroughly enjoyed learning from her and getting an in-depth view of Hemingway. We can't wait to read some of her suggested books!
Jun. 27, 2022
What a wonderful guide Laura is! She was charming, engaging, and interested in providing a once in a lifetime experience for us! Hold on to her—she's a treasure! It was the highlight of our trip! Many thanks .
Jun. 12, 2022