Tour Details
Tour Description
Meet Laurent, your guide to the art and history of Paris.
Laurent began his career as an international sales director in advertising, with a Master's degree in Business Administration. Unsatisfied with his professional path, he pursued an advanced degree in art history and became a licensed guide in Paris while also using his management skills to fundraise to protect and restore French national monuments. Laurent is a specialist in painting: from medieval altarpieces to The Impressionists, he loves the rich network of museums both big and small in Paris. A day with Laurent will immerse you in the history of French art and the lives of the artists who flocked to the City of Light. In addition to his passion for museums, Laurent is also very interested in contemporary French culture, including wine and food!
An Inspired Itinerary - A Full Day of French Impressionism
Join Laurent on his favorite route through Paris on this full-day exploration of Impressionist art and history, and of course, a stop for a good French lunch in one of his favorite local spots!
Our day begins with a deep dive into one of the most important art museums in Paris, The Musee D'Orsay. This unrivaled collection of Impressionist masterpieces can be daunting to a first-time visitor. Aided by Laurent's expertise in decoding and contextualizing these iconic works, we'll come away with a deep understanding of this important artistic movement and its place in French history.
After lunch near the museum, we will continue our exploration of Impressionism across the Seine at the Musee de l'Orangerie, an enchanting collection of paintings including the Waterlies cycle by Claude Monet. We will use this stop to learn more about Monet's life and times and his revolutionary painting techniques.

From here we will hop into a taxi to head north to the famed artist quarter of Montmartre, where on our afternoon stroll we will delve into the heart of 19th-century Parisian creativity. Together with Laurent, we'll visit the haunts and havens of the artistic elite at Place des Abbesses, the Moulin Rouge, and Place du Tertre. At the Bateau Lavoir, we will see where the artists met to discuss their new artistic philosophy. We'll admire the majestic Sacre Coeur Cathedral and the church of Saint Pierre as we take in this charming neighborhood and its sweeping views of Paris below.
Where You'll Start
Tour Experts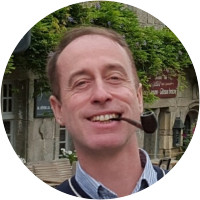 Even before getting his university degrees in Law and Business, Laurent was the youngest "guide-conférencier" to obtain his license in France at the age of 16. With an authentic passion for art and history, he had a previous career in international business and marketing before focusing entirely on his job as guide. An art collector himself, particularly fond of painting, he attended open courses at the Ecole du Louvre and graduated from IESA art school. His purpose, thanks to a very participative approach, is to make you see and understand art rather than just learn about it.