Tour Details
Tour Description
The Venice Biennale opens to the public on May 11, 2019 and closes on November 24, 2019. Context will offer tours from May 18, 2019 - November 24, 2019.

Since its inception in 1895, Venice's Biennale international art fair has earned its place as one of the world's most important cultural events, often setting the tone for contemporary art across the globe. With over 300,000 visitors, 76 invited artists and over 90 national pavilions, the Biennale positions Venice as a must-see destination for any contemporary art enthusiast. Our tour, led by a local contemporary art expert and historian of art, will survey the painting, video, film, sculpture, and digital works selected for the 2019 Biennale. Curated this year by Ralph Rugoff, director of the Haywood Gallery in London, and entitled "May you Live in Interesting Times", the Biennale will bring artists and art lovers together from around the world. The tour will explore the themes, trends and stories of this Biennale, as well as exploring the history of the event itself and its importance to the artistic heritage of Venice.
Our tour will take place in the Giardini della Biennale venue, home to the majority of the international pavilions. Additional pavilions are located in the Venice Arsenale. Should you wish to visit both venues, we can extend your tour to incorporate not only the additional pavilions but also a discussion of the Arsenale itself and its rich history and importance to Venice's political culture. Please contact us for pricing information.
Where You'll Start
Tour Experts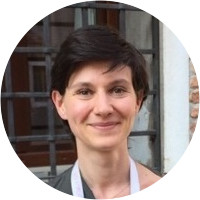 Erika
Originally from Genoa, Erika moved to Venice ten years ago to study Oriental languages at Ca' Foscari University, where she graduated with a thesis on Japanese art and architecture. She has a keen interest in the art and history of Venice and worked for some important cultural institutions, such as the Peggy Guggenheim Collection, where she was in charge of special events, and the National Oriental Museum at Ca' Pesaro, where she studied and cataloged part of the collection. Her time at the Guggenheim collection sharpened her knowledge of contemporary art, which she continues to study. She is now a licensed tourist guide for the city of Venice.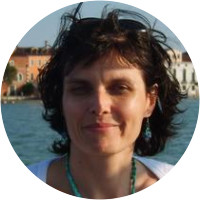 Nadia
Nadia has a degree in art history from the Ca' Foscari University in Venice and wrote her thesis on the painter Francis Bacon. After various work experiences, both in public and private sectors, she collaborated in drafting the online magazine "Engramma," which dealt with the study of the classical tradition in Western culture and the mechanisms of transmitting ancient culture in our contemporary age. The magazine was created in conjunction with the Department of Architectural History at I.U.A.V University. Nadia has also spent time in France working at the "Les Abattoirs" center for contemporary art in Toulouse. In 2009 she obtained a guiding license, and through this work is able to share her passion and knowledge of art history, literature, and the history of Italian and Venice with others. Nadia enjoys approaching artworks as a lens through which to investigate and reconstruct historical contexts.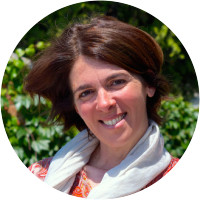 Giovanna
Born in Venice, Giovanna has a degree in History of Art from the University of Padua. She lived in Brussels and then in Vienna for several years working in international contexts and dealing with different cultural environments. She earned a Master's degree in Marketing and Advertising at the Ecole de Commerce Solvay writing a final paper on a project for a new Museum of Contemporary Art in Venice. While working for the Museum of the Belvedere in Vienna she developed a passion for cultural guiding. Her experience in the tourism grew on her return to Italy, where with a friend she took over a 4 star Hotel. Fascinated by the power of communication of art she became a licensed guide of the city of Venice and enjoys the beauty of her native city every day.
Reviews can only be left by Context customers after they have completed a tour. For more information about our reviews, please see our FAQ.
Elena was knowledgeable but the tour was not very well thought out. A personal tour , especially given the cost, should have been timed better and planned out in advance. There was little value to having a private or longer tour.
Sep. 20, 2019
The guide was AMAZING. Very knowledgeable and gave a great tour. We would have appreciated her staying even 15 longer as we had difficulty in finding our way back to the transportation. The other guides were very helpful but she seemed in a hurry to depart when in fact we didn't have much more to see. I understand that it was a 3 hour tour but there was very little that we cared to see and that extra personal attention would have made our return back much easier.
Jun. 20, 2019
Nadia was extremely knowledgeable but two things were very special. First she shared her own views and feelings about the art we were seeing. Second she was genuinely interested in our thoughts and knowledge.
Jun. 3, 2019