Tour Details
Tour Description
On this three-hour tour of the Jewish Ghetto in Venice we'll look at one of the oldest, most enduring Jewish cultures in Europe, examining its amazing history with a local scholar of Jewish history. Together, we'll visit sites of historical importance throughout Venice's deeply important Jewish Ghetto, including one Synagogue and the midrash, developing an appreciation for both the plight and the contributions Italian Jews have made throughout the centuries. We'll use our remaining time together to explore the surrounding neighborhood, Cannaregio, home to artisans and craftspeople for generations.

Important information 2021: due to ongoing construction and restoration work, parts of the Synagogues cannot be visited.
Venice Jewish Ghetto Tour
We will begin our Venice Jewish Ghetto Tour by stepping into the ghetto, the home of the Jewish Venetian community so vividly depicted in Shakespeare's Merchant of Venice. Founded in 1516, its serene nature has entranced visitors and locals alike for centuries, providing a respite from the city's many bustling streets. We will spend time visiting the Synagogue, which brings special insight to the ghetto and its religious practices, as well as two moving memorials to Italian Jews lost in World Wars I and II.


A Thriving Community
The Jewish community in Venice is still alive and thriving. Thus, our Venice Jewish Ghetto Tour offers the opportunity to interact with the new generation of scholars and devotees while exploring the history and customs of a little-known aspect of Venetian culture.
Miscellany
Note: When we enter the Synagogue (which is part of the Jewish Museum of Venice) they do require the use of their own guides within. Your guide will use the time before and after entering to provide greater depth to the site.
FAQ
Will you pre-purchase tickets? Due to venue restrictions, we currently have to pre-purchase tickets for the Jewish Museum and Synagogue to ensure you're able to take part in the guided visit. Please note that there are currently limited tickets available, due to a restricted headcount to ensure the correct implementation of Covid 19 requirements. If we're able to secure the tickets for the requested tour date, your guide will hold your tickets on the day of the tour.

Do you reserve headsets for this tour?
Depending on your group size, we may be required by the venue to order headsets in which case you'll see a "Headset Fee" added to your order. If you would like to guarantee headsets for your tour regardless of your group size, please email us and we'll be happy to get them reserved for you.
Where You'll Start
Tour Experts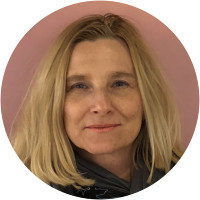 Lorenza is a native of Venice who received her Master in Art History through Cà Foscari University, Venice. For the past 25 years, she has divided her time between Venice and New York. In New York she teaches various courses on art history at the Fashion Institute of Technology, State University of New York, where she designed the course Art and Architecture of the Venetian Republic 1100-1800. For FIT she also developed and leads the Short-Term Study Abroad in Venice. She is lecturer at the Museum of Modern Art in New York and contributor to the Khan Academy with art history essays. Lorenza has authored and contributed to numerous books and publications on Venice, including "Venezia. La città, l'arte, la storia" (Arsenale 2011), "Arts and Crafts in Venice" (Koneman, Koln, 1999) and "Handbook of Painting Techniques" (NYU in Venice, 1999). In the past she taught history of art and architecture in Venice at the New York University, and in Venice worked for the Venice Bureau for the Protection of Architectural, Historical and Artistic Heritage for 13 years, cataloging, documenting, and researching the collection at the Palazzo Reale. Lorenza is an esteemed scholar with decades of international experience. She will lead you through her city with fun, passion, and knowledge.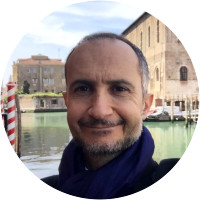 Originally from Venetian mainland, Matteo has lived in different countries, which sparked his interest in art history and archaeology. He holds a B.A. in Cultural Heritage Preservation and an M.A. in Archaeology - specializing in Islamic Archaeology - from the University Ca' Foscari, Venezia. Matteo chose to specialize in Islamic Archaeology, due to his personal passion and curiosity for the Islamic World: this particular interest was developed after several travels and stays in different Middle Eastern countries. He has worked as a freelance archaeologist following projects in different locations of the Veneto Region in Italy and in Cairo, Egypt. Matteo became a qualified tourist guide for the City of Venice in 2009, and he has been collaborating with Context since then.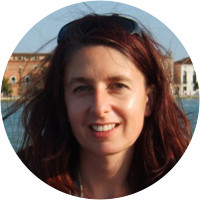 Monica was born in Venice. She earned her degree in Italian Literature and History from Art at Ca' Foscari University in Venice and she has developed a wide experience in the museums of the city. For many years she worked as a curator and archivist before moving into the field of museum education where she worked mainly with groups of children. She also worked at the Jewish Museum in Venice as a guide. She qualified as a guide for Venice and its province in 2009. Monica is continuing to study Venice and she often gives lectures on history and art for associations and public libraries. She is co-author of a series of guidebook for children and families about the Venetian churches.
Reviews can only be left by Context customers after they have completed a tour. For more information about our reviews, please see our FAQ.
Very knowledgeable and informative guide. Great tour!!
May. 22, 2022
Excellent very knowledgeable guide very educated annual service excellently and pleasant
May. 6, 2022
Andrea was an incredible
Dec. 28, 2021