Tour Details
Tour Description
On this three-hour tour of the Jewish Ghetto in Venice we'll look at one of the oldest, most enduring Jewish cultures in Europe, examining its amazing history with a local scholar of Jewish history. Together, we'll visit sites of historical importance throughout Venice's deeply important Jewish Ghetto, including the Synagogue and Jewish Museum, developing an appreciation for both the plight and the contributions Italian Jews have made throughout the centuries.
Venice Jewish Ghetto Tour
We will begin our Venice Jewish Ghetto Tour by stepping into the ghetto, the home of the Jewish Venetian community so vividly depicted in Shakespeare's Merchant of Venice. Founded in 1516, its serene nature has entranced visitors and locals alike for centuries, providing a respite from the city's many bustling streets. We will spend time visiting the Synagogue, which brings special insight to the ghetto and its religious practices, as well as two moving memorials to Italian Jews lost in World Wars I and II.


A Thriving Community
The Jewish community in Venice is still alive and thriving. Thus, our Venice Jewish Ghetto Tour offers the opportunity to interact with the new generation of scholars and devotees while exploring the history and customs of a little known aspect of Venetian culture.
Miscellany
Note: When we enter the Synagogues (which are part of the Jewish Museum of Venice) they do require the use of their own guides within. Your guide will use time before and after entering to provide greater depth to the site.
FAQ
Will you pre-purchase tickets? Due to venue restrictions, we do not purchase tickets ahead of time. Your guide will help you purchase entry tickets for Museo Ebraico di Venezia and the Synagogues. Entrance fee is currently €12 per adult ages 18 and older.
Where You'll Start
Tour Experts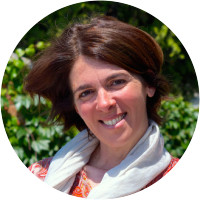 Born in Venice, Giovanna has a degree in History of Art from the University of Padua. She lived in Brussels and then in Vienna for several years working in international contexts and dealing with different cultural environments. She earned a Master's degree in Marketing and Advertising at the Ecole de Commerce Solvay writing a final paper on a project for a new Museum of Contemporary Art in Venice. While working for the Museum of the Belvedere in Vienna she developed a passion for cultural guiding. Her experience in the tourism grew on her return to Italy, where with a friend she took over a 4 star Hotel. Fascinated by the power of communication of art she became a licensed guide of the city of Venice and enjoys the beauty of her native city every day.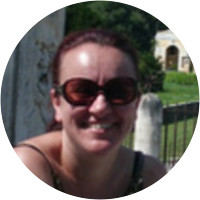 Chiara is a Veneto native with a degree from the University of Padova. A licensed cultural tourist guide in Venice since 2013, Chiara brings years of experience teaching and working with families to her work leading tours in Venice. A local insider, Chiara specializes in tours of the artistic and cultural patrimony of Venice and has a special interest in the history of the Jewish Ghetto.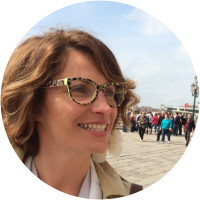 Elena grew up in Venice city center and has always loved traveling abroad. She graduated in Russian Language and Literature from Ca' Foscari University, Venice, where she also studied English and Serbian. She lived in Paris to cultivate her interest in Russian theatre and studied Meyerhold at Sorbonne Paris III and CNRS. Later she embarked on a second degree at Ca' Foscari and took up historical studies: Roman archeology, Architecture, and Art with a special focus on the Renaissance. She collaborates actively with artists and curators on contemporary art projects in Venice. Currently (2019) she is taking part in the '435ponti e qualche scorciatoia' a project by David Horvitz a conceptual artist and poet based in L.A. She is a fully licensed professional guide in English, Russian, Serbian and Italian, her mother tongue. She is happy to be a guide and have found a way to continue to study, attend art exhibitions, travel and meet people.
Reviews can only be left by Context customers after they have completed a tour. For more information about our reviews, please see our FAQ.
Cynthia is a fabulous guide! She is very personable and engaging, possesses an extensive fund of knowledge, and was able to provide us with lots of information and answer all of our questions. It was a comprehensive tour and we could not have asked for anything more. Thank you, Cynthia!
Jul. 9, 2019
Monica was a wonderful guide--so incredibly knowledgeable and gave us the most wonderful tour! I could have spent our whole trip with her!
Jun. 20, 2019
It was perfect. The guide was very knowledgeable and very hospitable. We thoroughly enjoyed the tour and the time we spent with Matteo.
Jun. 17, 2019