Lecture Details
Lecture Description
When traveling through Venice, it's easy to get swept up in the crowds of Piazza San Marco, but be sure to leave time to wander off the beaten path. The smaller waterways and neighborhoods of Venice are a treasure trove of bàcaris and local legends. In a city where people usually walk everywhere, it is very easy and common to find a friend on the way home after work and spontaneously say "Andiamo a bere un'ombra!" (Let's go drink in the shade). 
Meet Your Expert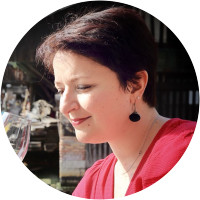 Cecilia is a qualified FISAR Sommelier and a licensed tour leader. She is a native of Venice whose great-grandparents owned one of the most prestigious bars in St Mark's Square. She is a food enthusiast and passionate about wine. Cecilia studied organic wine in France, receiving a Master's degree in 2012, and worked in the most famous enoteca of Venice for almost three years. She shares her knowledge about food, wine and Venetian culture to help visitors enjoy the city from a different perspective, through a connection of flavors, aromas and stories. Fluent in the Venetian dialect, Cecilia will introduce you to the local farmer at the Rialto Market and show you how to choose fresh fish from her favorite fishmonger. She is proud to be part of the Context team, promoting responsible tourism in one the most beautiful -and definitely the most delicate- cities in the world.
Typically an "ombra" is a glass of the house wine, served standing in a "bàcaro" in a very cozy atmosphere, and paired with colorful appetizers called "cicchetti." But what is the origin of this habit? Already by the 1300s, there were more than 20 bàcari in the area immediately surrounding the Rialto Bridge. With such a long history, it comes as no surprise that the etymology of the words "bàcari" and "cicchetti" have conflicting origins.


After making a distinction between "osteria," "locanda," and "restaurant" – we'll deliver an introduction to the history of this authentic and common lifestyle. Having been a major crossroads in the importation of spices (and with a key role in the commerce of salt), Venice offers an especially unique array of cuisines to sample.

Led by a food expert and certified sommelier, Cecilia Sitran, this lecture will combine history, genuine traditions, and suggestions on how to experience the authentic Venetian food culture. Designed to inform curiosity as well as future travels, participants will come away with an increased interest in trying a must-have food and wine experience, shoulder to shoulder with locals.
How will I access the lecture?
Once you complete your purchase, you will receive an email with a link to stream the lecture on the Context Travel website. You can also access your past purchases anytime under
My Orders
. Please ensure you are logged into your account to open the streaming page. 
Is closed captioning (i.e. subtitles) available?
Yes! All of our lectures have the option to turn on closed captioning should you have difficulty hearing the expert.
How long does each event last?
Our recorded lectures typically run for 75 minutes.
How can I share this lecture with friends or family?
You are welcome to watch together with friends or family but each person viewing on their own device will need to purchase the lecture individually.
How long does my access to the lecture last?
Once you purchase a lecture, you are welcome to view it as many times as you like and your access does not expire.
What is your cancellation and refund policy?
Sales for recorded lectures are final upon purchase. Please contact us at
digital@contexttravel.com
if you have any questions or concerns about your purchase.
Can I purchase a gift card for a friend who is traveling?
Absolutely! Gift cards can be
purchased here
. Gift cards are good for 365 days from the date of purchase.
"I was just in Venice last summer and hope to go back in the near future, and Cecilia's talk was so informative and interesting—particularly because seeking out and eating good cichetti at great bàcari help provide a much more intimate experience of Venice's neighborhoods beyond San Marco. Mouthwatering!" 
– Trina E., viewing from Belmont, NY
"Cecilia was delightful and gave a clear view of some of the best examples of Venetian bacari and cicchetti. I was never a great fan in all my travels to Venice but she peeked my interest and I will definitely visit some of her suggestions."
– C.G., viewing from New York, NY
Reviews can only be left by Context customers after they have completed a tour. For more information about our reviews, please see our FAQ.
Presenter Ms. Sitran was superb and her charm is the main reason I stayed with presentation. I had no idea there would be so much focus on where to eat in Venice. That narrow topic was not what I would have liked to see, but it is perfect information for me to share with those that are going to Venice. I would suggest that Context Travel give more clarity on what the focus of any given program is about, so that I can use my $ towards my particular interests.
Apr. 20, 2023
I have visited Venice quite often, and plan to be there again this September. I was delighted to learn some new things from Cecelia and have written down the names of all of the Bacari she mentioned. At least half of which I never experienced. (I'll work on that!) I also enjoyed her recipe section, ans plan to get some Dolce gorgonzola and walnuts soon. Thank you for these great programs.
Apr. 20, 2023
Informative, thorough, interesting
Mar. 21, 2023