Duration

1 hour and 10 minutes

Venues

Acropolis and Agora
Lecture Details
Photos & Highlights
Presented by the same world-class experts as our walking tours, Context Lectures highlight must-see attractions, reveal hidden landmarks, and explore the best things to do during your trip so you don't miss a thing.
Lecture Description
Greece is an iconic vacation destination. Famous for its archaeological marvels, picture-perfect islands, delicious cuisines, and eighteen remarkable UNESCO World Heritage Sites there are so many additional treasures awaiting curious travelers. In the company of a local expert, together we will take a deep dive into ten can't-miss landmarks in Greece while we contextualize the country's rich historical legacy.
Meet Your Expert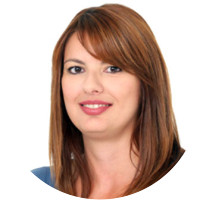 Dimitra is an archaeologist with a Master's degree focused on Minoan civilization. She is originally from Athens and moved to Crete to study it's wealth of history. She has been working both as a licensed guide and archaeologist for more than 15 years. She has excavated in sites all over Greece such as Akrotiri in Santorini, the Temple of Apollo in the Cyclades, Minoan settlements & tombs around Knossos & Phaistos, a Hellenistic town and a Roman cemetery in Crete, a Neolithic setllement in Northern Greece and Geometric & Roman finds in Athens. She represented the University of Athens in a post graduate seminar in the International Olympic Academy at Olympia where she gave a lecture on the Ancient Olympic Games to students from all over the world. As a tourist guide she has been giving tours to students from schools, colleges and universities from USA, Great Britain & Australia as well as individual travelers, families & VIPs including ambassadors & the Vice-president of China. She has appeared as a specialised Minoan archaeologist in two documentaries about the Minoan civilization on Travel Channel and History Channel.
During this lecture, we'll stop over in Macedonia, Thessaly, and Epirus on the way south to the Peloponnese, and journey to additional destinations such as Delphi, Meteora, Olympia, Mycenae, and Epidaurus. We'll encounter major can't-miss famous landmarks within each of these archaeological sites and cities, but we'll also discuss hidden gems off the beaten path and reveal priceless travel tips travelers need to know before they go. Then we will focus on matters such as the best time of year to visit without crowds, how long to stay, cultural faux pas to avoid, how to efficiently move between islands, and how to sample all the must-try cuisines when we're there.


Led by an expert in Greek History, and a local archaeologist and licensed guide, this lecture will allow participants to make the most of their next Greek adventure. Designed to inform curiosity as well as future travels, participants will come away with increased knowledge on how to prepare for their next one-of-a-kind journey to the jewel of the Mediterranean Sea.
How do I access the lecture?
Once you complete your purchase, you will receive an email with a link to stream the lecture on the Context Travel website. You can also access your past purchases anytime under
My Orders
. Please ensure you are logged into your account to open the streaming page. 
Is closed captioning (i.e. subtitles) available?
Yes! All of our lectures have the option to turn on closed captioning should you have difficulty hearing the expert.
How long does each event last?
Our recorded lectures typically run for 60 minutes.
How can I share this lecture with friends or family?
You are welcome to watch together with friends or family but each person viewing on their own device will need to purchase the lecture individually.
How long does my access to the lecture last?
Once you purchase a lecture, you are welcome to view it as many times as you like and your access does not expire.
What is your cancellation and refund policy?
Sales for recorded lectures are final upon purchase. Please contact us at
digital@contexttravel.com
if you have any questions or concerns about your purchase.
Can I purchase a gift card for a friend who is traveling?
Absolutely! Gift cards can be
purchased here
. Gift cards are good for 365 days from the date of purchase.
Reviews can only be left by Context customers after they have completed a tour. For more information about our reviews, please see our FAQ.
Very thorough and interesting- we enjoyed learning about off-the-beaten track places
Mar. 15, 2023
A fantastic overview of Greece from an archaeologist and veteran tour guide--Dimitra was very personable and hugely informative! The seminar was oriented heavily towards straight tourism, including a ton of practical information/advice. She made a point of highlighting both the main draws and many off-the-beaten-track locations, and identified what kind of travel experience (history, nature, resorts, etc) was available in each place. I went to Athens and Epirus last year, and while the introductory information wasn't needed for me I have absolutely no regrets about buying the seminar--Dimitra gave a lot of really helpful information about the MANY other things to see in Greece, and I'm now very excited about my next trip there!
Mar. 12, 2023
Dimitra is an excellent presenter with extensive knowledge regarding travel in her country. Her expertise in Archeology brings added value to her discussion.
Mar. 12, 2023