Venues

Palais Lobkowitz, State Opera, and St Stephen's Cathedral
Audio Guide Details
Audio Guide Description
Embark on a captivating journey through Vienna's rich musical history guided by Context Travel expert, Gilles Gubelmann. On this self-paced audio guide tour, he'll be your maestro, connecting tales of musical prodigies with the history of the city.
The audio guide tour begins in front of the Vienna State Opera, a place where history reverberates through every note. As you explore Vienna's charming Old Town (Innere Stadt), your trusted guide Gilles will be your portal to the past, revealing the captivating lives and backgrounds of early musical geniuses who once called this city home. He'll point out the buildings they performed in, including the Stadtpalais Todesco, Palais Lobkowitz, and Café Frauenhuber, where both Beethoven and Mozart performed. As this journey through Vienna's musical history reaches its crescendo at the iconic St. Stephen's Cathedral, you'll have gained a profound appreciation for the city's soul, etched in the melodies of its past. 
On this Vienna walking tour, you'll have a chance to:
Deepen your understanding of musical history, by exploring the legendary opera houses, renowned conductors, celebrated directors, and prolific composers who have graced Vienna
Listen to timeless symphonies by Austrian and Viennese composers as you stroll through the heart of the city
See where internationally renowned composers and conductors, from Mahler to Schönberg, lived, worked, and performed
Discover the remarkable stories of Jewish musical geniuses who faced adversity and ultimately triumphed, leaving an indelible mark on Vienna's cultural heritage
Stroll through Neuer Markt and see where Mozart used to organize concerts
Take in Hotel Sacher Wien, built on the site of the hospice where Vivaldi died
Hear Mozart's "Figaro" and see the apartment where he composed the tune, now Wien Museum's Mozarthaus
Walk along Helmut Zilk Square and see the Monument Against War and Fascism
Join Gilles on this music-filled stroll through Vienna's Old Town. By the end of the audio guide tour, you'll feel the city's musical history resonate through its streets. 

Visitors can choose to enter the Vienna Operahouse or St. Stephen's Cathedral. There will also be time to explore the Neuer Markt and enjoy a coffee at the famous Café Frauenhuber along the route.
Meet Your Expert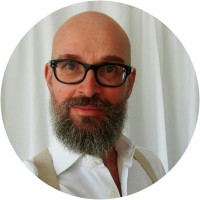 Swiss artist Gilles Gubelmann studied piano and dance at the Geneva Conservatory. He then worked for many years as an expert for arts and antiques in an important Swiss Auction House (Koller Auctions) where he was director of the Department of Antique Furniture and Decorative Arts. He realised a dream and moved to Venice where he started working as a painter and as an opera set and costume designer all over Europe, and also deepening his knowledge of art history and architecture. Settled now in Vienna, Gilles continues his artistic activities, works as a lecturer at the University of Music and Performing Arts and highly enjoys uncovering the rich cultural and artistic heritage of Vienna to curious travellers.
How do I access the audio guide and download it for offline use?
Once you complete your purchase, you will receive a voucher code for your Audio Guide. You must download the Voicemap app and enter the code. 
Install VoiceMap from the Apple App Store or Google Play
Create an account
Select Tour Codes from the menu, then select Enter Codes
Enter your Voucher Code
Select Download Now
Is closed captioning (i.e. subtitles) available?
Yes! All of our audio guides have the option to turn on closed captioning should you have difficulty hearing the expert.
How long does each event last?
Our recorded audio guides typically run for 75 minutes.
How can I share this audio guide with friends or family?
You are welcome to listen together with friends or family, but each person listening to the guide on their own device will need to purchase the audio guide individually.
How long does my access to the audio guide last?
Once you purchase an audio guide, you are welcome to listen to it as many times as you would like. Your access to a purchased audio guide does not expire.
What is your cancellation and refund policy?
Sales for recorded audio guides are final upon purchase. Please contact us at digital@contexttravel.com if you have any questions or concerns about your purchase.
Can I purchase a gift card for a friend who is traveling?
Absolutely! Gift cards can be
purchased here
. Gift cards are good for 365 days from the date of purchase.