Venues

Marais and Place des Vosges
Audio Guide Details
Audio Guide Description
Join Andrés Medrano, a cheese geek, ex-chef, and cork dork – or sommelier, if you prefer – on a gourmet tour of the historic Le Marais neighborhood. You'll visit independently owned shops and purveyors who procure traditional, handmade goods. There's bread, pastries, cheese, charcuterie, chocolate, wine – everything you need for the perfect Parisian picnic, including a perfect place to enjoy one at the end of our walk: Place des Vosges, the first planned square in Paris and the template for public squares across the continent.


You'll learn the secrets of a perfect croissant, hear Andres unpack a few easy ways to tell one cheese from another, and find out how to interpret a French wine label.


On this hour-long tour, you can stop off at:


• Tout Autour du Pain, where you'll learn to identify a perfect baguette from its aroma, texture, and even the sound it makes when tapped
• Jacques Genin, a chocolatier specializing in exotic flavored chocolate, pates de fruits, caramels, and ganache
• Marché des Enfants Rouges, a popular shopping spot since the 1600s
• Fromagerie Jouannault, the cheese shop run by a father-daughter team where you'll hear about how the different seasons impact cheese
• Caractère de Cochon, the only shop in Paris devoted exclusively to ham
• Maison Verot, where you can purchase charcuterie from a third-generation shop
• Pierre Hermé, where you can pick up a box or two of delectable macarons
• Cave Arthus et Jean, a wine store owned and operated by two childhood friends


By the end of the tour, you'll have all the ingredients you need for the perfect picnic, and a deeper appreciation for French gastronomy.
Meet Your Expert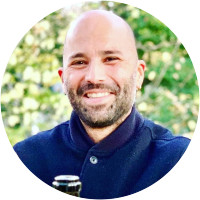 Andrés, a seasoned culinary expert with over 16 years of experience, is both a Sommelier and a Parisian chef. He began his journey in 2008 and honed his culinary skills through rigorous apprenticeships at Michelin-starred establishments. Inspired by French cuisine, Andrés trained under European champion chef Olivier Boudot at Cordon Bleu, specializing in French bread-making. His passion for wine led to top honors in the WSET Diploma, French Wine Scholar, and Champagne Master-Level program, making him a certified wine educator recognized by the Society of Wine Educators. Today, Andrés combines his sommelier finesse and culinary mastery as a food and wine editor, offering exclusive, immersive Parisian tours of independent delicatessens and vintners. He's also the co-founder of an award-winning secret cheese cellar experience in Paris (www.wetasteparis.com). Join Andrés to uncover the rich traditions and history of world-renowned cuisine and wine in the heart of Paris.
What days and times are best to take the audio tour?
Most of the establishments we visit are open between 11am and 7pm. For the best experience, avoid Mondays and Tuesdays if possible, when some of these businesses are closed.

How do I access the audio guide and download it for offline use?
Once you complete your purchase, you will receive a voucher code for your Audio Guide. You must download the Voicemap app and enter the code. 
Install VoiceMap from the Apple App Store or Google Play
Create an account
Select Tour Codes from the menu, then select Enter Codes
Enter your Voucher Code
Select Download Now
Is closed captioning (i.e. subtitles) available?
Yes! All of our audio guides have the option to turn on closed captioning should you have difficulty hearing the expert.
How long does each event last?
Our recorded audio guides typically run for 75 minutes.
How can I share this audio guide with friends or family?
You are welcome to listen together with friends or family, but each person listening to the guide on their own device will need to purchase the audio guide individually.
How long does my access to the audio guide last?
Once you purchase an audio guide, you are welcome to listen to it as many times as you would like. Your access to a purchased audio guide does not expire.
What is your cancellation and refund policy?
Sales for recorded audio guides are final upon purchase. Please contact us at digital@contexttravel.com if you have any questions or concerns about your purchase.
Can I purchase a gift card for a friend who is traveling?
Absolutely! Gift cards can be
purchased here
. Gift cards are good for 365 days from the date of purchase.