Duration

1 hour 30 minutes

Venues

Mémorial des martyrs de la Déportation, Memorial of the Shoah, and Église Saint-Sulpice
Audio Guide Details
Audio Guide Description
Paris may be the City of Lights but its history is sometimes shrouded in darkness. On this self-paced audio guide tour with novelist and Context Travel expert, Samuél Lopez-Barrantes, you'll embark on a 90-minute journey to explore the brutal collaboration between the French police and the Nazis who occupied Paris. As you walk through the Latin Quarter, Samuél will shed light on the complex and difficult history behind the Nazi occupation and share tales of the city's resilience as Parisians fought to reclaim their beloved city from German control.  
Our audio guide tour starts in front of Hôtel Lutetia, a luxury hotel that was a hotspot for young expat artists including James Joyce, Ernest Hemingway, Gertrude Stein, and Josephine Baker before it became the home of Nazi counter-intelligence forces. From there, you'll wind through the Left Bank to Rue de Buci, where a Nazi officer nicknamed Dr Jazz transformed the street into a hotbed of musical activity. As you make your way to the Right Bank where the audio tour ends, you'll hear about Charles de Gaulle, Sylvia Beach, and various resistance groups. You'll learn how the city banded together to take their beloved Paris back from the Germans and why there are almost no plaques commemorating the death of a resistance fighter before the last week of the occupation. 
Along the way, you'll have a chance to:
• Learn how Parisians defended their city and transformed narrow streets into strategic locations for the resistance
• Consider the moral struggle that existed between various fractions as they grappled between collaboration and resistance
• Hear about the diverse facets of the French Resistance
• See the Commissariat de Police building, where you'll find out the role the police played in the occupation and resistance
• Meet key figures in the French Resistance, from Charles de Gaulle, Charles Leclerc and Julia Gréco, to Sylvia Beach and James Reese Europe
• Gain an understanding of French politics leading up to World War II
• Take in the original and new Shakespeare and Company bookstores
• Visit the Shoah and Deportation memorials that honor the Jewish French victims and the 6 million who tragically perished during the Holocaust
By the end of this 90-minute audio guide tour, you'll understand how the City of Light turned into one of darkness during Nazi Occupation, and have a sense of Parisians' struggles and resilience during this dark time.  
Meet Your Expert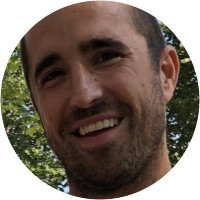 Samuél is a published novelist (Slim and The Beast, Inkshares, 2015) and musician who has lived in Paris since 2008. He holds an M.A. in European Society from University College London & an MFA in creative writing from Vermont College of Fine Arts. Samuél teaches creative writing at the Sorbonne, hosts the Paris Writers' Salon with a local literary legend (John Baxter), and is also a singer/songwriter (vocals/piano/harmonica). His last musical project, Slim and The Beast, saw sustained success in Europe for 7 years. Samuél's next novel, The Requisitions, is about history, memory, and the Nazi Occupation of Poland. After witnessing the inner workings of publishing and the music industry, Samuél has decided to publish his next work independently. Read Samuél's latest work on Substack, ifnotparis.substack.com
How do I access the audio guide and download it for offline use?
Once you complete your purchase, you will receive a voucher code for your Audio Guide. You must download the Voicemap app and enter the code. 
Install VoiceMap from the Apple App Store or Google Play
Create an account
Select Tour Codes from the menu, then select Enter Codes
Enter your Voucher Code
Select Download Now
Is closed captioning (i.e. subtitles) available?
Yes! All of our audio guides have the option to turn on closed captioning should you have difficulty hearing the expert.
How long does each event last?
Our recorded audio guides typically run for 75 minutes.
How can I share this audio guide with friends or family?
You are welcome to listen together with friends or family, but each person listening to the guide on their own device will need to purchase the audio guide individually.
How long does my access to the audio guide last?
Once you purchase an audio guide, you are welcome to listen to it as many times as you would like. Your access to a purchased audio guide does not expire.
What is your cancellation and refund policy?
Sales for recorded audio guides are final upon purchase. Please contact us at digital@contexttravel.com if you have any questions or concerns about your purchase.
Can I purchase a gift card for a friend who is traveling?
Absolutely! Gift cards can be
purchased here
. Gift cards are good for 365 days from the date of purchase.
Reviews can only be left by Context customers after they have completed a tour. For more information about our reviews, please see our FAQ.
Loved being able to take the tour on our own t
Dec. 2, 2023