Duration

1 hour 30 minutes

Venues

Arc de Triomphe (exterior only), Louvre Museum, Les Invalides, Palais Royal, Musée de l'Orangerie, Tuileries Garden, Place de la Concorde, Champs-Elysées, and Eiffel Tower (exterior only)
Audio Guide Details
Audio Guide Description
With its myriad museums and vibrant collection of history, art, and culture, it's easy to feel daunted when you set out to explore Paris. On this self-paced audio guide tour along the Right Bank, art historian, and Context Travel expert Laurent Bonneval will shed light on this sophisticated city's hidden stories, from the Louvre Museum to the Arc de Triomphe where our audio tour ends.
Along the way, you'll walk in the footsteps of royalty as you hear about the Louvre's transformation from a royal palace built in the 1300s into a museum and a beacon of knowledge during the French Revolution. You'll then take in Palais Royal, now a picturesque residential area filled with cafes and apartments, and find out how it epitomizes Parisian culture and its quirks.
As you make your way through the Tuileries Garden and along Champs-Élysées, Laurent will share insights into some of the landmarks on the Right Bank, including the Hôtel de la Marine and Petit Palais, now a museum. You can even enjoy a bonus track that guides you around Place du Trocadero to see the iconic Eiffel Tower.
On this Paris audio guide tour, you'll:
• Hear tales about influential figures who've left an indelible mark on the city's story, like Général De Gaulle, Winston Churchill, and the Marchioness of Paiva
• Dive into the city's centuries-long transformation, each era contributing to its diverse and captivating identity
• Compare the world-famous macaroons at Ladurée and Pierre Hermé pastry shop, and trace this tasty treat's roots back to the Loire Valley in 781
• Witness the grandeur of Place de la Concorde, an architectural gem from the 1700s that reflects the influence of Renaissance art on this enchanting city
• Marvel at the iconic Arc de Triomphe, a monument dedicated to Napoléon's triumphs, and learn about the evolving chapters of French national pride
• Journey down the famous Champs Elysées avenue, imagining its transformation from a simple alley into the elegant promenade it is today
• Wander through beautiful squares and gardens, including Place Colette and the Palais Royal Garden
• Take in the sculpture honoring the victims of the 2015 and 2016 terrorist attacks, Bouquet of Tulips by Jeff Koons
• Stroll through the serene Tuileries Gardens, Paris's most exquisite park adorned with over 100 sculptures, adding an artistic dimension to this urban oasis
• Choose to visit the Louvre Museum, the Orangerie Museum, Hotel de la Marine, which holds the Ministry of Navy, St. Magdalena's Church (Eglise de la Madeleine), or Petit Palais. • Have time to relax at the Tuileries gardens, stop for a drink at Bassin Rond, enjoy the scenery around Rond-Point and indulge in a tasty treat at Ladurée pastry shop or Pierre Hermé pastry outlet. Ladurée is open every day from 8:30 AM till 9:30 PM, and Pierre Hermé is open from 11 AM - 7 PM Monday through Thursday and 10 AM to 8 PM on Friday, Saturday and Sunday.

Join us on an immersive journey through the vibrant tapestry of Paris, where every step reveals Paris' resilience, cultural richness, and historical significance.
Meet Your Expert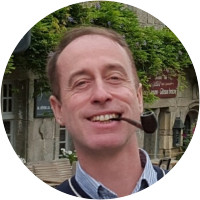 Even before getting his university degrees in Law and Business, Laurent was the youngest "guide-conférencier" to obtain his license in France at the age of 16. With an authentic passion for art and history, he had a previous career in international business and marketing before focusing entirely on his job as guide. An art collector himself, particularly fond of painting, he attended open courses at the Ecole du Louvre and graduated from IESA art school. His purpose, thanks to a very participative approach, is to make you see and understand art rather than just learn about it.
Does the audio guide include tickets to the Forum?
No, your purchase only includes the audio guide. Please book your entrance tickets directly from the venue
here
.
How do I access the audio guide and download it for offline use?
Once you complete your purchase, you will receive a voucher code for your Audio Guide. You must download the Voicemap app and enter the code. 
Install VoiceMap from the Apple App Store or Google Play
Create an account
Select Tour Codes from the menu, then select Enter Codes
Enter your Voucher Code
Select Download Now
Is closed captioning (i.e. subtitles) available?
Yes! All of our audio guides have the option to turn on closed captioning should you have difficulty hearing the expert.
How long does each event last?
Our recorded audio guides typically run for 75 minutes.
How can I share this audio guide with friends or family?
You are welcome to listen together with friends or family, but each person listening to the guide on their own device will need to purchase the audio guide individually.
How long does my access to the audio guide last?
Once you purchase an audio guide, you are welcome to listen to it as many times as you would like. Your access to a purchased audio guide does not expire.
What is your cancellation and refund policy?
Sales for recorded audio guides are final upon purchase. Please contact us at digital@contexttravel.com if you have any questions or concerns about your purchase.
Can I purchase a gift card for a friend who is traveling?
Absolutely! Gift cards can be
purchased here
. Gift cards are good for 365 days from the date of purchase.