Albrecht Dürer is one of the most celebrated artists and thinkers of the German Renaissance. Born in Nuremberg in 1471, this multi-talented 'Renaissance Man' is most recognized for his elaborately-detailed oeuvre, particularly his oil paintings and the pioneering woodcut prints which helped to disseminate his art throughout Europe. In addition to these works, the polymath artist produced watercolors, copper engravings, and even published theoretical works discussing mathematics, art theory, social reform, and city planning, among other topics. Dürer's art was influenced by his two trips to Italy, and key figures of the Italian Renaissance both informed and were inspired by the German artist's works.
The following Albrecht Dürer artworks represent some of the artist's most significant paintings and prints which cemented his place in history as one of the revolutionary figures of the Northern Renaissance.
Curious to learn more about the life and works of Albrecht Dürer? Discover the artist's life and legacy with an art historian in a virtual, interactive, Context Learning seminar.
Without further ado, here are 10 revolutionary Albrecht Dürer artworks:
The Four Horsemen of the Apocalypse, 1498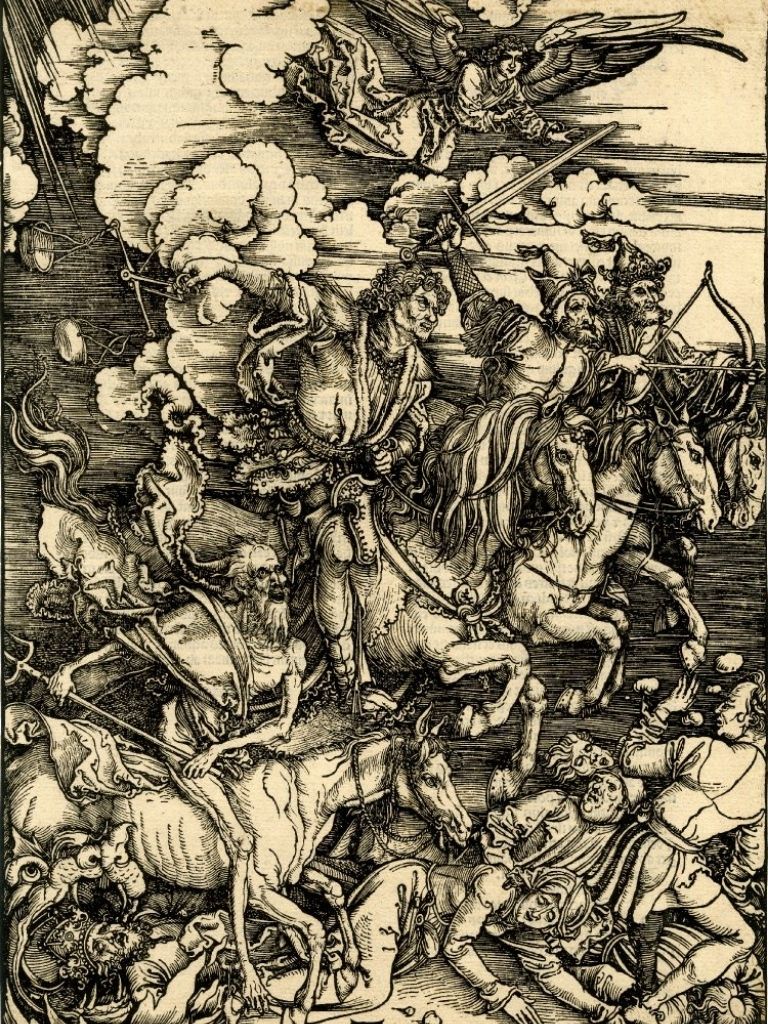 One of a series of 15 woodcuts depicting events from the Book of Revelations, The Four Horsemen of the Apocalypse is one of the most famous Albrecht Dürer prints. Published on the cusp of a new century, at a time when many predicted the second coming of Christ, this series of prints was a particularly appropriate subject matter in 1498. In this woodcut, we see the apocalyptic horsemen Death, Famine, War, and Plague charging forth, trampling all who stand in their path. The chaotic and terrifying scene is filled with stunning detail and a sense of motion that artists previously had been unable to translate to print form. Dürer himself published this series, making him the first artist to both publish and copyright a book. The series was widely circulated, thanks to the relatively new technology which Dürer helped to revolutionize through his woodcuts―the printing press.
Self-Portrait at Twenty-Eight, 1500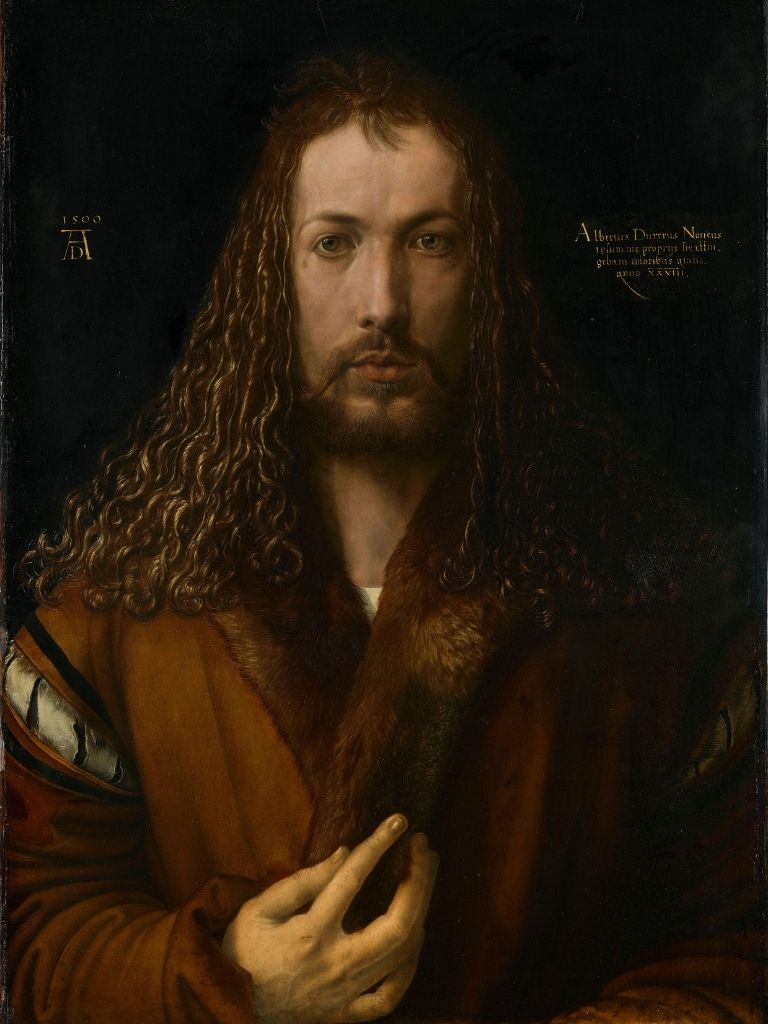 Painted just two years after his Apocalypse woodcut series, Albrecht Dürer's self-portrait shows off the artist's masterful command of oils. To the modern eye, this work may appear to be a simple self-portrait, but at the time this painting bordered on the blasphemous. Dürer is positioned confidently confronting the viewer head-on, a departure from the three-quarters stance preferred at the time. The front-facing positioning, dark background, hand position, and free-flowing long hair all call to mind medieval religious iconography, a parallel that Dürer was undoubtedly trying to draw. Here, the artist himself appears Christ-like. A Latin inscription reads "I, Albrecht Dürer of Nuremberg, portrayed myself in everlasting colors aged twenty-eight years." Overall a powerful message both visually and symbolically.
Young Hare, 1502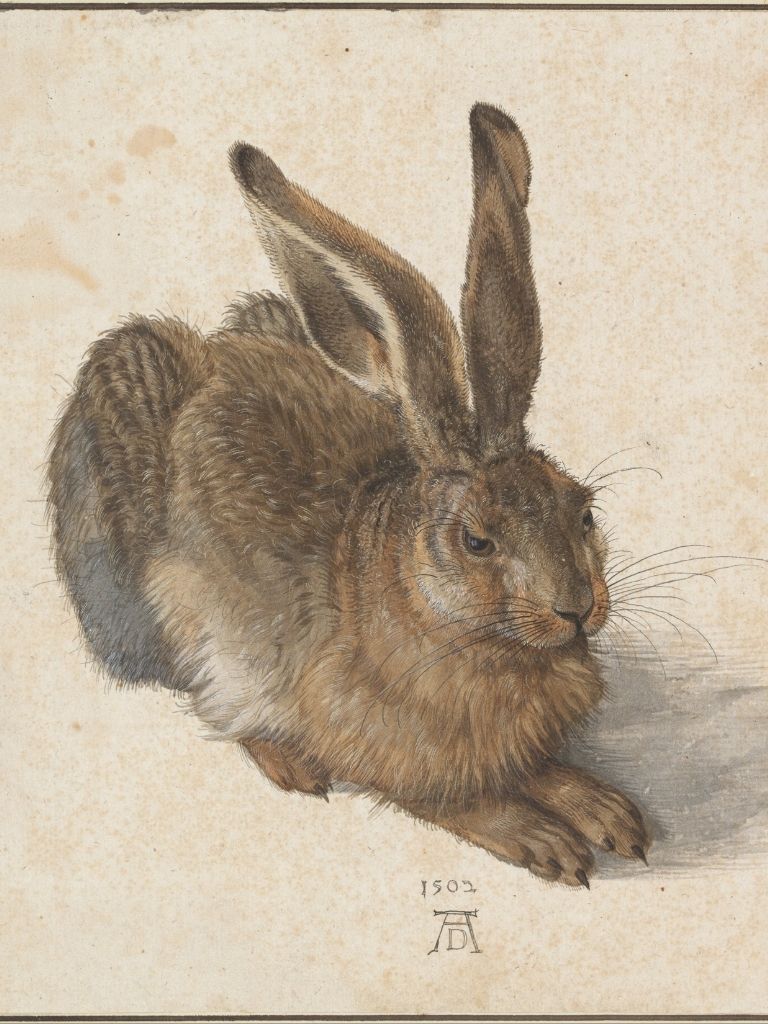 An artist of many talents and interests, Young Hare reflects Dürer's studies of the natural world as well as his skills with watercolors. An important hallmark of the Renaissance was the desire to understand science, anatomy, and proportion, and reflect these principles through art. Young Hare is but one of many Albrecht Dürer artworks which seek to accomplish just that. The small woodland creature is carefully painted with painstaking detail in an almost scientific manner, yet the artist manages to imbue the subject with a sense of tension. The hare's fur is textured, almost tactile, and the animal's hind legs appear ready to leap at any moment. This technical study of such an ordinary animal was one of the first of its kind, and this masterpiece shows yet another arena in which Dürer was an artistic pioneer.
Great Piece of Turf, 1503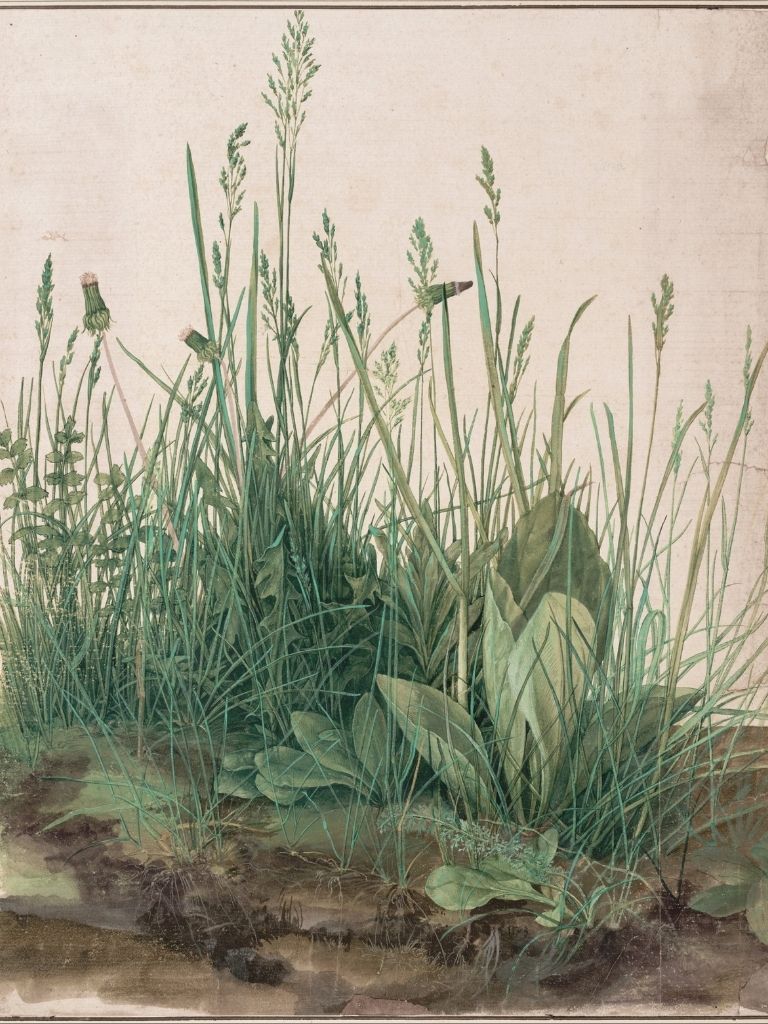 Dürer's fascination with the natural world is once again reflected in his work Great Piece of Turf. One of many Albrecht Dürer artworks focusing on realistic, observational studies of nature, this watercolor takes on a surprising, overlooked subject―turf. Here, Dürer depicts several species of plants and grasses with such detail that even today these plants are recognizable and identifiable. Dandelions, yarrow, and meadow grasses are meticulously rendered. This scientific depiction of botanical elements was an uncommon subject for artists during this time. Dürer's attention to natural details can be seen throughout his other works and would influence artists through the sixteenth century and beyond.
Adam and Eve, 1504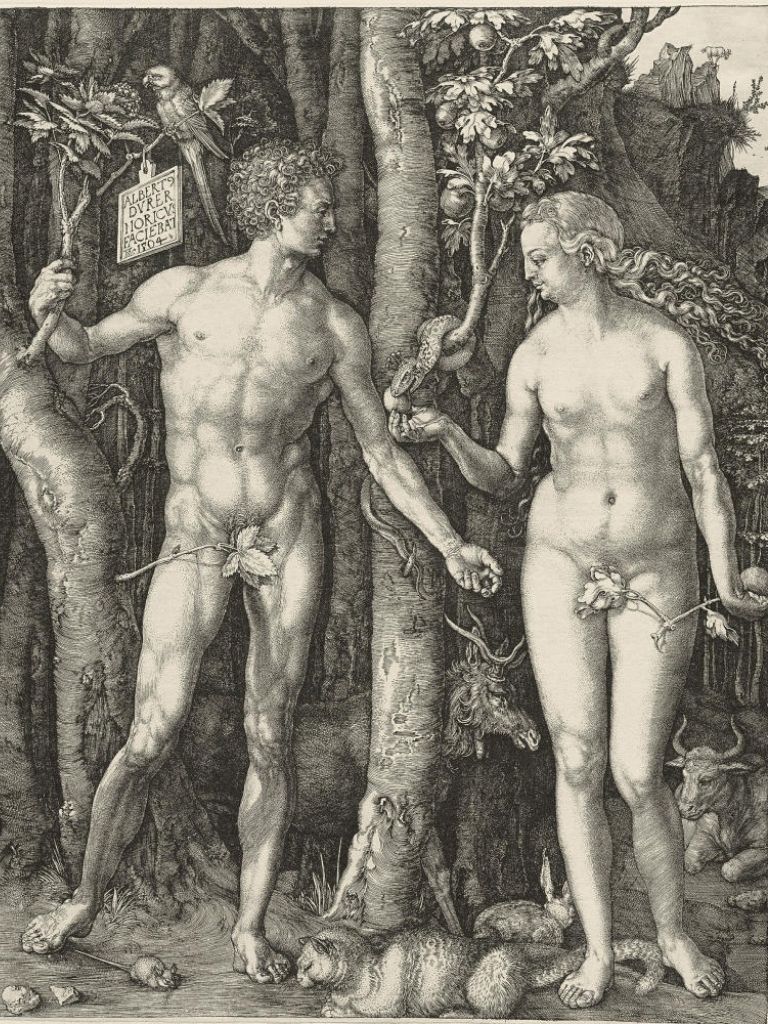 When discussing Albrecht Dürer prints Adam and Eve is a masterpiece that is not to be missed. Dürer's depiction of this Biblical scene reveals two of his fascinations-the human form and the natural world. Adam and Eve appear nude, standing one leg bent in a contrapposto position, reminiscent of classical sculptures. Though Adam and Eve are the subjects of the work, the backdrop is by no means an afterthought―careful attention has been paid to scenic elements, with elements like tree bark, foliage, and animals rendered remarkably lifelike. The scene has depth, detail, and dynamism, reflecting Dürer's status as a master engraver.
Feast of the Rosary, 1506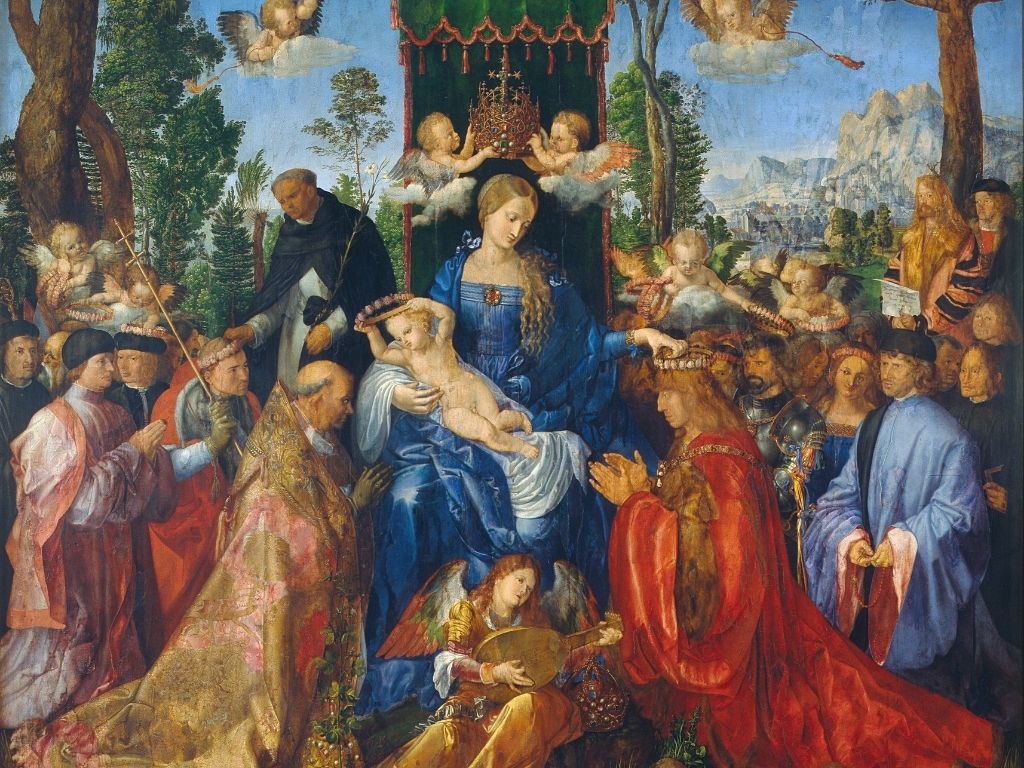 One of the factors which made Albrecht Dürer artworks stand out from those of his contemporaries was his ability to mix elements of the Italian Renaissance hallmarks of the Northern Renaissance. As a German artist who visited Italy twice, Dürer was uniquely equipped to fuze these styles, resulting in masterpieces like his 1506 Feast of the Rosary. In this work, Dürer combines techniques, colors, and styles from both Italian and German painting traditions, resulting in a stunning depiction of the enthroned Virgin Mary with the Christ child on her lap. Art enthusiasts will note Italian influences in the work's use of color and light, while also recognizing familiar Northern Renaissance elements in the landscape and composition.
Praying Hands, 1508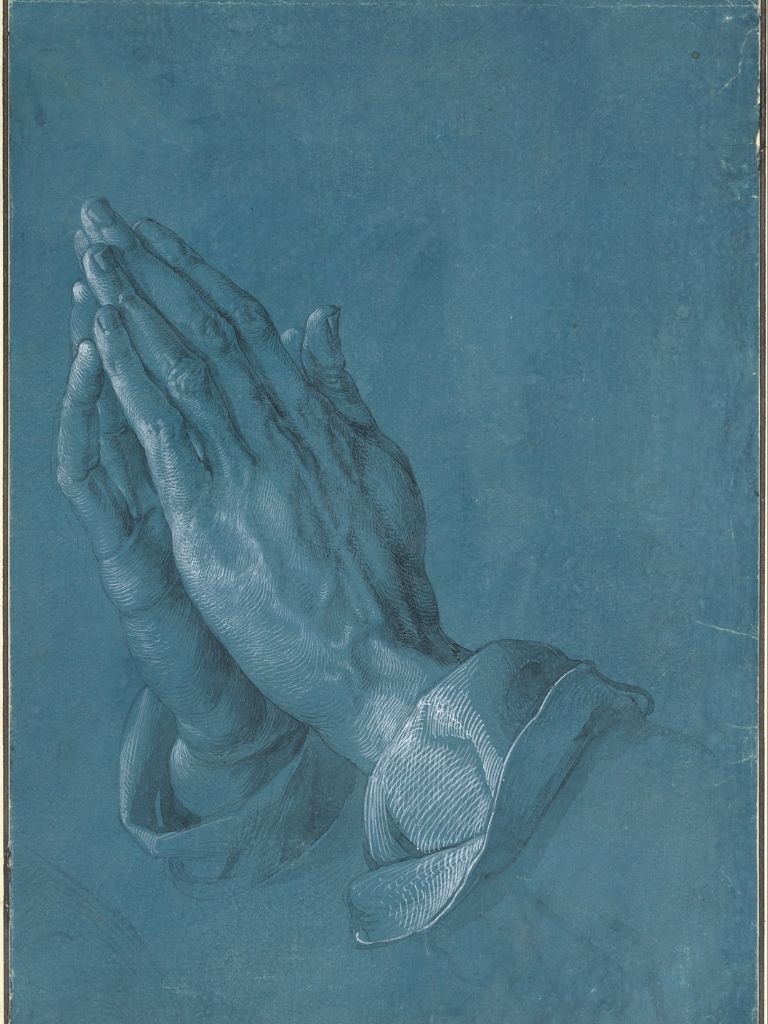 Praying Hands may be over 500 years old, but this pen-and-ink Dürer creation continues to resonate in popular culture. From Andy Warhol's tomb to Justin Bieber's leg, versions of Praying Hands can be seen everywhere. Per the Wall Street Journal, "'Without a doubt, it's the most famous drawing in the world," says Andrew Robison, a senior curator of prints and drawings at the museum. And one of the most appropriated. "In every gas station in the South, in every bank behind the teller, you have an image of the 'Praying Hands.'" The original drawing was done on blue paper made by the artist himself and is believed to have been created as a sketch for Dürer's Heller Altarpiece which was destroyed in a 1729 fire.
Dürer's Rhinoceros, 1515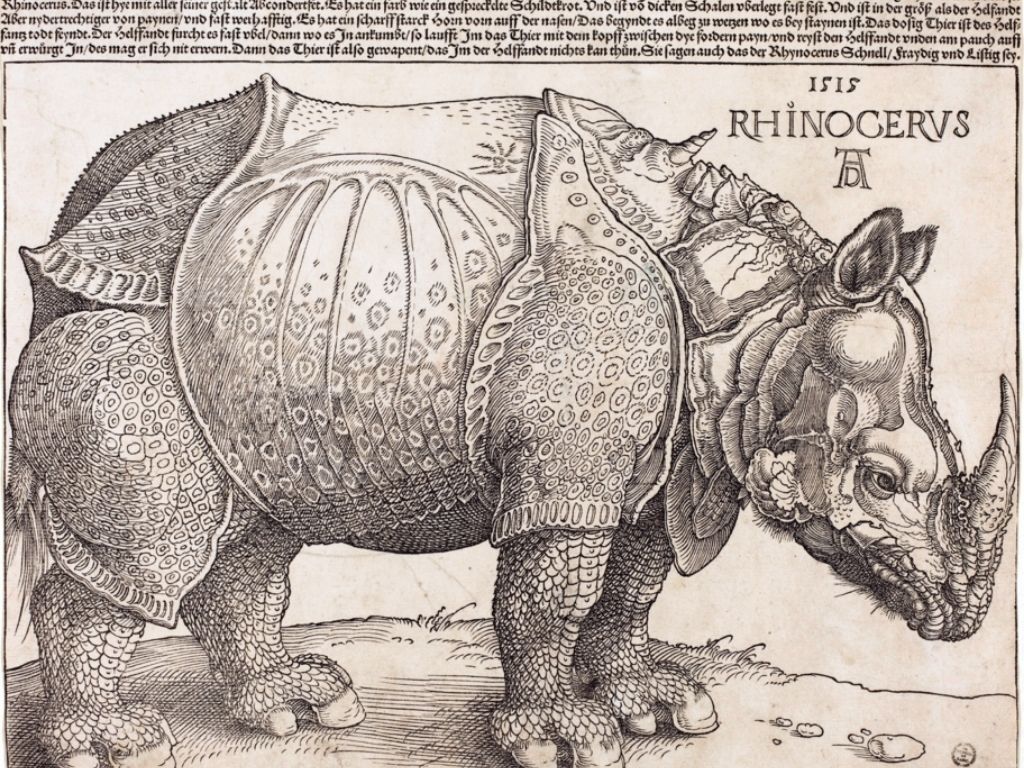 Of all of the Albrecht Dürer prints created, perhaps the most unique in subject matter is his 1515 depiction of a rhinoceros. Unlike some of Dürer's more true-to-life representations of animals, this woodcut was created by the artist without ever having seen the subject himself in person. The print was instead based on a written description and sketch of an actual rhinoceros that arrived in Lisbon in 1515. Though the print is not an accurate representation of a rhinoceros, it is remarkably in line with the text description Dürer used as a basis for the print.
Dive deeply into your favorite subjects with Context Learning. Our expert-led virtual seminars and courses connect you with passionate scholars from around the world. Discuss Albrecht Dürer artworks with an art historian, explore Egypt with an archaeologist, or embark on a virtual tour of Paris with a local guide―what will you learn with Context?
Are you planning a trip and seeking in-person art historical tours? Join our local experts to explore museums, historic landmarks, and archaeological sites worldwide with Context Travel.