Ask any savvy traveller about must dos for Visiting Barcelona and the Sagrada Familia is bound to be high on their list. Gaudí's magnum opus, currently expected to be complete in 2026, receives over 3 million visitors a year, with many more estimated to pass by its iconic exterior. While the building is well-trod on the tourist circuit, it (and the surrounding area) also contain some of Barcelona's best hidden secrets.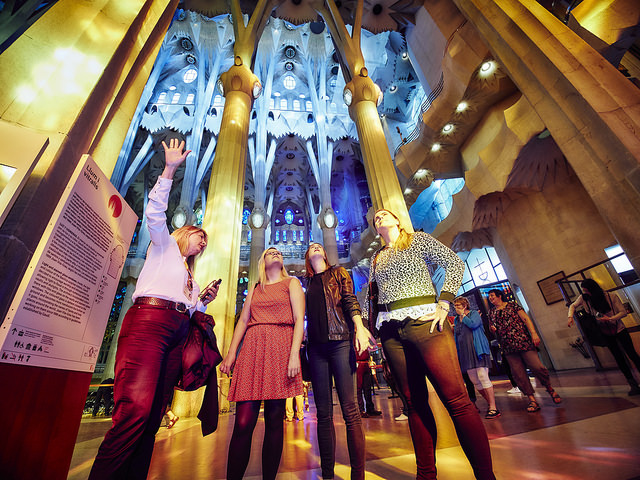 Sagrada Familia isn't even a Cathedral
Many people assume that this huge elaborate Gaudí building must be Barcelona's main Cathedral—but not so! The Sagrada Familia is in fact a Basilica, meaning a Church that had been granted special status by the Pope. Only churches that are home to a bishop can be called Cathedrals; Barcelona's can be found in the heart of the Barri Gótic. You can explore this building and the many secrets behind its construction on our Gothic Quarter tour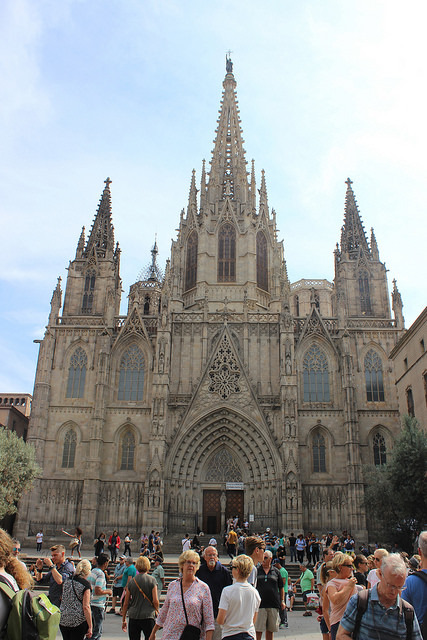 Gaudí Didn't Begin As Head Architect of Sagrada Familia
It is well known that Gaudí died before he saw his Masterpiece completed but many don't realize that Gaudí was not always the head architect. When construction began back in 1882, it was overseen by Madrid-trained architect Francisco de Paula del Villar y Lozano. Gaudí initially worked under him in a junior capacity but would take over once Villar y Lozano departed the project the following year due to creative differences with the book seller and philanthropist Josep Maria Bocabella, who had commissioned the project. Villar had envisaged a Neo-Gothic design (similar to the current façade of the Barcelona Cathedral seen above), traces of which can still be seen in the crypt. It's crazy to think just how different things might have turned out had he continued!
Gaudí Died in a Tragic Accident and No One Recognized Him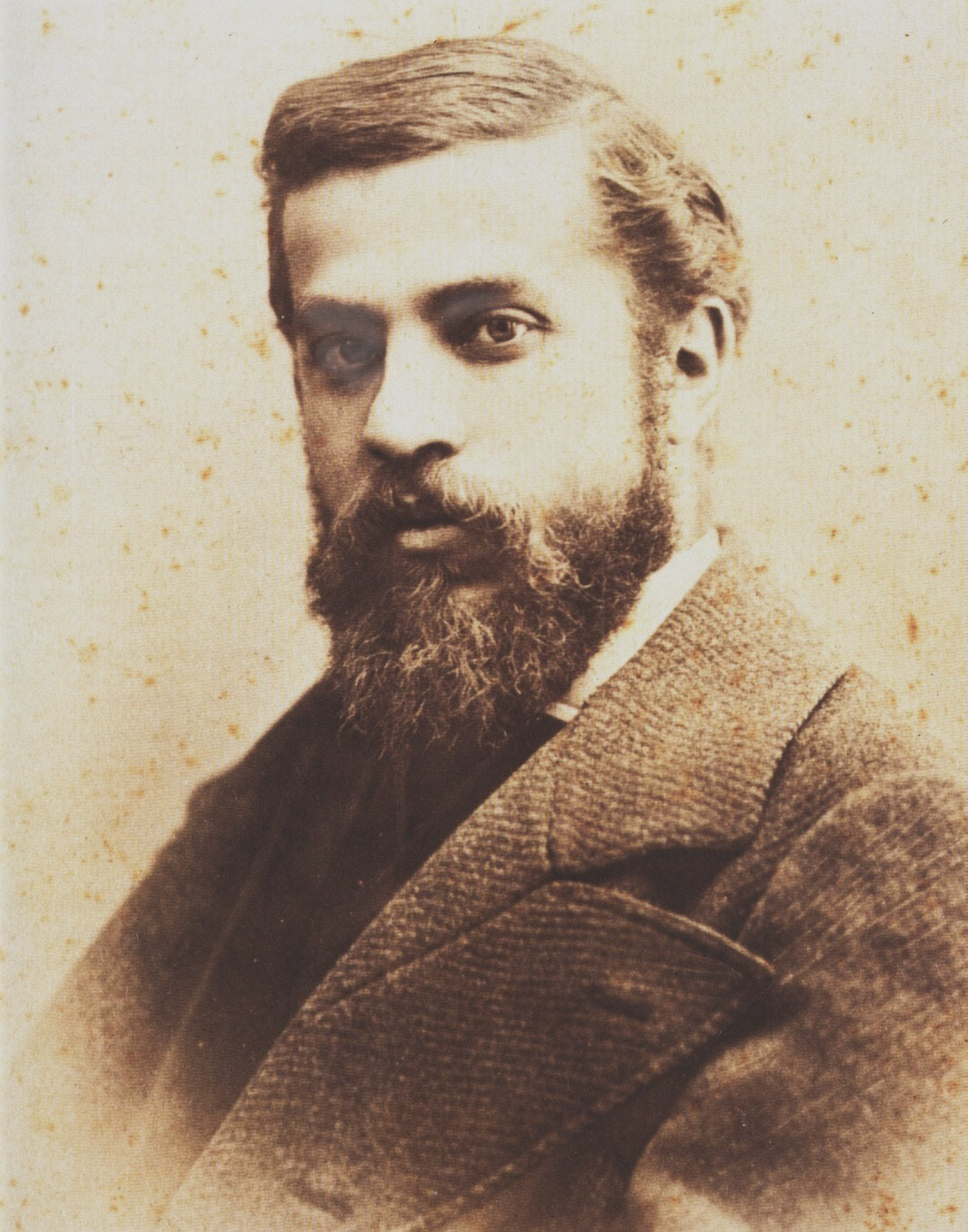 Gaudí passed away at the age of 73 in 1926 and you'd be forgiven for thinking the cause was old age. However, the architect was in fact struck by a tram on his daily route to church. Even though he was fairly well-known in Barcelona at this point, he was dressed shabbily and didn't have any identifying documents on him, so he was initially assumed to be a beggar. He was eventually taken to hospital where the Sagrada Familia chaplain recognized him the following day, but by then his condition had deteriorated so much that he died on June 10th. He is buried in the crypt of the Basilica. The current projected year of completion is actually due to coincide with the centennial of Gaudí's death.
Sagrada Familia Was Vandalized During the Spanish Civil War
Thankfully, the Sagrada Familia was spared in the bombing raids on Barcelona carried out by the Italians during the Spanish Civil War. However, it was not left completely unscathed. A strong current of anti-clericalism was palpable amongst the Spanish Republicans (especially since the Nationalist rebels led by Franco had close ties to the Catholic Church), and thus many Churches were destroyed across the country throughout the bitter conflict.
In 1936 the Sagrada Familia crypt and Gaudí's workshop were set alight, destroying many important models and plans that the architects had been relying on for the continuation of the project. Indeed, the debate rages on to this day as to whether the current aesthetic of the project remains true to Gaudí's original vision, with many in the arts world arguing that it does not. Rumor has it that a number of bodies were removed or damaged from the crypt during the 1936 attack (including those of the Bocabella family who had originally financed the project) but Gaudí's was left alone due to the immense respect for him and his contribution to the city of Barcelona. Learn more about this tumultuous period on our Barcelona Civil War Tour.
Sagrada Familia Costs Around €25 million a Year to Build
Whilst it is impossible to estimate the total costs of construction the Basilica has incurred over the years, we do know that it has has never received public or even church funding. Instead it relies entirely on revenue from ticket sales and other private donations. As such it has earned the title Expiatory temple. The current estimate for building costs per year is a whopping €25 million.
Sagrada Familia is a Stone's Throw from Another Modernista Masterpiece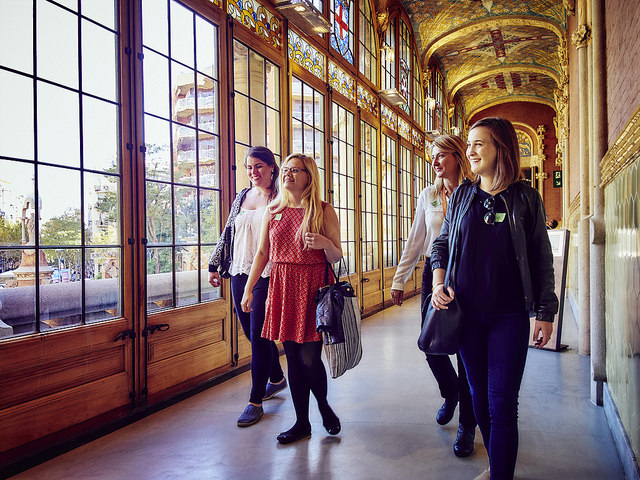 Gaudí's work did not exist in a vacuum. Indeed, as those who take our Gaudí in Context orientation tour will discover, there are two contemporaries of his in particular that helped shape the Barcelona skyline. Josep Puig i Cadafalch and Lluís Domènech i Montaner made invaluable contributions to the Catalan Art Nouveau movement. The latter is responsible for the Palau de la Música Catalana and the lesser known but no less stunning Hospital de St. Pau—a huge modernista pavilion straight down the road from the Sagrada Familia. Together with the Palace of Catalan Music, it is a UNESCO World Heritage Site and strolling through its intricate mosaicked corridors it's easy to see why. Designed to replace the Santa Creu hospital in el Raval that dated back to medieval times and had fallen into disrepair, the site is bright, spacious, and modern, as the architect felt that beautiful surroundings would aid the healing process. It actually remained operational as a Hospital until 2009 and is now open to the public so visitors in the know can behold it's magnificent surroundings.

We think this site is well worth checking out, so much so that we incorporate it into our Sagrada Familia Tour for a deeper understanding of Gaudí and the factors that shaped his innovation.
We hope you've learned something new about the Sagrada Familia. If you're dying to see it for yourself, we have several options to do so in the company of an Art Historian or architect amongst our Barcelona tours. See our list of other things to do in Barcelona, or drop us line on Spain@contexttravel.com. We love to share our top picks and hear yours as well!