A visit to Siena is an experience like no other – a stunning juxtaposition of Medieval times with the amenities of the modern world. This Tuscan city sits at the intersection of three hills culminating in the glorious Piazza del Campo.
Visitors to Siena can experience the city's incredible historical significance, rich culture, and inviting traditions.
The History of Siena
Originally founded as an Etruscan settlement around 900-400 BC, the area was initially inhabited by the Saina tribe. Under the reign of Emperor Augustus, Siena became a Roman Colony. In the 8th century, Charlemagne conquered the city, and eventually Siena began to flourish. Siena became a self-governing, independent city-state during the Middle Ages, expanding its influence over banking and commerce. Tensions arose between Siena and Florence as they competed to be the preeminent center of commerce, with Florence ultimately emerging as the victor.
Siena experienced a decline during the Renaissance when it was hit hard by the Black Death. However, Siena was home to several famous artists, including painter Domenico di Bartolo and sculptor Jacopo della Quercia.
Today, Siena is praised for its commitment to historic preservation and authenticity. This Medieval city retained much of its charm and significance over the centuries, and it has been designated a UNESCO World Heritage site.
The Siena Palio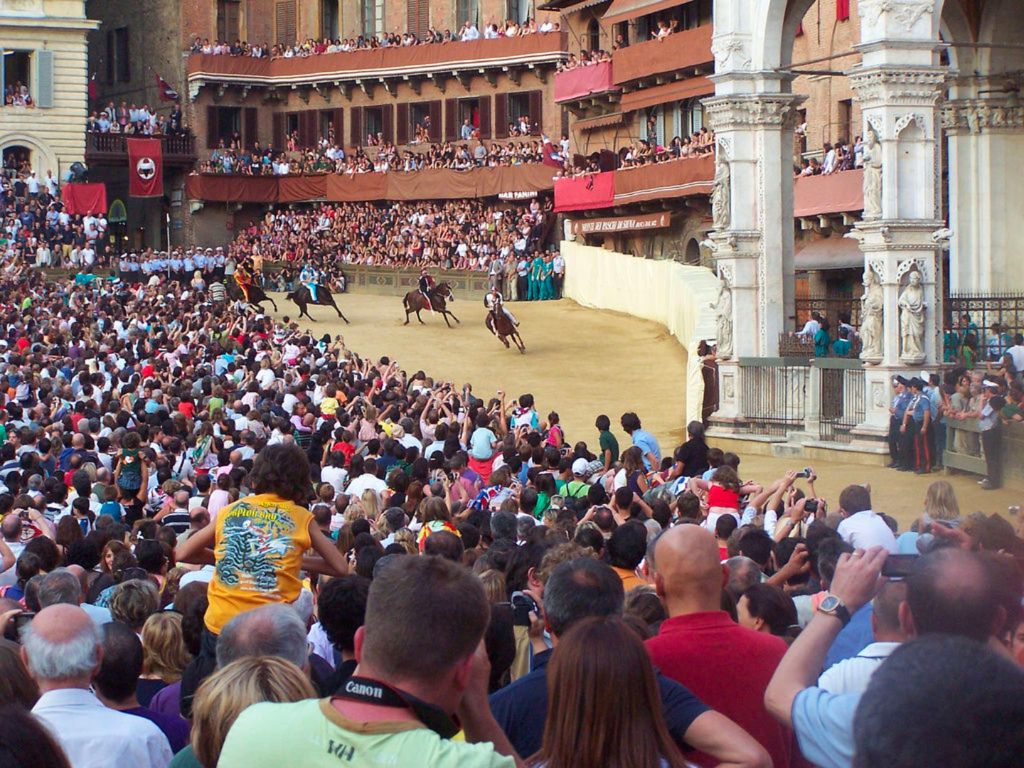 The Palio di Siena is a horse race that takes place twice a year in the central Piazza del Campo in Siena, Italy. Horse racing in Italy has a long and rich history dating back to the Medieval period.
The Palio di Siena began in the 13th century when it was commonplace for horses to be used in public games and tournaments. The current race course for the Siena Palio was established around 1659, and it launched a storied tradition that is alive and well today.
The Siena Palio consists of 10 horses and riders, each representing one of the city's "contrade" or districts. More than 100 horses are entered for Palio consideration, and the roster of horses is quickly narrowed as they undergo medical exams and assessments by expert horse trainers. There is a strict protocol for treating, training, and caring for Palio horses.
The riders race bareback around the Piazza del Campo, which is transformed into a dirt track for the occasion. The race lasts just 90 seconds, and the winner receives a silk banner, or "palio," a highly coveted prize. The Palio di Siena has a deep cultural significance for the people of Siena, who are fiercely proud of their history. The race is complemented by elaborate parades, ceremonies, and religious observances, and the winning contrada celebrates with feasts and fireworks.
Take our Siena Palio Tour to explore this defining horse race's deep and fascinating history. In a three-hour Siena Palio tour, you'll experience the ins and outs of the race, visit all the spots relevant to the competition, and learn how the race has come to define this city. You can even take this tour on the day of the Siena Palio, which occurs twice per year – on July 2 and August 16.
Exploring the Contrade of Siena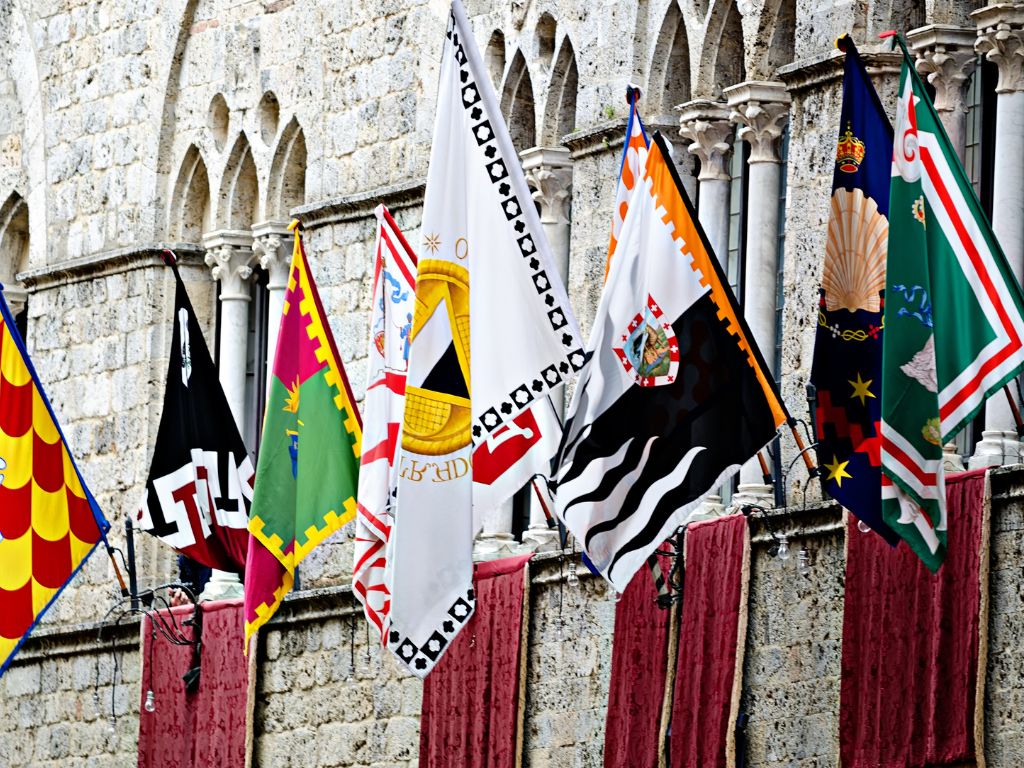 The Contrade of Siena is an enchanting web of 17 historic districts that make up the city of Siena. Each contrada has a distinct identity, emblem, and history, as well as its own traditions. Residents of Siena have a deep connection and attachment to their contrada.
Each contrada has its own animal symbol:
Aquila (Eagle)
Bruco (Caterpillar)
Chiocciola (Snail)
Civetta (Owl)
Drago (Dragon)
Giraffa (Giraffe)
Istrice (Porcupine)
Leocorno (Unicorn)
Lupa (She-wolf)
Nicchio (Seashell)
Oca (Goose)
Onda (Wave)
Pantera (Panther)
Selva (Forest)
Tartuca (Tortoise)
Torre (Tower)
Valdimontone (Ram)
In the days leading up to the Siena Palio, the city's neighborhoods each host a traditional meal. These are an essential part of the culture in Siena, and it's an opportunity for the residents of the contrada to come together, celebrate their history, and get excited about the race.
The typical menu for a contrada dinner includes traditional Tuscan cuisine like roasted meats, seasonable vegetables, and local wines. This is a family-style meal like none you've ever experienced. Although these dinners are usually reserved for contrada residents, you may be able to make a reservation and experience the true essence of Siena.
Enjoying the Culture of Siena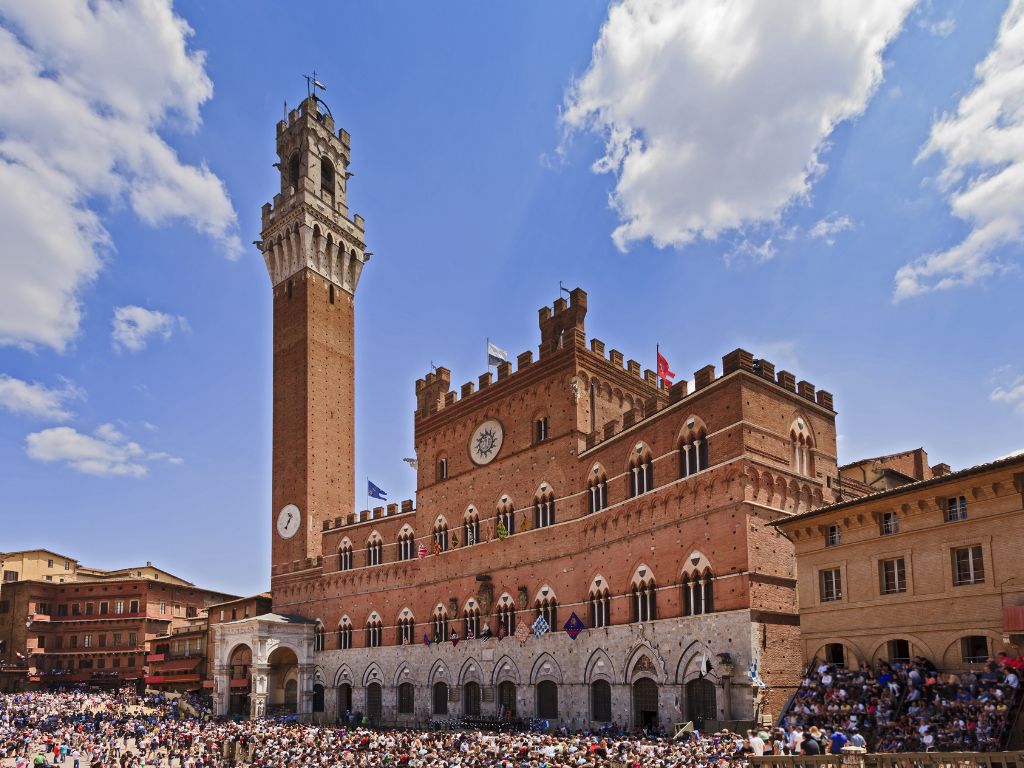 At the heart of Siena's culture is the trifecta of cuisine, art, and architecture. Its historical roots are prevalent in its magnificent Medieval buildings and carefully preserved streets. Walk the same alleys that Siena visitors and locals have walked for centuries. The Siena residents' pride in their city is readily apparent everywhere you look.
Tucked within Italy's finest wine regions, Siena welcomes visitors with some of the best wines in the world, along with fresh, local produce. Famous food from Siena includes pici pasta, a hand-rolled pasta with a rich meat sauce, and cantucci, a crunchy almond biscuit often accompanied by a dessert wine.
Piazza del Campo, the city's historic city center, is one of Siena's must-see attractions. It is famous for its incredible architecture and clamshell shape, and is considered one of the most well-preserved Medieval squares in existence today. The Siena Cathedral is also a popular destination, and it represents a stunning example of Romanesque and Gothic architecture. Visitors can see classic works of art by Pisano, Michelangelo, Donatello, and more.
In addition to the celebrations around the Siena Palio, the city hosts a number of notable and exciting festivals, including:
Settimana Santa – a religious celebration of Holy Week
Festa di Giovanni Battista – a festival honoring the city's patron saint, St. John the Baptist
Siena Jazz – a popular jazz festival that features some of the best musicians from around the world
Estate Musicale Chigiana – a summer music festival that features performances by world-renowned musicians in gorgeous historic settings
Private Tours of Siena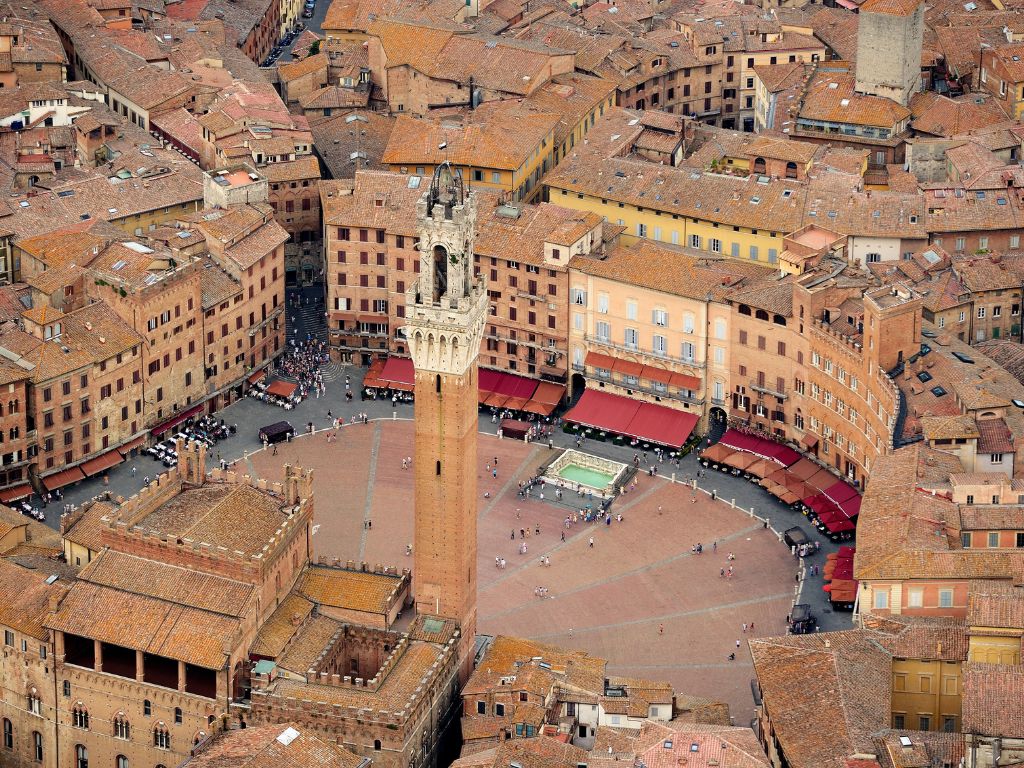 Siena is an enchanting city brimming with history and culture – and the best way to experience it all is with a tour guide. Our Introduction to Siena Tour gives you three hours to explore Siena as your expert guide uses their insider viewpoint to foster an appreciation for this special corner of the world.
Those looking for a deep dive into horse racing in Italy can sign up for our Siena Palio Tour led by a historian and contrada member. Your guide will take you through the basics of the race and recreate the Palio onsite with archival images and video. You'll learn about the contrade of Siena, the distinct and rivalrous quarters of the city.
Traveling from Florence to Siena
One of the great things about Europe is the availability of public transportation!
You have several options to travel from Florence to Siena. Take your pick from:
Bus – there are regular buses that run from Florence to Siena. The trip takes about 90 minutes, and you can purchase tickets online.
Train – trains run to Siena from Florence's Santa Maria Novella station, and the journey is an hour long. Purchase tickets online or at the station.
Car – you can drive yourself from Florence to Siena in about an hour.
Private Transportation – you can book a private transfer from Florence to Siena for a personalized travel experience.
Plan a Trip to Siena, Italy
Set against the background of verdant hills, Siena's awe-inspiring architecture and the culture that has flourished within offer visitors a once-in-a-lifetime experience. It is the site of the most famous horse racing in Italy, a cultural hub, and a wonderfully preserved historical city.
Our guided tours are a great way to leverage an expertly planned itinerary, connect with locals, and gain a deep understanding of Siena's history and significance. You can also prep for your trip (or reminisce once you're home!) with Context Learning.
From online courses to seminars about Italy, we're proud to offer engaging learning opportunities designed to enhance your understanding of the places and faces around us.
You Might Also Like: