Julia Child once said, "In France, cooking is a serious art form and a national sport."

Few places (if any) are as renowned for their culinary excellence as France – and Parisians take their food seriously. Good food is not just a part of life; it is life. Dining and cooking is an essential part of French culture that is central to the country's identity.
You can certainly peruse the brasseries or explore fine-dining restaurants on your own, but Paris food tours offer an exclusive insider experience that will take your meals from every day to upscale.
The Importance of Food in French Culture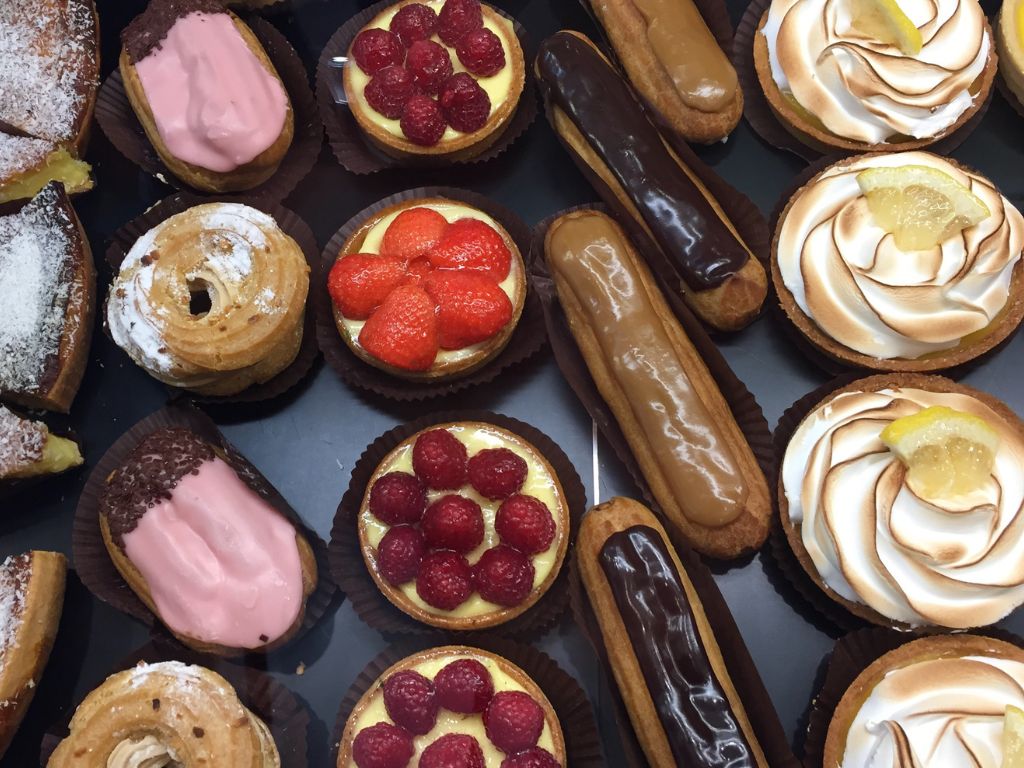 French people associate food with more than simple sustenance. It embodies everything they love about their culture; it is a chance to slow down and savor time with friends and family. Foodies from across the world travel to Paris to experience the tastes, smells, and sights of unparalleled French cuisine.

The role of food is central to French traditions. Recipes are passed down from generation to generation, strengthening the country's culinary history. In a country known for its dedication to art and beauty, food is no exception. French cuisine is widely considered an art form, and chefs' strict commitment to high-quality ingredients, presentation, and precision is well-known throughout the world.
Each region of France prides itself on its diverse cuisines, from the charcuterie of Corsica to the fondue and raclette of Auvergne–Rhône-Alpes. While French fare is heavily steeped in tradition, it also incorporates elements from outside the country by embracing flavors and techniques from other countries and cultures.
Meals often start at a market overflowing with local produce, craft cheeses, and delectable pastries. If navigating a Paris street market sounds slightly intimidating, we have a Paris Market Tour led by a local chef or food writer. Enjoy your own food adventure with the help and insights of a local while you nibble your way through samples and chat with vendors.
Sharing a meal is the ultimate celebration in France as laughter and conversation are traded over a delicious, well-made meal with free-flowing wine. To experience French food is to experience the soul of France.
Top Neighborhoods for Food in Paris
Paris is a veritable maze of next-level cuisine, so it's hard to go wrong when picking a neighborhood or restaurant. Some Paris neighborhoods are especially known for their food, so here are a few famous dining destinations.

Le Marais
Looking to experience old-world charm and divine flavors? Le Marais is a popular destination for those looking to stroll the cobblestone streets, revel in lush gardens, and enjoy cafe culture. Sample classic French dishes like escargots and onion soup in one of the area's stylish restaurants or delight in a buttery croissant at a traditional bakery.
Montmartre
This bohemian neighborhood features cozy bistros and cafes, as well as legendary wine bars. Snap photos of picturesque little houses as you make your way through the area's historic streets, popping into food shops along the way. Indulge in local cheeses, charcuterie, and traditional French stews in this colorful and unique slice of Paris.
Saint-Germain-des-Prés
Looking for upscale French gastronomy? The elite restaurants of Saint-Germain-des-Prés offer chic cafes, Michelin-starred restaurants, and historic brasseries. It is also home to an elegant covered market with 20 food shops. This neighborhood is a must-stop for visitors who want to elevate their tastebuds with haute cuisine and innovative French dishes.
Belleville
Flavors from around the world converge in the Belleville neighborhood. Awaken your senses with food from North Africa, Asia, the Middle East, and more. With a range of restaurants and food markets featuring worldwide flavors, there's no shortage of culinary experiences in this vibrant neighborhood. Street food, kebabs, and falafel can be found on nearly every corner of this multicultural area.
Canal Saint-Martin
Tradition meets today in Canal Saint-Martin, a trendy area with a host of hipster cafes, craft beer cars, and creative bistros. Vegan or vegetarian visitors will find no shortage of tasty options in this hub of gastronomic imagination located alongside a beautiful canal. For those interested in French fusion dishes and craft cocktails, look no further than Canal Saint-Martin.
La Chapelle
Taste and smell the spices of the world as you sample Indian, Pakistani, and African cuisine in La Chapelle. Located in the 18th arrondissement, La Chapelle is perfect for travelers who want to taste spicy curries, fragrant biryanis, and grilled meats
What Food and Drink is Paris Known For?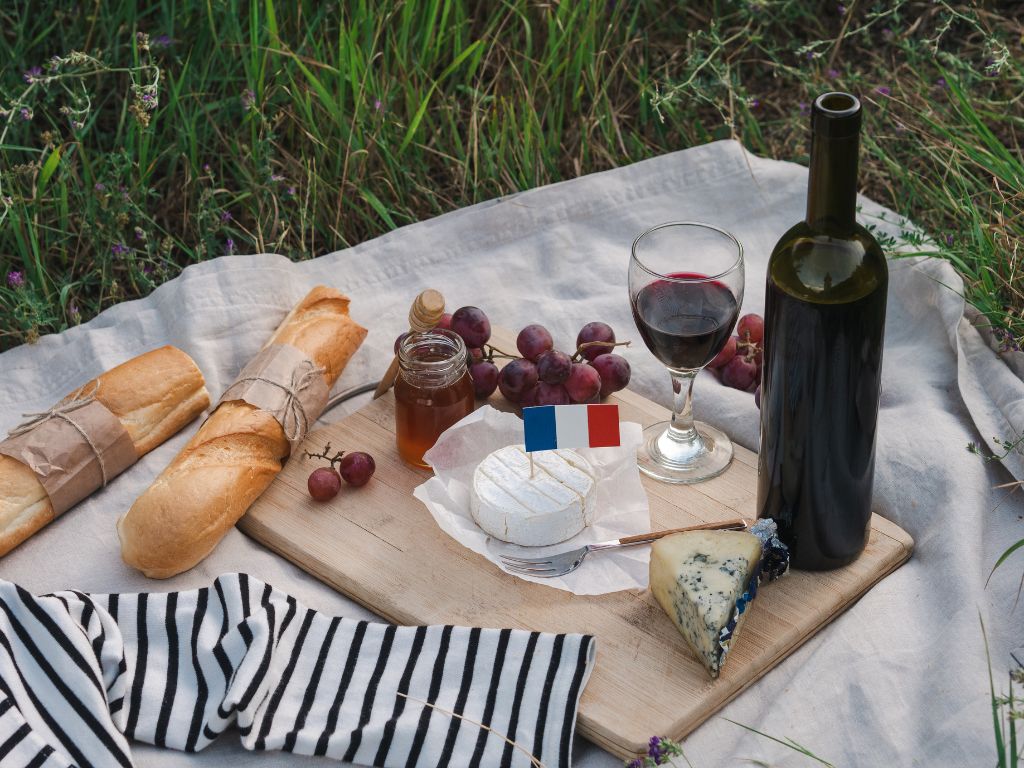 French food is synonymous with quality and history – and probably wine and cheese. Some of the world's best cuisine and wine come from France, and there are a few especially famous food and drink items that hail from the City of Light.

To taste the wide array of Paris cuisine, take Context's Baguette to Bistro: Paris Food Tour. Spend two-and-a-half hours with a chef or food writer and eat like the locals eat as you stroll the charming streets of Saint-Germain-des-Prés and the Left Bank. Start your day with Parisian staples: bread and cheese. Stop by one of the best boulangeries to sample baguettes, then visit an artisanal fromagerie to learn about some of France's nearly 400 types of cheese (and the various ways to correctly slice them).
Take your gastronomic education one step further with a firsthand look at a butcher shop, where you'll tempt your palate with pâté, homemade rillettes, or this season's wild game. Finish your culinary tour-de-force with at a pâtissierie or chocolate stop.
Put sampling these famous French food and drink items on your vacation to-do list so you can get the full French culinary experience.
Baguette
A baguette is almost an essential accessory in France – you can't walk down the street without seeing someone carrying a beautiful loaf of bread in a paper bag. Whether it is slathered in butter or dipped in a savory stew, a baguette is a quintessential French food. Baguette translates roughly to "baton" or "wand," and by French law, it must only be made with flour, salt, water, and yeast.
Coq Au Vin
What doesn't wine go with in France? Coq au Vin is a classic French dish of chicken braised in red wine with onions, bacon, and mushrooms. This deeply flavored, delicious stew is a signature dish of France. Although it was originally considered a meal for peasants, it now graces the tables of many fine dining restaurants across France.
Steak Frites
This time-tested combination of steak and fries is a staple in Paris brasseries and bistros. Crispy, salty fries sit next to a juicy, perfectly-cooked steak topped with herb compound butter in this traditional and delicious French dish.
Macaron
As colorful and spirited as the streets of Paris, macarons are delicate sandwich cookies with a crisp shell. Made primarily from almond flour, egg whites, and sugar, these delicious confections are the perfect pairing for your afternoon espresso or as a post-meal sweet treat.
Apéro
Who doesn't love happy hour? Apéro – short for apéritif – is reserved for a few drinks, some snacks, and time to unwind before dinner. Parisians enjoy apéro just about anywhere, like at home, at a bistro, or on a picnic blanket overlooking a lovely green garden.
Wine
This wouldn't be a feature on the Paris food scene without highlighting wine! France is, of course, world-renowned for the unmatched variety and quality of its wines. To get the full Paris wine experience, take Context's Paris Wine Tasting Tour.
Spend two-and-a-half hours on an exclusive Paris wine tour and tasting led by a sommelier or oenologist guide. Learn the basics of French wines, from Bordeaux and Burgundy to the country's lesser-known appellations. Over a few glasses of wine, you will discuss the wine-making process and the evolution of wine in France, as well as food and wine pairings, current trends, and tasting techniques to help you continue your appreciation at home or abroad.
Take a Paris Food Tour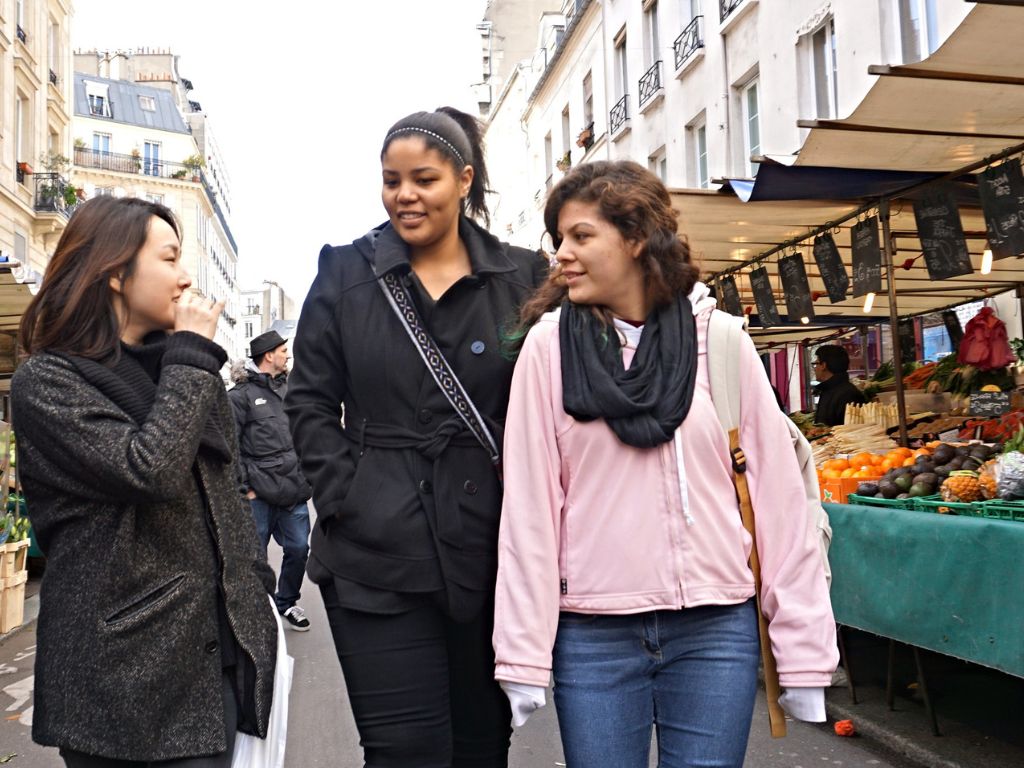 If you're wondering what food should you not miss in Paris – it's nearly impossible to say. Every neighborhood offers a wealth of new tastes and flavors meant to be savored and appreciated. Food and wine make up the very fabric of French culture, and to experience them is to experience France itself.
Treat yourself to a walk on the sweet side with our Paris Pastries and Chocolates Tour. You'll take a two-and-a-half-hour tour led by a professional chef or food writer while you explore several chocolate shops and learn about the exquisite delicacies sold throughout Paris today. Additional stops along the way will include confectionary shops and family-owned boulangeries bursting with macarons, meringues, and marvelous homemade pastries.
Those interested in a more savory sampling should take The New Parisian Palate: Modern Tastes of the Marais Food Tour. The quiet side streets of Haut Marais offer cuisine that is sure to awaken the senses. As one of Paris' most exciting gastronomic neighborhoods, the area includes innovative bistros, specialty shops, and boulangeries.
The Marais lures the fashion-forward Bobo folk—Bobo being short for bourgeois-bohemian—and the tourists alike. In this tour led by a local chef or food writer, you'll get a taste of Paris by diving into this exciting neighborhood, exploring innovative trends in Parisian cuisine, visiting hip cafés, and learning about the gastronomic lives of Bobo Paris.
Learn More About Paris with Context Learning
Prep for Paris with Context's Upcoming Online Seminars and Courses about France – which feature local experts in art, food, history, and culture.
You can also stream French History and Culture content instantly through Context On-Demand – you might just see a familiar face if you take one of our tours, as our expert guides host many of our 60-minute on-demand seminars.
You May Also Like: