On weekends when we're not pondering the ways we can make travel more sustainable, plowing through guide publications, or debating the origins of abstract expressionism, we often find ourselves on the hunt for a decent slice of pizza. And while it's no easy feat to encompass the variety of pizzas available here in New York City—be it a pillowy Sicilian square, an authentic Neapolitan pie, or a good old foldable street-corner slice—we've done our best. After years of scouting the five boroughs, here are some of our favorite joints that launch us straight into cloud (crust) nine—and the good news, given current shelter in place practices, is that many of them deliver or can be ordered for pick up: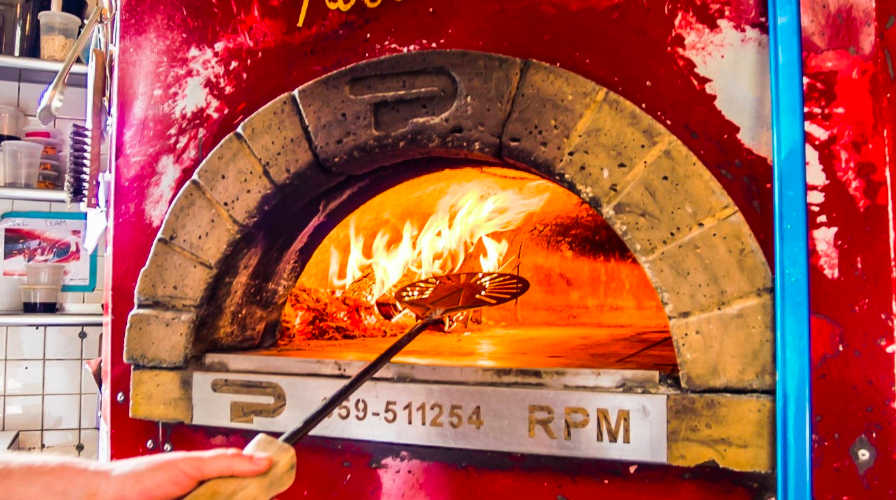 Champion
For a pizza of colossal proportions, we head to one of the pizzerias founded by Hakki Akdeniz, a dough tossing pizza maker who occasionally lights his dough on fire and wins World Pizza Acrobatics titles. When he first arrived in NYC as a 21-year-old, he lived in a homeless shelter for a few months. Now he donates slices to the homeless, giving back to the community that once took him in. The gigantic pizzas feature unconventional toppings like mac n' cheese or pounds of pork (though nothing is off the table when it comes to pizza). When we feel particularly indulgent, we'll order the slice with crust made of garlic knots.


Prince Street Pizza
When we find ourselves in Nolita, we always swing by Prince Street Pizza for a spicy pepperoni square to go. (For what it's worth, this spot was the most-mentioned in our NYC office pizza poll.) This no-nonsense joint opened in 2012, and their pizzas boast fluffy crusts baked to perfection. Generously slathered in spicy tomato sauce and topped with crispy pepperoni slices sizzling in oil, the slices are in the running for the best pizza in New York.


Lucali
One of Brooklyn's best pizzerias, Lucali in Carroll Gardens can be quite a trek from Manhattan, but those willing to make the trip (and wait in line), will be rewarded by fantastic wood-fired pizzas and calzones. This BYOB venue in a converted candy store fills up fast, so show up before 5pm to get a table ... or risk getting turned away for the night. Surrounded by mismatched wooden chairs and a vintage cash register, the soft lighting casts a glow on Mark Lacono, self-taught pizza genius. His pizza makers still use wine bottles to roll out the pizza dough, and you can expect a paper-thin crust, a tomato sauce that's perfectly balanced, and toppings sourced from neighborhood markets.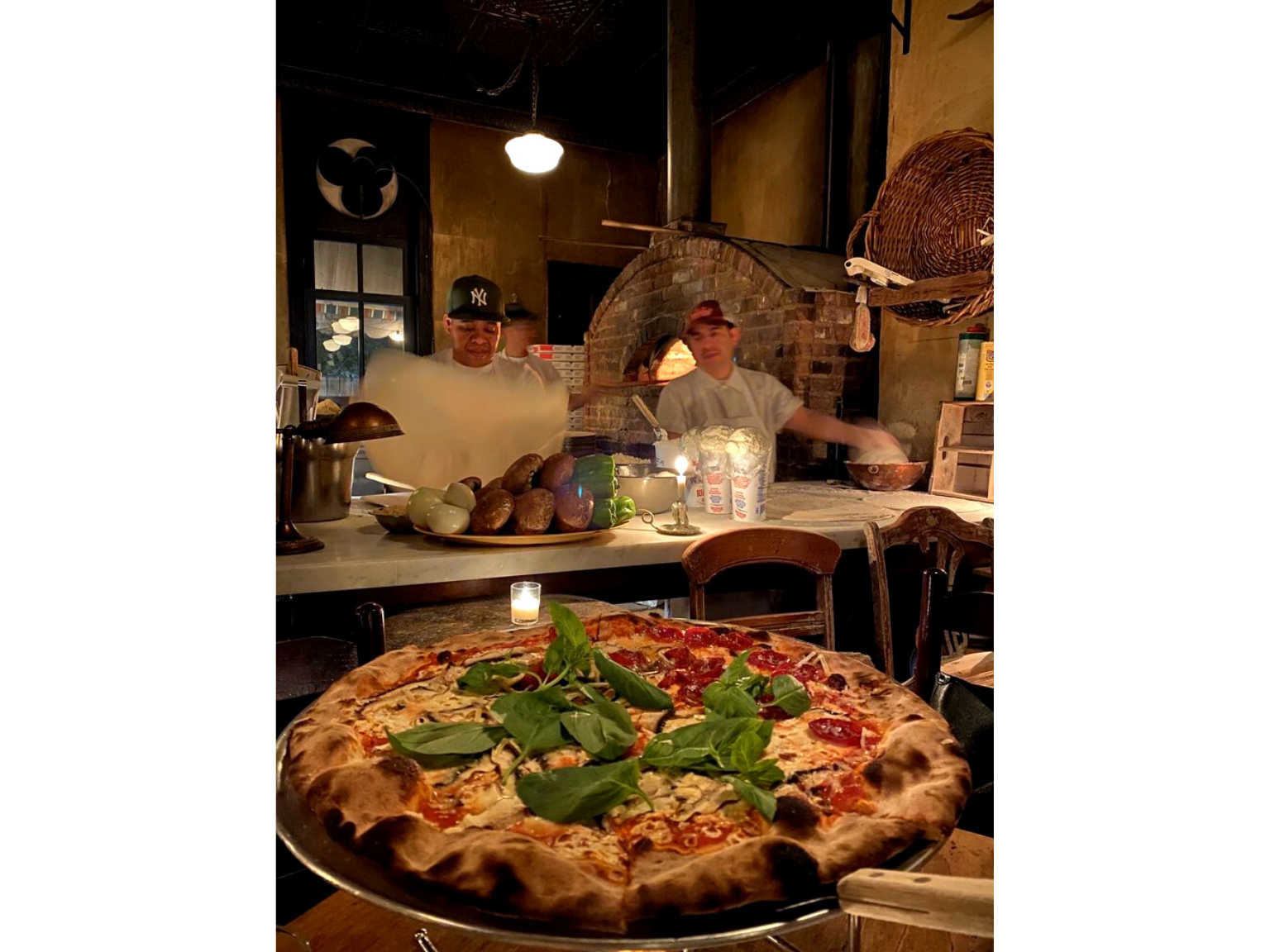 Pizza Suprema
For a fantastic slice served on a paper plate in the otherwise pizza-desolate midtown, we head to Pizza Suprema by Penn Station along with hungry commuters and enjoy the classic New York slice. Founded by the Italian immigrant Salvatore Riggio in the 1960s, this establishment is best known for their cheese slice, or the fresh mozzarella slice topped with basil.


Roberta's
Trend-setting Roberta's had a hand in putting Bushwick on the map, and with copycats around the world testifying to their fantastic food, Roberta's is a sure bet to satisfy your pizza cravings. The establishment's international fame is well-deserved, and they've taken over an entire city block to create a garden and patio, an event space, and even a bakery. Their signature Bee Sting pizza, made with sopressata, a dash of chili oil, mozzarella cheese, basil, and a drizzle of honey, is a top contender for best pizza in NYC. (We'll let you in on a little secret: Roberta's owner, Carlo Mirarchi, also runs the fine dining restaurant Blanca that's hidden in the pizzeria's backyard. If you're lucky enough to snag a reservation, we'd say that their 27-course tasting menu is not to be missed.)


Olio e Piú
Looking for a non-pizzeria pizza? Olio e Piú is a romantic trattoria in the heart of Greenwich Village, offering both indoor and street seating in the shadows of the gorgeous 150-year-old Jefferson Market Library. Chef Dominick Pepe brings out hand-spun Neapolitan style pizza with a fine-tuned dough that's delicate, yet still perfectly charred and just chewy enough to prolong the bite. Wash it down with a bottle of wine from the restaurant's well-curated list.


Di Fara
Di Fara has been serving up pizza since 1964 in a no-frills storefront in Brooklyn. Make the pilgrimage to this pizza institution, elbow up to the counter, and savor old world flavor in a mouthwatering pie made by Domenico Demarco. While these slices are a little pricey, as slices go (coming in at $5 per slice), we think the freshly snipped basil, sweet tomato sauce, and three kinds of cheese are worth every penny. There's always a line, and local enthusiasm is well-warranted as each bite will prove that Demarco has pizza in his DNA.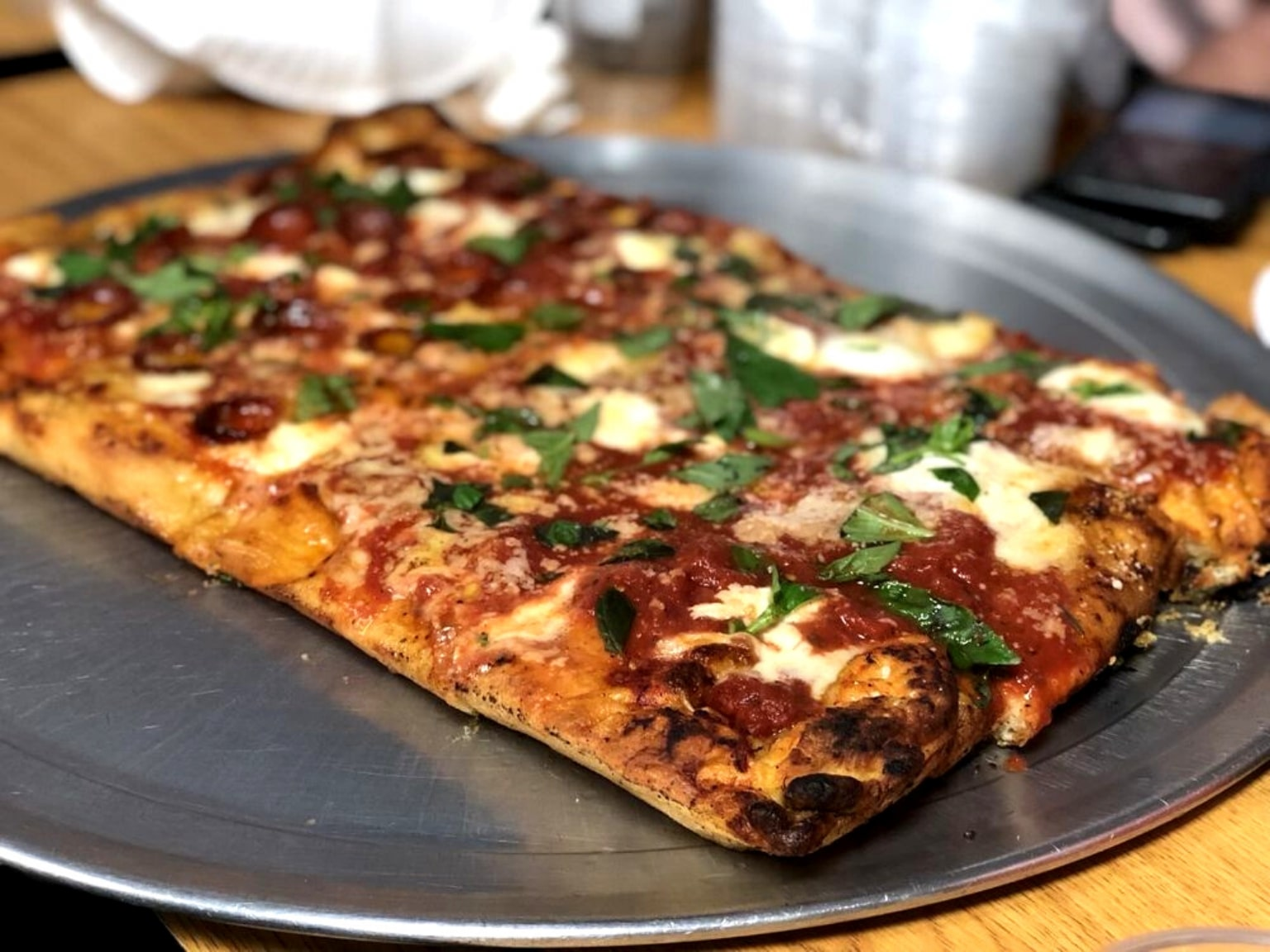 Artichoke Basille's
Another favorite pizza-lovers paradise is Artichoke Basille's, known simply as Artichoke to locals. With multiple locations around NYC and the country, these pizza-on-the-go spots serve up delicious pizzas with a signature creamy artichoke dip. Their famous Artichoke slice is smothered in artichoke hearts, spinach, cream sauce, and mozzarella cheese—don't be surprised that these weigh about twice the regular street corner slice. Looking for something less decadent but nonetheless unique? Try their crab meat slice.


Paulie Gee's
The only thing harder to miss than Paulie Gee's in Greenpoint is their impressively lengthy menu listing every possible pizza topping pairing. Keep an eye peeled for Neapolitan-style pizzas that you won't find anywhere else—a few of our favorites are the Benny Gee (an homage to Canadian bacon and hot honey), the Porkypineapple with pickled pineapple, and the Cherry Jones featuring dried cherries and orange blossom honey. This rustic spot with wood paneled walls may look like a barn, but there's nothing barnyard about the pies they serve.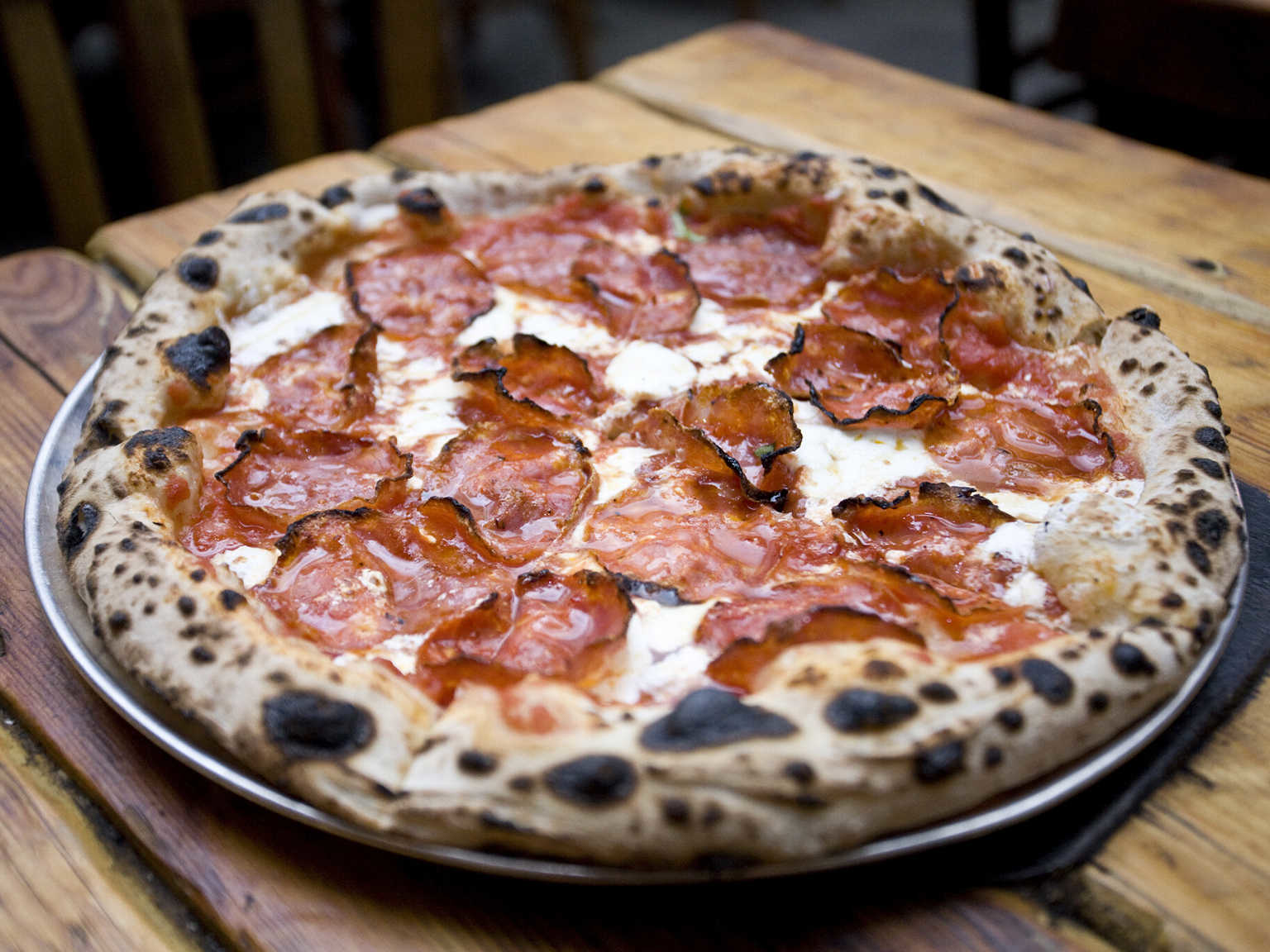 Spend a day with a Context expert in NYC, then go on a hunt for a life-changing slice that generations of pizza-makers have perfected with their signature recipes. We like to see the city's pizza culture as a testament to the rich heritage and diverse communities that have built the cultural and culinary landscape of New York, and there's no better way to learn more than on our American Dream Tour. Join us to see how pizza—crust, sauce, toppings, and all—have come to symbolize New York City .