The Victoria and Albert's celebration of the House of Dior, Christian Dior: Designer of Dreams, is a knock-out show that offers a truly immersive experience with beautiful displays of ravishing clothes. The exhibition showcases the strong silhouettes of Christian Dior's original collections and explores how his signature approach was woven into the designs of his successors (Yves Saint Laurent, Marc Bohan, Gianfranco Ferre, John Galliano, Raf Simons and Maria Grazia Chiuri) to create a distinctive house style.
V&A's exhibit opens with a chronology of Dior's life. He was born in 1905. Originally a Parisian art dealer selling the works of Picasso and Dali, Dior was forced to abandon his artistic dreams after family bankruptcy forced the closure of his gallery. Dior then became a freelance fashion designer selling to the great Parisian couture houses. After World War II he and a backer opened Christian Dior on the Avenue Montaigne where Dior's first show in 1947 introduced "The New Look" to an enchanted audience.
Reacting against the severe boxy lines of women's clothes during the war, the New Look suit featured a tailored jacket with soft shoulders and a nipped-in waist combined with a full bell shaped skirt, inspired by an upturned flower head. An instant hit, Dior opened shops in New York and London, where he designed ready-to-wear clothes available from Harrods. He died in 1957 and was succeeded by his 21-year-old assistant Yves Saint-Laurent.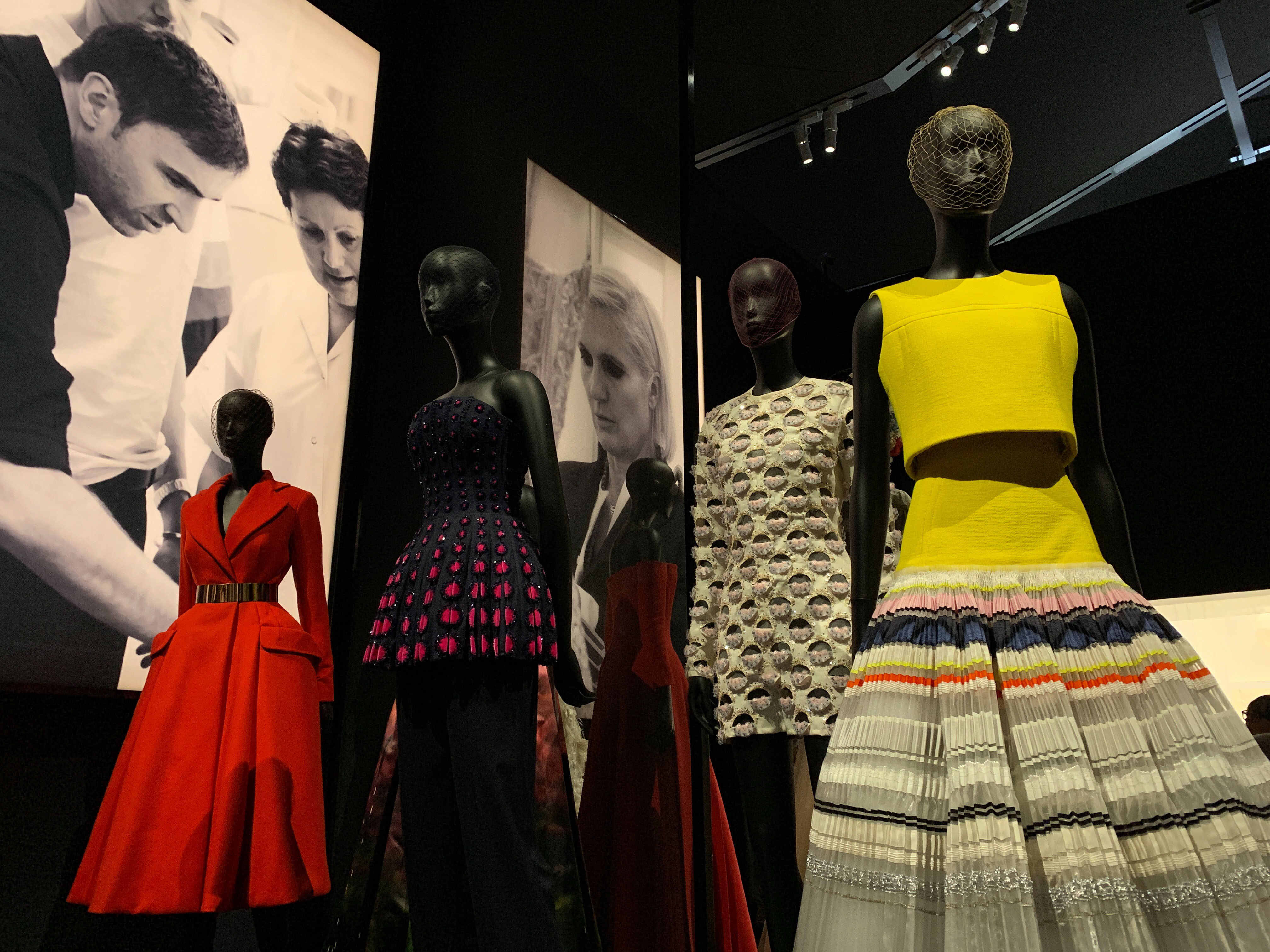 The exhibition features a fascinating number of wonderful examples from the 40s and 50s, including Olivia de Haviland's surprisingly sombre, but beautifully cut, wedding dress, an evening dress designed for the prima-ballerina Dame Margot Fonteyn and, perhaps most romantically, the silk and chiffon evening dress created for the 21st birthday of HRH Princess Margaret.
The exhibit also explores some influential themes, starting with 18th-century France. Male and female costume provided inspirational shapes and embroidery for many of Dior's designs, and Marie Antoinette's Temple of Love was replicated in small scale to serve as the perfume stand for the first house perfume "Miss Dior."
In the Garden room, stunning tendrils of lilac fall from the ceiling, creating a romantic space to display summer and floral dresses including one made completely from feathers by the current Creative Director Maria Grazi Chiuri. The exhibit also highlights themes of travel, featuring surreal designs by John Galliano that were influenced by ancient Egypt, China, and India.
The finale is a dramatic sweeping ballroom with light installations, which transform the gallery from night to day. There, an exhibit of gorgeous evening dresses range from simple designs with breathtaking silhouettes to full chiffon skirts to heavily embroidered gowns. A slinky navy silk dress designed by John Galliano for Diana Princess of Wales to wear at the Met Ball is one of the standouts, along with Red Carpet pieces worn by Nicole Kidman, Jennifer Lawrence, and Charlize Theron (in particular her astonishing J'Adore golden gowns).
A must for any fashionista, book early and try and get a ticket for a 10am entry to avoid the crowds.
The best way to learn more about the history of fashion—and view Victoria and Albert's stunning collection—is with Context Travel's British Fashion at the V&A tour.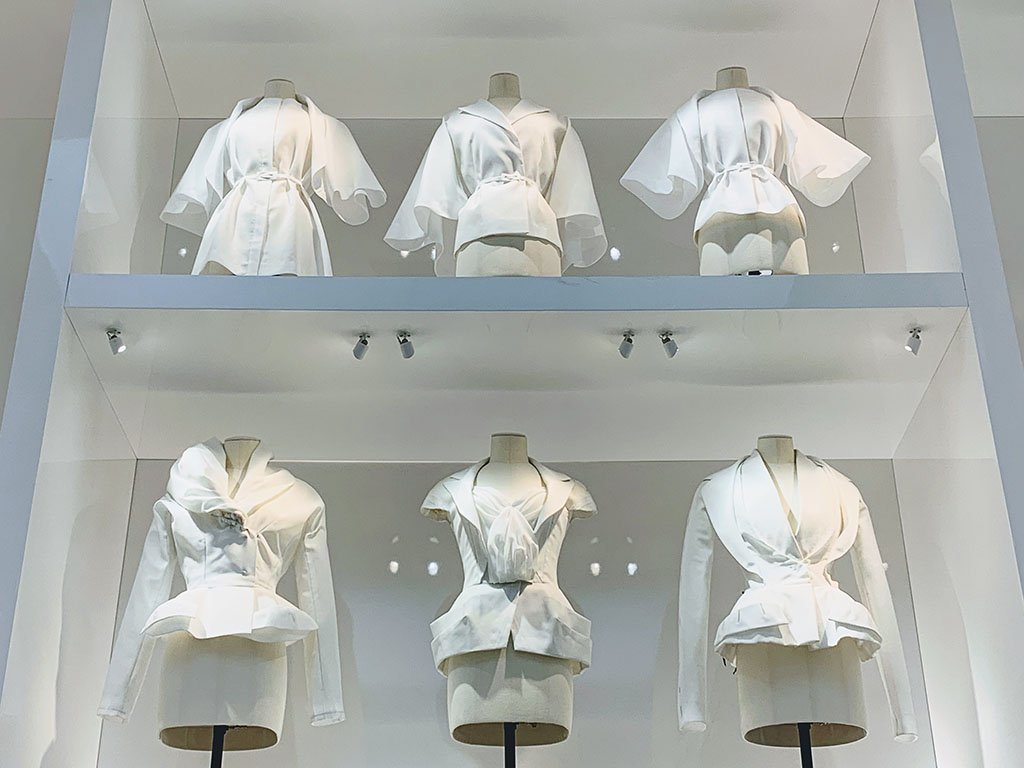 Christian Dior: Designer of Dreams is open now, and runs until September 1, 2019. Extra tickets will be released on July 15, 2019. Very limited tickets are available to purchase daily at 10am from the Grand Entrance on a first-come, first-served basis; these tickets are for times throughout that day only. Authorized tickets are only available to purchase directly from the V&A.
About the author
Hattie Bennett has a life-long passion and fascination for Fine and Decorative Arts, particularly works produced in Europe from the 16th to 18th century. She has a degree in History of Art and an MA in Historic Interiors and has worked for the Royal Collection in the Print Room at Windsor Castle, a private collector of 17th and 18th century prints and drawings, and London's foremost framer of important old master paintings. She is also an expert guide with Context Travel.
Want to learn with a true expert? Get a comprehensive view with one of Context's private or small group tours in London!