Tour Details
Tour Description
2019 marks the 30-year anniversary of the fall of the Berlin Wall. In our own nod to this significant date, we've organized a two-day experience that traces the history of the wall's footprint in both Berlin and Potsdam. Led by history experts, we will investigate the end of World War II, the Cold War and the reality of life before, during and after the Berlin Wall.
Fall of the Berlin Wall 30th Anniversary Tour Package
Our itinerary also includes an excursion to the city of Potsdam and visit to the former KGB prison and the site of the 1945 Potsdam Conference, where the Allied powers divided up Germany, resulting in many fractured decades. This is the ideal immersion for those interested in this remarkable period of history—offered by Context for a limited time only.

NOTE: If you add the optional car service please tell us your hotel or apartment address in the 'Additional Details' box while adding the tour to your shopping cart.
Day 1: A Divided City—tracing the Wall in Berlin
We'll pick up our story in former East Berlin in 1961, exploring what life was like in the run-up to the erection of the Berlin Wall. With our local history expert, we will journey through striking examples of socialist Berlin Boulevards at Frankfurter Tor towards Alexanderplatz and the backdrop of the iconic former Soviet TV tower. We will hop on the S-Bahn train and cross to former West Berlin to see the architectural representation of Western ideals of freedom and individuality in the reconstructed Hansa Quarter. At this point, we may stop to have lunch in a scenic garden location and continue our discussion with our guide on the mornings' topics. Our afternoon will involve tracing sections of the former wall, visiting the Berlin Wall Memorial at Bernauer Strasse and finishing our first day either at Brandenburg Gate or the East Side Gallery. Depending on time and energy, we may even pop to Bornholmer Strasse, where the wall came down in 1989. This is an 8-hour day.
Day 2: The Potsdam Conference and the Bridge of Spies
On our second 8-hour day, we'll pivot from a strictly Berliner viewpoint to take in a broader understanding of neighboring Potsdam, with a full-day excursion. With a local historian, we will take the train (45 mins or so) and reach Potsdam, a city surrounded by water and a natural stretch of the former Berlin Wall. We'll focus on history and venues specific to the GDR period while we explore Potsdam. In the morning, we will discuss sites such as the former prison on Lindenstrasse (a prison during the Nazi-era, as well as from the Russian occupiers and later from the Stasi) and the Altenmarkt (an example of how Prussian influence was removed after the war). We'll have a lunch stop before hopping on the tram* north to visit Glienicker Brucke (Bridge of Spies): a significant sector border between the GDR and West Berlin where many agent, diplomat, and military exchanges took place. We'll also visit Schloss Cecilienhof, the renowned site of the Potsdam Conference, and discuss the significance of this site as a worldwide symbol of the postwar division after the end of World War II. We may talk about the former KGB colony next door, which was walled off right until 1994, as we close our time together in Potsdam.

*If you are interested in renting bikes to cycle around Potsdam, please select this option at checkout. We do recommend it as a mode of transport to get around Potsdam.
We'll venture back to Berlin together as we digest our two-day immersion into this compelling period of history. Regardless of your next destination, our two days examining post-World War II Germany will leave us with a greater understanding of the war's impact on Europe as a whole.
About our Berlin Wall Anniversary 2-Day Package
FAQs
Where do we meet for Day 1?
We meet near Frankfurter Tor. Your confirmation will have the exact address. The date you select at checkout will be your tour start date.
Where do we meet for Day 2? Where do we end?
We will meet at the main Berlin train station. You will then take the train together to Potsdam. You will end together back in Berlin unless you choose to stay in Potsdam.
Can we arrange a car service?
Yes. You can select this option at checkout. If you choose the car service, the driver and guide will meet you at your hotel on both days.

We are a bigger group and it won't let us book a larger vehicle at checkout, can we still book? If your group needs a larger vehicle than what is displayed as options at checkout please reach out to our team in order to verify availability and pricing with our car provider. Thank you!
What is included in the cost?
The price of the tours, expert guide, museum entrances, and transport are included. The cost of lunch is not included on either days.

I'd like to do this package on non-consecutive days (a few days apart). Is this possible?
Yes, depending on venue closures. Please let us know in your client notes your preferred dates for Day 1 and Day 2 and we can do our best to work around them.

Why can't I book this on Sunday?
This package cannot begin on a Sunday because some of the venues we visit in Potsdam will be closed on Monday. We can switch the order of Day 1 and Day 2 if you only have 2 days in Berlin, beginning on Sunday. Please feel free to book and tell us this in your client notes and we can adjust the itinerary.
Where You'll Start
Tour Experts
Christina is an East Berliner who was born in the GDR, a socialist republic that no longer exists. She danced on the Wall in 1989, and closely observed the restructuring of Germany and the frantic urban transformation of Berlin. At the European University Viadrina in Frankfurt (Oder) she earned an MA in cultural history and comparative social sciences, particularly the ideology-based history of the twentieth century. Her dissertation was on a more contemporary subject of "The Economic Impact of the Contemporary Art Scene on the city of Berlin." She now works as an arts administrator, manages urban development initiatives, and since 2006 routinely walks guests through the eclectic and varied political, cultural, and architectural histories of the German capital and beyond.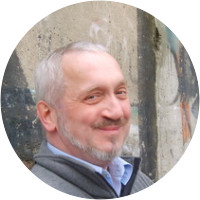 Heribert is a native Berliner whose family history can be traced as far back as the founding of the city. An expert in urban history, for more than twenty years he has been guiding interested crowds through the German capital and the surrounding Mark Brandenburg, letting the stone witnesses of passing time tell their stories while he enthusiastically revives old lifestyles and tastes. He studied sociology, history, and cultural anthropology at the Freie Universität Berlin. His professional experience is varied and far-ranging, including working as a freelance trainer for communication and intercultural education since 1982, and guiding tours since 1986. In the West Berlin borough of Wannsee he runs with his wife two fine cafés (including at the Max Liebermann Villa Museum) and a gourmet delicatessen, and he is well-versed in fine cuisine. With an anecdote for just about every historical detail, Heribert is the consummate companion for any and all learning adventures in this city.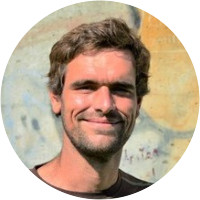 After completing studies in archaeology at Bournemouth University, England, in 2004, Aaron has worked as an archaeologist in the Isle of Man, the Channel Islands, London, and all over southern England. Holding the position of Senior Archaeologist at the Museum of London Archaeology Service from 2006–2012, he supervised numerous site excavations dating from the Neolithic period (5000BC) through to the Second World War. Since arriving in Germany, he has continued his archaeological career through excavations in Bavaria, Brandenburg, and Berlin, Mitte. Aaron was more recently involved in an excavation in Klosterstrasse which was determined to be the oldest medieval remains in the city, and he holds the distinction of finding the "oldest medieval pig in Berlin" at this site. It could be said that he operates at the 'coal face,' helping to rewrite and refine the known histories of places through his archaeological work. Aaron also has had a lifelong passion for military history, particularly that of the Second World War, and finds Berlin an ideal landscape for digging into that history.