Tour Details
Tour Description
Once upon a time, not very long ago, Berlin was not one city, but two. This 2.5-hour walk, part of our
family program
, gives children of all ages insight into what life was like during the days when the Berlin Wall separated the city. The combination of legendary sights, engaging activities, and astonishing stories will captivate families—whether return visitors or Berlin first-timers.
(If you're looking for a tour tailored for adults, please see our
Berlin Wall tour
.)
War's End
In the aftermath of World War II, Germany's future was deeply uncertain. An enormous wall surrounded the western part of the city, which, at the time, was divided up between the American, British and French, who had helped to liberate Berlin at the end of World War II. The eastern side was controlled by the USSR, whose forces had been instrumental in defeating the Nazis.


Take a sneak peek of what this tour has to offer with a slideshow of highlights from the
East Side Gallery
.
A New Normal
The concrete divider tore the city apart like never before. Children were separated from their parents, and people were no longer able to get to work. With the Wall in place, the differences between East and West became more pronounced. Traces of this can be seen all over the city today, from architecture to traffic signals, streetlights to street art. So what was it like to live in a city cut in half? How did life differ in the East and the West? Our expert guide will be on hand to spark children's imaginations with activities and discussions about growing up in Berlin during that singular era.
Vivid History
We'll start at the East Side Gallery, a colorfully decorated part of the original Berlin Wall—the longest remaining stretch—and act out what it might have been like as a family separated by the Wall. We'll examine the pictures and talk about what they mean, and imagine what we might draw ourselves. Then we'll jump on the S-Bahn train to Alexanderplatz, where we'll shoot to the top of the iconic TV Tower with skip-the-line tickets to take in panoramic views of the city. From 200 meters up, there are still plenty of visible signs of a city with two very different stories to tell.
FAQs
Is this tour suitable for people with mobility issues?
Unfortunately, the TV Tower is not accessible for people with mobility issues. This is because of the structure of the building and the lack of safe means of exit in the case of evacuation. Please reach out to us for more information or to discuss alternative tours that are accessible.
Where You'll Start
Tour Experts
Christina is an East Berliner who was born in the GDR, a socialist republic that no longer exists. She danced on the Wall in 1989, and closely observed the restructuring of Germany and the frantic urban transformation of Berlin. At the European University Viadrina in Frankfurt (Oder) she earned an MA in cultural history and comparative social sciences, particularly the ideology-based history of the twentieth century. Her dissertation was on a more contemporary subject of "The Economic Impact of the Contemporary Art Scene on the city of Berlin." She now works as an arts administrator, manages urban development initiatives, and since 2006 routinely walks guests through the eclectic and varied political, cultural, and architectural histories of the German capital and beyond.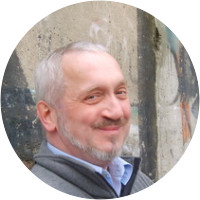 Heribert is a native Berliner whose family history can be traced as far back as the founding of the city. An expert in urban history, for more than twenty years he has been guiding interested crowds through the German capital and the surrounding Mark Brandenburg, letting the stone witnesses of passing time tell their stories while he enthusiastically revives old lifestyles and tastes. He studied sociology, history, and cultural anthropology at the Freie Universität Berlin. His professional experience is varied and far-ranging, including working as a freelance trainer for communication and intercultural education since 1982, and guiding tours since 1986. In the West Berlin borough of Wannsee he runs with his wife two fine cafés (including at the Max Liebermann Villa Museum) and a gourmet delicatessen, and he is well-versed in fine cuisine. With an anecdote for just about every historical detail, Heribert is the consummate companion for any and all learning adventures in this city.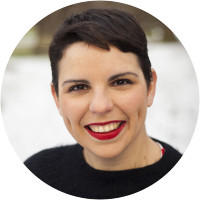 Roberta is a PhD candidate and a travel journalist with a Bachelor's degree in Social Communications and a Master's degree in World Heritage Studies. She is currently on her first year as a doctoral student at BTU Cottbus-Senftenberg where she researches the use of personal stories to interpret uncomfortable heritage. Her main study case is the victims of the Berlin Wall and how their stories are and can be used in the urban space to interpret the Wall's history. For her Master's thesis, she researched the communication and interpretation of the East Side Gallery, the longest remaining stretch of the Berlin Wall. She is the founder of gowalkthetalk.org, a blog and podcast about Berlin's everyday heritage.
Reviews can only be left by Context customers after they have completed a tour. For more information about our reviews, please see our FAQ.
Roberta did a very nice job - and while not as strong and engaging as Vanessa in Amsterdam, she was good and knew her stuff. The tour itself (the material) was not the best as our walk along the way could have included more history and I would actually blame the city of Berlin for the lack of material and items to review. View from Tower was ok, not sure it was worth the 100 euros plus the time away from the tour. We have taken context tours in Paris, Rome, Berlin and Amsterdam and this was the weakest material to work with - would not recommend this to first-time visitors to Berlin at this price tag.
Aug. 13, 2019
Great tour. Aaron was a great guide. He really connected with our kids and made the morning both informative and fun.
Aug. 3, 2019
The tour was poorly designed and poorly executed. It focused far too much on graffiti on a small section of the wall and not enough on the broader picture, the division of the city and the context (literally) of what was happening. It excluded major sights such as Checkpoint Charlie and its museum - a far better place for kids to understand what divided Berlin was like. Our guide, while a very nice person, is completely inappropriate as a guide for this tour. How can you have someone who has only lived in Berlin for 8 years do this tour when so many Germans who lived through the experience are still available? They simply didn't know enough. It seems that Context has grown too fast and can not maintain the high quality standards it established in the past. Better to not accept the booking than to disappoint so much. We've taken many of your tours and recommended Context to over a dozen friends. Based on our two tours of Berlin, not sure about doing that in the future.
Jun. 20, 2019