Tour Details
Tour Description
In one of the world's most spectacular collections of ancient art and archaeology—the Pergamon Museum—visitors to Berlin have the opportunity to trace the development of art and culture across a broad historical and geographical spectrum. The exhibitions cover a wide swath of history, from ancient Babylonia, Persia, and Assyria to the civilizations of Greece and Rome. In this 3-hour tour in the company of an art historian or archaeologist, we'll dive into the museum's priceless collections and piece together a narrative of ancient civilizations.
Please note: due to ongoing renovation work that started in 2014, the hall containing the Pergamon Altar is closed to the public. The renovations also interrupt some other areas of the museum, so we have devised an updated tour, described below, that takes these circumstances into account.
Pergamon Tour—Back in Time to Ancient Babylon
On our Pergamon tour, we'll see the awe-inspiring Processional Way, Ishtar Gate, and main façade of the throne hall of King Nebuchadnezzar II (604-562 BC). These brilliantly-colored Babylonian structures will lead us into the Museum of the Ancient Near East, which ranks alongside the Louvre and the British Museum as one of the world's most important collections of oriental treasures. As we explore significant examples of Sumerian, Babylonian and Assyrian art, we will also have the opportunity to examine other outstanding works of ancient monumental architecture: Assyrian palace reliefs from Kalchu (9th millennium BC), reconstructed sections of temple facades from Uruk (3rd and 2nd millennia BCE), and a model of the Tower of Babel.
"Absolutely fantastic walk, one of the best ever for us."
Artifacts from Another Age
The tour continues with an exploration of the architectural decorations, applied arts and crafts, jewelry, and rare illuminated manuscripts which make up the Museum of Islamic Art. Here, too, the architectural reconstructions are of the utmost interest and importance, conveying a sense of space and environment in a variety of different media: stone (the façade from Mshatta), stuccoes (archaeological finds from Samarra), painted wooden paneling (Aleppo Room), and ceramics (prayer niches from Kashan and Konya).
Gone, But Not Forgotten
By the end of this walk, we will have a good sense of the various cultural, geographical and historical contexts in which ancient civilizations developed and flourished. What is more, we will have had the opportunity to experience first-hand the size and scale of some of the greatest architectural monuments from some of the world's most fascinating civilizations—without ever having left Berlin.


Want to stay in the ancient world (and on Museum Island)? We suggest our
Neues Museum tour
.
FAQ
Is the museum wheelchair accessible and/or suitable for those with mobility issues?
Yes, the museum is fully wheelchair accessible.


What do we focus on during the walk, in the absence of the Pergamon Altar and items from the Iranian, Babylonian, and Islamic collections?
The Pergamon Altar is the most significant item that is not currently on display. The three museum collections housed at the Pergamon Museum remain open to visitors: the Museum of the Ancient Near East and its Ishtar Gate, Museum of Islamic Art, and the Collection of Classical Antiquities with its Roman Architecture Hall, featuring the Market Gate of Miletus.


We would prefer to purchase passes for all of Museum Island, instead of tickets to an individual museum. Is this possible?
Yes, not a problem. Please let us know in the Notes section when placing your order that you would like to purchase Museum Island passes. We'll follow up with you directly.
Where You'll Start
Tour Experts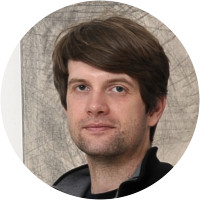 Jason studied studio art and art history at the School of the Art Institute of Chicago and La Universidad Complutenese de Madrid before living in Spain for many years as an active professional artist. He has exhibited around the United States and Europe in alternative projects, commercial galleries, and museums, with several artworks having been acquired for private collections. In 2006 Jason moved to Berlin where he now lives and works as an artist and organizer for a variety of exhibitions and art-related events. He co-founded and is the art director of the WerkStadt Kulturverein Berlin e.V., a non-profit collective. Additionally, in 2010 he completed a degree at the UdK (Universität der Künste Berlin) in curatorial practice and often helps mount exhibitions in the major museums that dot the urban landscape of the new artistic capital of Europe. He has also participated in installing exhibits at the Neues Museum in Berlin.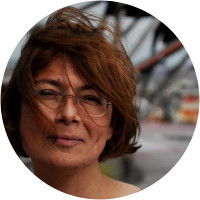 Sara is an Italian archaeologist specialized in Mesopotamian and Classical cultures. Her PhD dissertation (University of Rome- la Sapienza) focused on the concept of "Sacred" mirrored in Old Babylonian Mesopotamian Architecture. She has participated in many field excavations in Italy and Europe (including the Roman Forum) and in the Near East. There she has been a member for ten years of the Italian archaeological Mission in Tell Mardikh-Ebla in Syria, and has participated in field research in Lebanon and Turkey. For many years, she was also adjunct Professor of Classical Art and Ancient Roman History in a private American university in Rome and worked as a tourist guide in the major exhibition centres and archaeological sites of the "Eternal City." She has also had the opportunity to speak as a lecturer in specialized trips to Syria, Iraq, Yemen, Lybia and Jordan and to work as Study Leader for the Smithsonian Institute in archaeological trips in Campania. Since moving to Berlin several years ago, she has acquired a deep knowledge of the city and its historical background. Sara loves to communicate her passion for history, which she likes to bring to life by guiding her guests to vividly imagine how ancient civilizations once were.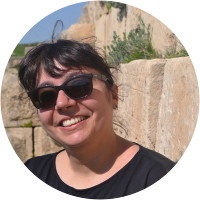 Costanza is an Italian archaeologist, born in Prato and who completed her Master of Art in Archaeology at the University of Florence. She came to Berlin in 2006 for PhD studies in Near Eastern Archaeology at the Freie Universität Berlin, completing a thesis dealing with pottery and its use as both a chronological indicator as well as an item for daily use. She also started working as researcher at the Institute of Near Eastern Archaeology of the FU Berlin. Besides her scientific skills, including the publication of scientific articles, the participation to international conferences and workshops, and teaching experience, she improved her skills as field archaeologist working in excavations in Italy (Poggibonsi, Peccioli, Sesto Fiorentino), Syria (Tell Barri, Tell Bazi, and Tell Fekheriye), and Iraq (survey project in Iraqi Kurdistan). This background forms the basis of her familiary with and knowledge of the rich collections of both the Pergamon Museum and the Neues Museum, which are an important part of the history of the city of Berlin.
Reviews can only be left by Context customers after they have completed a tour. For more information about our reviews, please see our FAQ.
She was amazing!!!!!!
Oct. 5, 2019
Sara was an excellent guide, helping us to understand the historical periods and cultures in an understandable way. Her extensive knowledge base and clarity of explanation were particular strengths. As always, we appreciated the experience of touring with a Context expert.
Sep. 30, 2019
Jason was very knowledgeable and animated. Great tour even though Pergamon is only one third accessible.
Nov. 11, 2018