Tour Details
Tour Description
On this 2 hour tour we'll explore the Guggenheim museum inside and out, from Frank Gehry's emblematic architecture of undulating titanium forms to the intricacies of the museum's modern and contemporary art collections. We'll see works by celebrated artists such as Mark Rothko, Jeff Koons, and Louise Bourgeois as well as lesser known ones including local Basque artists. One of the highlights you can expect from the permanent collection is Richard Serra's large-scale installation of eight weathering steel sculptures exhibited in their own specially-designed gallery. Accompanied by an art historian, we'll work our way through the museum's 20 galleries to gain a deeper understanding of not only the museum and its collection but its impact on the urban and cultural development of the industrial port city that ultimately came to be known as "the Bilbao Effect".
Sites Visited
Guggenheim Museum (interior and exterior)
Included
Skip-the-line tickets to the Guggenheim
2 hours with an art historian
Permanent collection and Temporary Exhibits
Itinerary Details
Beginning our tour outside the museum, our guide may start with an introduction to Bilbao itself since it's difficult to divorce the world famous museum from the city where it dwells. From our unique vantage point along the Nervión river, we'll consider the landscape and the urban sprawl that lies before us. We may also travel back in time to consider the origins of the city which dates back to the 14th century. Later, we'll consider the exterior in detail covering the key features of Frank Gehry's innovative design which was completed in 1997 and is widely considered one of the greatest architectural works of our time. We will take a closer look at Gehry's influences and creative process as well as the brief provided by the Solomon R Guggenheim Foundation when they commissioned the project.

Once we enter the museum, depending on our guide and particular interests, we may choose to explore in any number of directions. We will likely start with the permanent collection which contains a myriad of interesting works from artists near and far. Your guide will explain the intricacies of a carefully curated selection of pieces which have been exhaustively studied to identify their technical and material characteristics, establish their state of conservation and design the appropriate strategy for guaranteeing its preservation.

If time allows, and depending on the time of year, we'll also consider some of the temporary exhibits, which often feature well renowned international modern and contemporary artists. By the end of our time together we should have gained a much deeper understanding of the Guggenheim Museum Bilbao collections and the city itself.
FAQ
What is a private tour?
Our private tours are limited exclusively to travelers in your party. They are designed to provide a learning experience that is completely tailored to you and your traveling companions. Private tours give you more flexibility with scheduling (you decide when the walk best fits in your trip), the ability to tailor your itinerary (we'll work to match the itinerary to the interests and dynamics of your group), and more personalized time with your guide.

Does this tour "skip-the-line?"
Yes. We will purchase tickets in advance so we may enter the museum as quickly as possible.

Does this tour include any current temporary exhibitions?
The tour visits the Guggenheim's permanent collection. Your entry tickets are valid for temporary exhibitions as well, so if time allows and depending on the time of year, your guide may include them on the tour. If you would like to include a particular temporary exhibition, please do let us know by adding a client note or emailing info@contexttravel.com.
Is this suitable for travelers with mobility challenges?
We cover quite a bit of ground on this tour, although in some cases we may be able to adjust the itinerary based on the needs of your party. Please get in touch with us so we can advise if this itinerary will be appropriate for you or propose modifications where necessary.
Where You'll Start
Tour Experts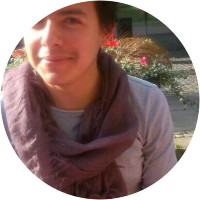 Fabian has a Bachelor's degree at the University of Düsseldorf in History of Art and English literature and linguistics, and a Master's in History of Art at the University of Edinburgh. Currently he is a PhD candidate, specializing in the art of Castile around 1200 and this brought him to Madrid. He particularly interested in medieval sculpture and painting, questions of identity, and the representation of minorities.
Maria fell in love with Barcelona when she settled there in 1992, coming originally from the Basque Country in northern Spain. She was then a recent journalism graduate, fond of reading, music, travelling, foreign languages, cooking, nature and knowledge in general. She learnt the Catalan language, the culture of Barcelona and its region, and eventually succeeded in passing the official examination to become a licensed tour guide. She has also led guided group tours in Europe, Africa, Asia and America. Maria is a naturally curious, dynamic and social Spaniard. You will find her passion for Barcelona and for life to be contagious. Her tours are informative, insightful and intellectually stimulating, providing participants with a true understanding of Barcelona, its past, present, art & architecture. She will enlighten your learning experience and together you shall explore, enjoy and debate your way through this amazing city. As a journalist and as a licensed guide, Maria specializes in different fields; including Gaudi & Art Noveau, Picasso, Literature (Orwell & Cervantes in Barcelona), music, theatre, philosophy, gastronomy and nature. In her spare time, as a typical Basque, she loves cooking, visiting food markets, and talking about good food.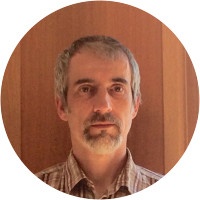 David, orginally from Scotland, has been living and guiding in Bilbao and northern Spain for many years. David is a published art historian, professional art educator and translator (he translated into English one of the standard guides to the architecture of Bilbao). He has a particular interest in the way the architecture of a city can tell its story, and has a passion for this endlessly curious part of the world.