Tour Details
Tour Description
This 3-hour Buenos Aires City Tour explores the city's golden age at the beginning of the 20th century. In the company of an architect or urban historian, we will examine Argentine national identity and trace its expression in the architectural and urban tissue of its "Belle Epoque," when Buenos Aires became known as the "Paris of South America" and the expression riche comme un Argentin—as rich as an Argentine—was commonplace.


"[Our guide] was an excellent tour guide. He was able to switch between Argentinian history, politics, and architecture seamlessly. We felt like we saw a ton of buildings inside the tour. I really enjoyed the small size, so that we could maneuver around the city quickly."
Buenos Aires City Tour - Wealth and Prestige
Our walk will begin at the legislative end of Avenida de Mayo, in front of the National Congress, which will allow us to understand Argentina's development during the 1930s, a time when the country grew rich due to the exportation of agricultural products, and to place this within a broader international context. We will then visit possibly the best example of this wealth at what was then the tallest building in Latin America: the stunning Palacio Barolo. Here we may discuss the ideas of how Argentine citizens chose to present themselves both publicly and privately, a topic which will lead us to a public building designed to show and show-off: the famous Teatro Colón. We'll trace the importance of various visual presentations, onstage and as well as within the urban context of public issues such as education, hygiene, and infrastructure. We may then further develop these themes with a look at other nearby buildings such as the Palacio Pizzurno, Escuela Roca, or the Water Company Palace (Palacio de Aguas Corrientes).


Looking for a broader overview of the city's history? See our
Buenos Aires History Tour
, which focuses on the political and cultural movements that took place during the Belle Epoque.
Recoleta & Retiro Neighborhoods
We'll work our way to the most elegant districts of Buenos Aires: Recoleta and Retiro, the destinations of those who fled the southern parts of town to escape the 1871 yellow fever epidemic. As we stroll along Avenida Alvear, through Plaza Pellegrini and Plaza San Martín, we will be able to admire the private palaces of high Argentine society and its great affinity for the 'Parisian style.' We will then explore some other structures both civil and private, like the exquisite example of industrial architecture: the impressive Retiro Train Station. It will give us the opportunity to not only appreciate the steel construction and decoration, but also to examine the foreign influences in Argentine economy and infrastructure at the turn of the century, and the incredible effect this means of transport had on the society's mobility.
Take Aways
By the end of our walk, we will emerge with a strong grasp of the city's history and urban shaping through its golden-era architecture as well as an understanding of the complex national identity in Argentina. This walk is an excellent pair to our
Evita Tour
, which discusses the political climate of the 1940's and 50's.
FAQ
Does this walk include the Teatro Colon? This walk usually includes discussing the Teatro Colon from the outside, however, we do not visit the interior. The theater offers its own tours which run several times per hour in English, no reservation is necessary.
Where You'll Start
Tour Experts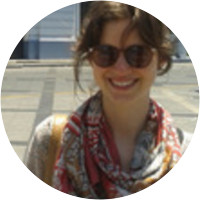 Laura is an Argentinian-born photographer and art historian. In 2010, she moved to France to study contemporary art and photography at Université Paris 8 and work at the Carnavalet Museum. Back in Argentina, she currently conducts research for a project about the history of nineteenth- and twentieth-century photography in South America. Additionally, Laura has worked for the educational department of several museums, including the Colección de arte Amalia Lacroze de Fortabat, Espacio Fundación Telefónica, Museo Eduardo Sívori, and the Museum of Latin-American Art of Buenos Aires. In 2014 she was selected to participate in the Critics and Curator's Program for contemporary art at the Universidad Torcuato Di Tella.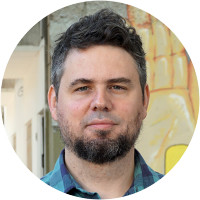 A Buenos Aires native, Santiago studied architecture at the Universidad Nacional de Buenos Aires, where he also taught for six years. His passion for drawing lead him first to became a comic strip artist and later a street artist. He has painted walls all over South America, Mexico and also in Europe. His "signature" is a flying pig, which can be found all over Buenos Aires. He grew fond of these friendly animals while working on his family´s farm, which is located 200 km away from the city, in what used to be a small Irish colony known locally as Arroyo de Luna. This variety of activities give him a unique perspective on the city and its history that he looks forward to sharing with visitors on Context tours.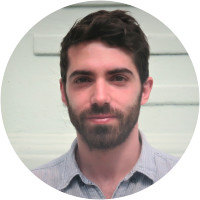 Juan Cruz is a lecturer in History of Design at the School of Architecture, Design and Urbanism of the national Universidad de Buenos Aires. He is also a researcher, currently involved in a project about the models of beauty in Buenos Aires in the period 1800 - 1830. Juan Cruz has a degree in music and plays violin in a symphonic orchestra as well as being a part of a tango group. He has participated in a wide range of seminars and courses related to design, architecture, art history and music. In the past, he has worked in two vastly different cultural institutions: an opera house and a center of contemporary art. He has also travelled through thirty countries and considers travelling one of the most enlightening experiences and ways to learn.
Reviews can only be left by Context customers after they have completed a tour. For more information about our reviews, please see our FAQ.
Our Buenos Aires Architecture Tour with Juan Cruz was one of the highlights of our trip. Juan is a fantastic tour guide and helped use not only take in the beautiful architecture of the city but also understand more about the history and culture. I highly recommend this tour for anyone who wants to have a better understanding of the city they are visiting.
Mar. 19, 2020
Santiago was a most informative and enjoyable guide. Context's small group format is perfect for my husband and I. High ratings to Context and our guide. Thank you Santiago!!!
Mar. 7, 2020
Juan was excellent - very engaging and knowledgable. He tied a lot of history to the design, which made it a very well rounded tour.
Mar. 2, 2020
Context Experts in Buenos Aires
Get to know one of the experts leading this tour