Tour Details
Tour Description
With over 180,000 in Jews in Argentina, the largest population in Latin America, there is much to explore and discover for anyone interested in Jewish history. During this 3.5-hour Jewish Buenos Aires Tour, we will join a local historian to discover and document the living history of the city's Jewish population over the last 500 years.
The Foundation - Jewish Buenos Aires Tour
Jewish people were some of the first to settle in modern day Argentina, fleeing the Inquisition in Spain from the 1500's onward. However, it wasn't until the country's independence in 1810 that an organized community formed. The community grew over the course of the century with the arrival of many Ashkenazi Jews leaving behind revolution and repression in various European countries and continued in the 20th century with the rise of Nazism. (For a broader look at immigration in Buenos Aires in general try our
Buenos Aires History Tour
.)
Our walk begins in the heart of the historic Jewish community of Once. In the 1920s and '30s, many Eastern European Jews settled in what became the city's garment district. Much of this bustling atmosphere still exists, even as many of the more prosperous Jews left for more affluent areas.
Visiting the AMIA
Our first main stop will be the Argentine Israelite Mutual Association (AMIA), an important symbol of the Jewish community. Founded in 1894 to promote the well being and development of Jewish life in Argentina, the building was the target of a terrorist attack on July 18, 1994, killing 85 people and injuring over 300. Since this tragic incident, the association has boldly increased its communication and outreach. This visit will allow us to learn more about their valuable contributions that benefit all citizens of Buenos Aires.
Religious and Artistic Heritage
We'll work our way towards the nearby Gran Templo Paso. One of the oldest Conservative Synagogues in the area, it was established in 1930 on the site of the city's first Talmud Torah. We'll be granted an exclusive visit of the impressive interior decorated with lovely Ashkenazi iconography. From here we'll soak up the ambiance of the area, where we may admire the delicacies of a Jewish bakery, stop to meet some local shopkeepers, or learn about a historic Yiddish Theater.
Templo Libertad
Lastly, we'll travel down to Templo Libertad, located near the Teatro Colón (discussed on our
Buenos Aires City Tour
), covering BA's Belle Epoque architecture). Inaugurated in 1875 in the Byzantine style, it was the first synagogue in Buenos Aires. Time and reservations permitting, we'll be able to visit its Jewish Museum and the inside of the Temple.
Take Aways
Our visit will not only provide an excellent overview of Buenos Aires's Jewish history, but will add a special dimension and a unique window into this vibrant community through our insider access to sites usually closed to the public.


Important: To secure a reservation at any of the sites we will need your full name, passport country and number, telephone, email and address with as much advance notice as possible. A reminder will be included in your confirmation. For bookings within less than a week or for afternoon walks, we can provide alternative sites, though possibly not at AMIA or Synagogues.


Note: The walk payment includes the taxi or metro fare between sites during your visit, however it is customary at the AMIA and the Synagogues to offer an individual, per person donation ($15 USD for AMIA and approximately $10 USD per synagogue).
FAQ
Are the interior of the synagogues visited?
Yes, as long as you've reserved in advance and for the morning both the Paso and Libertad synagogues will be included.


I would like to visit other Jewish sites in the city, is that possible?
Yes, please let us know your specific interests and we can design a custom itinerary for you.
Where You'll Start
Tour Experts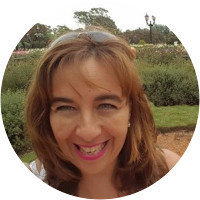 BA is a city where Patricia can never get bored. She's a big fan of her city, always discovering new places, stories and curiosities. In particular she is passionate about walking, to discover the antique markets, mate (Argentina's social drink) and anywhere where she can experience Argentine culture and way of living. As an expert on Jewish life and heritage in Argentina, Patricia knows the ins and outs of current Jewish issues in Buenos Aires. Patricia fell in love with showing people her city 9 years ago and always looks forward to meeting new friends.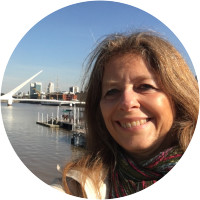 Andrea is native of Buenos Aires born at a tango and historical immigration area. In her former profession, she worked for almost 18 years with economics for large international companies like the US Embassy, the Interamerican Development Bank , the American Jewish Joint, the Hebrew Institute of Chile. She used to travel a lot with the idea of enjoying and discover the local culture. She traveled around Europe as a backpacker, later on to Israel, besides most of the countries in the Americas including United States, Cuba, Mexico, Uruguay, Brasil, Chile, etc and of course all around Argentina. She loves to guide, dance tango and assist to cultural activities. She belong to many communities so she always knows someone in the city ! Her passion is discovering new curiosities about her vibrant home of Buenos Aires City and love to be always updated with the economy and politics. She looks forward to sharing this city and her passion with Context clients, together exploring and sharing stories.
Reviews can only be left by Context customers after they have completed a tour. For more information about our reviews, please see our FAQ.
So pleasant - covered quit a lot . Patria was fantastic.
Feb. 26, 2020
All good. Our Context walks have all been outstanding and this was no exception
Feb. 17, 2020
Lovely tour. Patricia was both charming and knowledgable
Dec. 18, 2019