Tour Details
Tour Description
While Buenos Aires has long been a hub for traditional Latin American art, the city is currently awash in the vibrant hues and outspoken political protest of street art. Some of the city's most talented artists have begun treating neighborhoods like open-air galleries, creating free-wheeling murals reflecting both the Argentine creative identity and propensity for political activism. During this 3-hour Buenos Aires Street Art tour led by an expert, we'll not only explore some of Buenos Aires' most vivid, thriving corridors for street art, but we'll also visit MALBA, the city's best collection of 20th century Latin American art, in order to track how Argentine visual art has progressed from the Belle Epoque to today.


We spent all weekend with [our guide]. His knowledge of the history of modern Latin American Art is extensive and he is not afraid to share his favorites pieces from the collection. Taking the conversation to the street brought us to a residential neighborhood outside the tourist zone. [Our guide] shared a long-term mural project which included artists from many South American countries. His knowledge of the genre and painting techniques were such a delight. . . And his English is expert! We have a new friend!
MALBA - Latin American Art Museum of Buenos Aires
We'll begin our walk in the Museo de Arte Latinamericano de Buenos Aires (MALBA), the city's preeminent collection of modern Latin American art. Founded in Palermo (where we also offer a
Buenos Aires Wine Tour
) in 2001, the young museum has become a prominent voice in challenging the Eurocentric viewpoints that have dominated the art world for centuries. After discussing the museum's history and creation, we'll dive into the unique narratives and distinct perspectives of Latin American artists, focusing on the collection's highlights: artworks by Berni, Botero, Xul Solar, Frida Kahlo, Diego Rivera, Ligia Clark, Tarsila do Amaral, Torres Garcia, Victor Gripo, and Jorge de la Vega among others. Our goal here is to establish a baseline understanding of Argentine contemporary art, which will serve us well when we dive into the Buenos Aires' heady street art scene.
For more on Buenos Aires in the 20th century, try our
Recoleta Cemetery Tour
, where we explore Evita and Peronism.
Buenos Aires Street Art Tour
Leaving the museum with a greater sense of Buenos Aires' place in the history of modern Latin American art, we'll hop into a taxi cab and head to Coghlan, a historic neighborhood with low-rise houses and a quiet ambiance that developed in the late 19th century around the local train station. Since 2000, however, this neighborhood has been an epicenter of street art in the city, driven in part by the abundance of large, blank concrete walls leftover from an unbuilt freeway. We will analyze the process of creation street art and its unique ephemeral nature, from spontaneous art to the carefully curated sponsored walls and restoration efforts undertaken by the local government.


One of our targets will be Pirovano Hospital, boasting 550 meters of largely unbroken perimeter that's served as one of the most desirable canvases in the city. Artists have been painting Pirovano Hospital nonstop for over a decade, rendering it a constantly shifting public gallery reflecting not only changes in style, but social changes and the political climate in the city. Wrapping up, we'll learn more about the stories of the artists who participate in Buenos Aires' street art scene, from internationally renowned names to local schoolchildren, as well as how the community, local governance, and hospital authorities have participated in this revitalization project that goes much deeper than paint on a wall.
Take Aways
At the conclusion of our Buenos Aires Street Art Tour, participants will have a deeper understanding of the Latin American perspective in art, from its foundations in the 20th century to today's laissez-faire street art scene. We'll discuss the alternative histories of Latin America versus European art history and the various meanings of urban art in Buenos Aires and beyond.


NOTE: Included in the cost of this walk is your entrance ticket to MALBA and the taxi from MALBA to the neighborhood of Coghlan.
Where You'll Start
Tour Experts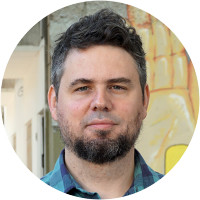 A Buenos Aires native, Santiago studied architecture at the Universidad Nacional de Buenos Aires, where he also taught for six years. His passion for drawing lead him first to became a comic strip artist and later a street artist. He has painted walls all over South America, Mexico and also in Europe. His "signature" is a flying pig, which can be found all over Buenos Aires. He grew fond of these friendly animals while working on his family´s farm, which is located 200 km away from the city, in what used to be a small Irish colony known locally as Arroyo de Luna. This variety of activities give him a unique perspective on the city and its history that he looks forward to sharing with visitors on Context tours.
Reviews can only be left by Context customers after they have completed a tour. For more information about our reviews, please see our FAQ.
Loved our day with Santiago!!! He was so well prepared, knowledgeable, and made the day so fun and interesting! It was a perfect amount of time. The trip to view and learn more about street art was a terrific addition to the day!
Feb. 24, 2023
Santiago eas a wonderful tour guide for my grand-daughter & myself. He very clearly communicated artistic concepts & techniques. He gave us a good introduction to South American art by touring specific pieces in the MALBA collection. In the 2nd part of the tour ww explored the evolution from graffiti to street art. He was very inspiring for my grand-daughter who wants to be an artist.
Feb. 9, 2023
We loved our tour with Santiago - second of the week, in fact. He's knowledgeable, kind, smart, insightful and just generally lovely to be around. His English is also brilliant. We found the MALBA tour particularly helpful, as Santi provided compelling context (!!) for both the temporary and permanent exhibitions, which enabled us to enjoy the museum visit much more so than we might have otherwise. He also took the time to show us some amazing mosaic work in the BA subway system, unique to our tour and based on our interest in contemporary mosaic. In short, he went above and beyond and we could not recommend him — and the MALBA and Belles Epoque Architecture tours — more!
Dec. 22, 2022