Tour Details
Tour Description
Bo-Kaap meaning "upper-Cape" is, as the name suggests, situated above the city on the slopes of Signal Hill. This multicultural community has a rich heritage and is considered the centre of Cape Malay culture in South Africa. It is easily recognizable by its quaint cobble-stoned streets and brightly painted houses built with a unique mix of Cape Dutch and Georgian architecture. On this 2-hour Bo-Kaap Tour, accompanied by local resident of the Bo Kaap community, we will navigate this charming neighborhood that has managed to maintain much of its distinctive character despite the influx of "outsiders" now buying up property in this sought after location. We will learn of priests, convicts, slaves and even princes who lived in this community very much linked to the establishment and spread of Islam at the Cape. From museums, to mosques, to Malay kitchens selling their unique cuisine, we will experience the sights, sounds and tastes of this colorful suburb.
The Birth of Islam at the Cape
We start our Bo-Kaap Tour outside the Iziko Bo Kaap Museum, the oldest building in the area still in its original form, dating back to 1768. Although we won't go inside, it's an important place to begin our narrative as our docent gives an introduction to the history of Bo-Kaap. The neighborhood was originally built by artisans, some of whom were convicts, political exiles, and later, freed slaves brought to the Cape by the Dutch East India Company from Malaysia, Java, Ceylon, Africa, and India during the 17th century. Many of them were practising Muslims, leading Bo-Kaap to subsequently become the heart of Islamic teachings. After the abolition of slavery, many freed slaves moved into Bo-Kaap, rejecting the religions of the Dutch and English as Islam grew in popularity. We will talk about the theme of slavery and how the intermarriage of various descents led to a distinctive Cape Muslim culture.[For more on the discussion of slavery, venture out to Simon's Town to delve into the subject on our
Simon's Town Tour
].
Bo-Kaap Tour
We will pursue our discussions further on our Bo-Kaap Tour as we walk the narrow streets in order to visit the city's first recognized mosque. Auwal Mosque holds special significance to the local Muslim community as does its founder, the city's first Imam, Tuan Guru. Our docent will help to paint the fascinating picture of the life of Tuan Guru picture of life, who lived in this enclave in the 17th and 18th centuries. Our docent will give an introduction to the history of the mosque, its link to slavery and apartheid and its symbol amongst the Cape Malay community. We may have the chance to enter the mosque in between prayers to see a copy of the Quran, written from memory.
The Malay Quarter
We will take some time to stroll along Chiappini Street with its vibrantly painted houses. We might stop to discuss the traditional Cape Muslim style architecture and the relevance of the rainbow colored houses, which is said to be partly linked to Ramadan and the celebration of Eid. Taking in the sights, sounds, and smells of Bo-Kaap, we'll listen for the muezzins calls to prayer, smell the scent of spices; cinnamon, clove, and ginger wafting in the air, and watch the locals as they go about their day. We will discuss the multi-faceted heritage of Bo-Kaap which is reflected in its festivals, dance, music, and food.
Cape Malay Cuisine
No Bo-Kaap Tour would be complete without sampling some traditional Cape Malay cuisine. As the final part of the tour we will examine the origins and tastes of this neighborhood. We may sample delicious spicy mouthfuls from street vendors to discover favorite dishes like samoosas or koeksisters. We will also visit a family-owned and run spice shop, Atlas Trading Company, which has been in operation since 1946. Here, we will discover the spices of the East along with other delicious products typically used in both Cape Malay and South African cooking. (For more on Cape Town flavor, try our
Cape Town Food Tour
).
Take Aways
At the end of our Bo-Kaap Tour we will leave with a greater sense of what life must have been like for the early settlers living in this community. We will better understand the origins and development of Islam at the Cape and how the Cape Malay community with its distinctive culture and cuisine came to call the Bo-Kaap their home.
FAQ
Is this walk able to accommodate those with allergies or dietary restrictions?
We do our best to accommodate everyone as much as is possible. The best thing to do is let us know when you book if anyone in your party is a vegetarian or has allergies or dietary restrictions. We can warn your docent, so that they can make alternative arrangements. There is just a small snack involved, not a full meal.


Where do we meet? Where does it end?
The tour begins and ends in the small neighborhood that is Bo-Kaap. Your confirmation email will have the exact meeting point details along with a map

Is this tour suitable for people with mobility issues?
Unfortunately not as it is a walking tour in an old neighborhood with old roads, steps, and very narrow sidewalks. The guide is able to adjust the tour for mobility restrictions but the route will be different and it is not wheelchair accessible. Please let us know if you have mobility restrictions.

Is this tour kids friendly? The tour is geared towards adults mainly. It is history heavy and focuses on stories, traditions, and culture.
Where You'll Start
Tour Experts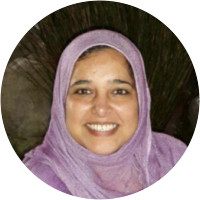 Bilqees Baker, a resident of the historic and colourful Bo-Kaap area, was born in Johannesburg and has lived in Cape Town for 30 years. Her career as a qualified and registered tour guide was inspired by the history of the old slave quarter and her involvement in community matters of heritage and social issues. Aside from tours, she manages a non-profit organization that assists needy elders in the area through a dignified social programme, and, on economically empowering women through projects with culture and tradition at their core. Having been born and raised during the Apartheid era her university dreams had to be sacrificed for a more hands-on career. She studied fashion design after school, but it was never her calling. She fulfills her passion today by sharing the authentic history of the Cape, in context of the Bo-Kaap. The previously hidden history of the slaves and colonialists is being unearthed at a fast pace since South Africa's democracy in 1994. Bilqees is guided by historians like the late Dr. Achmat Davids and Professor Robert Shell (UCT), Patric Tariq Mellet, Professor Nigel Worden (UCT), Ebrahim Rhoda, Halim Gencoglu (UCT), Mogamat Kamedien and the many elders in her community.
Reviews can only be left by Context customers after they have completed a tour. For more information about our reviews, please see our FAQ.
She was knowledgeable, kind, and very passionate about her community. I loved the food tasting, meeting residents, and all the stories.
Mar. 2, 2023
Bilqees was a highly informative and most memorable guide. Her personal history and knowledge of her community enabled us to understand the unique history of her community. A visit with one of her neighbors was a high point of the tour.
May. 18, 2022
Excellent docent working under adverse conditions as we had to leave early.
Oct. 3, 2018