Tour Details
Tour Description
Gardens, with their shady trees, fragrant flowers, and peaceful lanes, have always served as a counterpoint to the narrow, crowded streets of Florence's city center. During the Renaissance, a new form of garden design came to the fore, heavily influenced by classical models from Roman villas. Florence, and its surrounding area, is a garden enthusiast's paradise, boasting numerous Renaissance style gardens, along with examples of sixteenth century and English style designs. This three hour Florence secret garden tour, led by a trained horticulturalist and garden designer, takes a look at Florence's two most stunning gardens—the Boboli Gardens, known to many, and Giardino Torrigiani, known to few.
Florence Secret Garden Tour
We will begin our walk in the Boboli Gardens, which cover the hillside behind the Pitti Palace (which we also explore on our
Pitti Palace Tour
)—a suitably grandiose complement to the expanding ambition of its Medici owners during the sixteenth and seventeenth centuries. The gardens developed from agricultural origins to the setting for dynastic marriage celebrations, with a formal network of grand avenues, vistas framed by classical and baroque statuary, dark bosquets, and hidden lawns. Recent restorations have emphasized the masterpieces of architecture within Boboli, including the Mannerist Grotta Grande, built to house Michelangelo's famous Atlas figures, and the delightful Rococo structures of the Limonaia and the Kaffeehouse. Within the vast gardens are several "secret gardens," housing precious botanical collections, proving not only the enlightened scientific patronage of the Medici and Lorraine rulers, but the passage of skills through generations of gardeners.
An Exotic Experience
Hidden behind a set of high walls in the same neighborhood of the Oltrarno (where our
Florence Artisan Workshop Tour
takes place) is the Torrigiani Garden, the largest private garden within city walls in Italy, which we will visit by special request. Originally planted by the founder of the Italian Botanical Society—the world's oldest—the garden still has an uncommonly wide variety of trees, especially exotic species, in keeping with its nineteenth century English landscape style. Giardino Torrigiani has an intriguing air of mystery, as it is laid out as an initiation path with secret masonic symbolism, and includes gothic follies and the recurring theme of research and enquiry. There is no secret, however, to the dedication to the arts and sciences, which are still the owners' guiding principles, as the Torrigiani Garden contains a successful commercial nursery and regularly hosts lectures on the arts and gardening. Refreshments will be offered on the lawn, in the shade of a pomegranate tree.
Where You'll Start
Tour Experts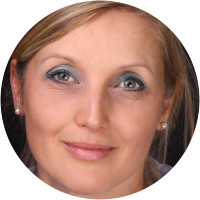 Valerie received her BA with distinction in Art History and Museology at the University of Florence, focusing on the Renaissance art market. Although German, Valerie was born and raised in Rome, making her eager to build bridges across different cultures. She also works for the educational department of the state museums in Florence, where her mission is to communicate art and culture as a means of understanding the visual signs that surround us.

Born and raised in Florence, Alessandra has a degree in art history from the University of Florence with a specialization in seventeenth-century painting. She obtained an Masters from the European University Institute in Florence, where she defended her Ph.D. in history, focusing on the patronage of Tuscan nobility in Europe during the seventeenth century. In addition, she holds a diploma in archival administration, paleography, and diplomatics from the State Archive in Florence. She has been teaching art history and Italian culture for several years in various schools and institutions in Florence and across Italy.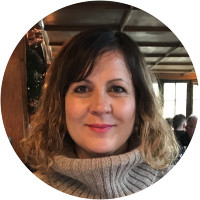 Susanna was born in Arezzo (Tuscany) where she currently resides. She is a PhD Art Historian (University of Florence) and is a researcher of the Medici family collections and Renaissance art of Florence. She is a member of the prestigious Accademia delle Arti del Disegno, worlds' oldest Art Institution, established in 1563 by Duke Cosimo I de' Medici and Giorgio Vasari. The author of several books and other publications about her subject area, including works on the Uffizi Gallery and Florentine art that have been translated into many languages, Susanna is also a teacher and educator. Susanna has collaborated with the Piero della Francesca Project and Susanna is also a certified Sommelier. Her passion for Tuscany, art and Italian wine inform her tours and lectures. She is a licensed tour guide in Florence, Siena and Arezzo.
Reviews can only be left by Context customers after they have completed a tour. For more information about our reviews, please see our FAQ.
Valerie was a wonderful guide! The Boboli gardens are amazing and Valerie was just the right person to tell us about it's history. We throughly enjoyed the Giardino Torrigiani and meeting Tomaso. The special wine and bruchetti with Tomaso was a highlight of our entire stay in Florence!!
Oct. 10, 2022
Loved Lucia! She went above and beyond. Very knowledgeable and kind. The private garden was amazing! The entire experience was wonderful!
Sep. 27, 2019
We expected more information on the plant material and botany in general, but Valerie was charming. The Marchese was refreshingly candid about the issues he faces and gave the visit a special content.
Oct. 2, 2018