Tour Details
Tour Description
Istanbul's vast history as the jewel of empires can be understood by one body of water: The Golden Horn. This natural harbor off the Bosphorus Strait was at the center of the Byzantine Empire, lured the Ottomans to Constantinople, and remains a testament to the might and wonder of the city's past. Delving into the area's neighborhoods on this Golden Horn Tour, we will investigate the many ways this area has shaped the city.
Explore The Ruins of Constantinople
Peeling back religious, cultural, and architectural layers, we will explore the inner hills of Istanbul in search of Byzantium. Our walk takes us through one of the most historically dense areas of city, which allows us to explore Byzantine structures nestled among remarkable Ottoman mosques (which we take a more focused look at on our
Istanbul Architecture Tour
) and bustling modern streets. We will wander the neighborhood of Sehzadebasi, traditionally the heart of Istanbul. Pending time and availability, we will visit several important Byzantine churches and structures. This neighborhood includes Kalenderhane, a 12th-century church turned 18th-century mosque, the Church of Hagia Polyeuktos, the largest basilica built before the Hagia Sophia, and the impressive Roman aqueduct built by Emperor Valens.
From Byzantium to Modern Istanbul
Istanbul is a city of transformations. We'll explore the Fatih district, one of the most observant and conservative neighborhoods in the city, to delve into the history that has shaped the city. From the Ottoman invasion of Constantinople in the 15th century to the more recent Anatolian migration and subsequent demographic shifts beginning in the 1970s, this neighborhood on Constantinople's fourth hill will help to illustrate the many ways Istanbul has grown and changed.
The Chora Church, A Byzantine Gem
The
ruins of Byzantium
further our exploration of this theme. With many Byzantine churches, such as the former Pammakaristors Church (and current Fethiye Mosque), still standing, we are able to draw connections from the Byzantine Empire through the Ottoman Empire and onward to today. We will visit the Chora Church, a high Byzantine gem with vibrant 14th-century mosaics and frescos. The Chora is a palimpsest of the cultures, religions, and empires that have ruled Istanbul throughout history, and we will discuss its architecture and decoration. Said to be more glorious than the Hagia Sophia with its well-preserved art, the Chora stands as one of the Byzantine Empire's most enduring landmarks.
Want to compare for yourself? Check out Istanbul's most famous mosque on our
Hagia Sophia Tour
.
Golden Horn Tour
Time permitting, we will conclude our walk on the 5th-century Roman walls that once enclosed the northwestern side of the city. With an outstanding view back across the territory we covered earlier, we will have a visual illustration of the way Byzantine history has shaped modern Istanbul, and the critical role this city served in the empire.
Tour Experts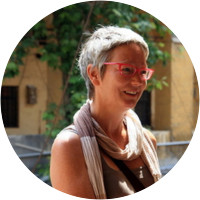 Claire has dual degrees in English (University of Michigan) and medieval art history (Università di Roma "La Sapienza"). She lived in Rome for a decade where she taught art history at Trinity College and study abroad programs for other American universities. She has lived in Istanbul for the last twelve years. She is presently an adjunct instructor at Yeditepe University and a freelance translator. Originally from Washington, DC, Claire is very interested in social history. She is the author of "Topkapı Palace: Inside and Out", published by Citlembik in 2004.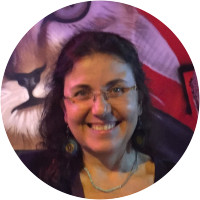 Ebru has a BA in English Literature at Bosphorus University. After finishing her studies, she worked as an arts correspondent for a local newspaper, and then had a career as a managing editor for a monthly travel magazine: Gezi / National Geographic Traveler. A native of Istanbul and a licensed guide, she has a broad range of knowledge, and is extremely interested in history of art, architecture and religions with special emphasis on Greek Orthodoxy and Byzantine history. Ebru finished an MA program in the history of religions at the School of Theology and has been working on her thesis on prophecy in ancient Greece. Apart from guiding, she gives seminars on early Christianity, origins of Christmas, ancient Greek mythology and Vikings of the Byzantine Empire: the Varangian Guards. Currently she is studying art history at Istanbul University, and taking modern Greek and Ottoman script classes in her free-time.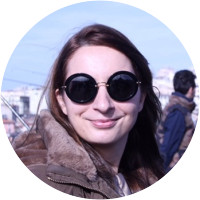 Yaren is a licensed guide, an art historian and an archaeologist. She has been working as a tour guide for 20 years. Her interest in history led her to study art history and archaeology at Istanbul University. Being born and raised in Istanbul, she has a passion for making the city as accessible, interesting, and inspirational as possible.
Reviews can only be left by Context customers after they have completed a tour. For more information about our reviews, please see our FAQ.
Ebru was our guide for this tour and Topkapi Palace, and was incredibly knowledgeable, interesting, and fun. We would gladly tour with her again!
Jan. 1, 2020
Ebru is the best. Her knowledge is amazing. As we passed other guides they told us we had the best guide possible.
Sep. 16, 2019
Ebru is so knowledgeable, and personable we could not have asked for a more intelligent & well researched guide. We highly recommend her. What a wonderful morning we spent with her.
May. 20, 2019