Tour Details
Tour Description
​​Meet Alan, your London private guide to the art and history of this bustling capital.


Growing up in Edinburgh, Alan's early fascination with history and heritage was inspired by Scotland's unrivaled wealth of castles, abbeys, and stately homes. He studied at Glasgow University, completing an MA in History of Art that incorporated everything from classical sculpture to medieval architecture and modernist design. This led him to a career in the London art world. After working as both an antique dealer and an auctioneer, he ended up as a senior specialist in Contemporary Art at an international auction house.
A return to academia in 2010 set him on a new course – reviving his love of history, he completed a master's degree in Classical Civilisation at Birkbeck, the University of London, which focused on the art, culture, and society of ancient Greece and Rome. This was followed by a Ph.D. at the same institution during which he researched eighteenth-century attitudes towards the classical world. He continues to write on both Contemporary Art and history, and his first book, Classical Caledonia, was published by Edinburgh University Press in 2020. Much of his recent research has focused on how the ancient world has been interpreted, emulated, and collected over the last three centuries.

When not reading, writing, or talking about art and history, Alan enjoys walking in the English countryside and holidaying in Scotland. He is also a regular visitor to France, where he spends his time rooting around in antique shops and sampling the local cuisine. He is a music fan with a particular interest in early and baroque music, and he relaxes by playing the piano and the harpsichord.
An Inspired Itinerary - The British Museum and Beyond
Join Alan on his favorite route through London on this full-day exploration of its history and culture, highlighted by a tour of the British Museum, and of course, a stop for lunch in one of his favorite local spots!
We'll meet Alan at the British Museum where we'll spend the morning exploring the incredible collection of art and antiquities. Starting with an overview of how the British Museum came into existence in the mid-eighteenth century, we'll explore The Enlightenment Gallery and discuss how the discipline of archaeology evolved from the work of antiquaries and also look at how art history was born with the study of ancient Greek sculpture and vase painting.
We'll traverse the halls of the museum, visiting its most important rooms, including the Egyptian collection, the Rosetta Stone, and time permitting, the Parthenon Marbles. We will emerge with a better understanding of this major institution and its key role in intellectual life worldwide, leaving us with a sense of wonder and appreciation.
For lunch, we'll stop in a restaurant in the surrounding neighborhood of Bloomsbury, an elegant enclave made famous by Virginia Woolf and other literary stars of London's past (and present).
Refreshed after lunch, we will set out towards the City of London, also known as the Square Mile, the heart of old London where we will admire many of the city's most historic streets and iconic buildings. Viewing a variety of monuments, from a Roman amphitheater and an ancient temple to the tall glass towers of the modern city, the afternoon stroll will allow us to get to grips with the long history of the British capital.


We'll walk across the famous London Bridge to visit Southwark, home to Shakespeare's Globe Theatre, a medieval cathedral, and its world-famous Borough Market, a historical produce market that is now a popular foodie destination.
FAQ
What is included in the itinerary?
London Private Guide itineraries include the cost of your time with your private guide and usually include museum or monument entrance tickets. Lunch and refreshments are at your expense. Accommodation is not included.
What if I want a different itinerary with this expert?
The published itinerary represents Alan's favorite way to visit London.
Is this suitable for children and/or travelers with mobility challenges?
Yes. We can adapt the itinerary based on the ages, needs, and interests of travelers in your party. Please provide these details in the "ADDITIONAL DETAILS" field at the time of booking.

Can I enjoy learning with Alan virtually, before or after our tour?
Yes, Alan leads several online learning experiences with Context. For additional details about his upcoming seminars and courses,
click here.
There are 8 in my group but your website won't allow me to include more than 7 participants. Can't you make an exception?
No, unfortunately, due to venue reservation restrictions, we cannot accommodate groups larger than 7 people. If your group is larger, we recommend you split into multiple groups.
Where You'll Start
Tour Experts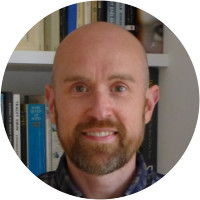 Alan was born and raised in Scotland but has spent most of his adult life in London. Having achieved an MA in Art History at Glasgow University, he worked for many years in the art world at both an international auction house and an antique dealer. He then returned to academia, achieving an MA in Classical Civilisation in 2011, and later completed a Ph.D. in which he analyzed eighteenth-century attitudes towards the ancient Roman world. Elected a Fellow of the Society of Antiquaries of Scotland in 2017, he published his first book 'Classical Caledonia' in 2020. His latest book, 'Walking the Antonine Wall', recounts his journey on foot along a Roman frontier in Scotland.
Reviews can only be left by Context customers after they have completed a tour. For more information about our reviews, please see our FAQ.
Alan was personable and very highly qualified to explain and interpret the exhibits we saw. The day was well designed, making good use of our time.
Oct. 24, 2022
Awesome Alan is a wonderful guide and personable would love to get to know him longer a magical day thank you
Jul. 4, 2022
Alan was wonderful! It was rainy and cold and he easily improvised at finding different places inside. He was extremely knowledgeable.
Dec. 10, 2021
London with Alan
Get to know Alan, London art historian