Tour Details
Tour Description
On a hot summer's day in 1936, a military coup trying to overthrow the government escalated into one of the most important historical events leading to the rise of fascism in Europe: The Spanish Civil War. This acute three-year conflict divided the Spanish population and territory in two—the Republicans, supported by international volunteer forces, versus the Nationalists, backed by the Fascist regimes of Mussolini and Hitler. Our 3.5 hour Spanish Civil War tour in Madrid, guided by an expert guide, will focus on the origins of the war, visiting sites associated with wartime events and covering daily life during the war and Nationalist Francisco Franco's eventual Fascist dictatorship.
Spanish Civil War Tour in Madrid
We begin our tour at a cafe where we'll introduce the Spanish Civil War's major players. Armed with this knowledge, we'll embark on our journey through the Civil War in Madrid, starting with Franco's Monument to the Fallen, which was constructed during his regime on the site of the city's first skirmish. We'll continue along Gran Vía, a commercial and entertainment artery where the Telefónica Building—one of Europe's first skyscrapers—became the main target for bombardments. The boulevard was so heavily bombed during the war that Madrileños nicknamed it Avenue of the Shells.
Understand the Spanish Civil War
Passing through Puerta del Sol, we'll enter the working class neighborhood of Lavapiés. Intensely bombed during the war, we will see the ruins of a Catholic school and church burnt by angry masses at the onset of the conflict; these stand as a vivid illustration of the savagery of the war. Using photos and testimonies from the period, our guide will illustrate the difficulty of daily life during the first half of a dictatorship known in Spain as Los Años de Hambre, or The Years of Hunger.
Excellent tour with our guide who is both knowledgeable and interesting. This tour was the highlight of our trip to Madrid.
Spanish History with an Expert
The Spanish Civil War was one of the most romanticized conflicts of the 20th century, inspiring the works of an accomplished list of contemporary writers and artists, including Ernest Hemingway, George Orwell, Orson Welles, Dorothy Parker, Pablo Neruda, and Pablo Picasso. Picasso's Guernica is one the most recognizable symbols of the horrors of war, but it served as a key piece of propaganda used to gather support for the war. In light of its influential status, we'll end our walk at the nearby Reina Sofía Museum, where we'll view this monumental oeuvre together to wrap up our discussion of the war's tremendous effect on and Spain as whole.
Take Aways
This tour will help impart the scale of devastation that accompanied the rise of Franco and Fascism in Spain, as well as demonstrate the Spanish Civil War's impact on arts and culture.
Want to learn more about the vibrant culture that emerged post-Franco? Consider our Madrid Night Tour: Movida Madrileña, covering Madrid's 1970's counter-culture.
FAQ About the Spanish Civil War Tour in Madrid
Is this seminar walking intensive and/or wheelchair-accessible?
We do cover extensive territory on this seminar, and the route includes public transport. Please contact us if you have any questions; we will be happy to advise if this seminar will be appropriate for you, and are also happy to design a private, customized tour for visitors with mobility concerns.
Where You'll Start
Tour Experts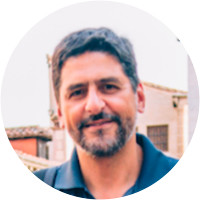 Héctor was born and raised in San Juan, Puerto Rico. He obtained a B.A. in Architecture and Humanities and an M.S. in Historic Preservation from Columbia University, New York City, and in 1996 he studied at Rome's International Centre for the Conservation and Restoration of Cultural Property. He returned to Puerto Rico to become Executive Director of Heritage Programs at the Institute of Culture, and then worked independently on research projects for historical and archaeological sites in the Caribbean. In 2003 he moved to Madrid, where he is currently working on his PhD thesis in Colonial Latin American History. Héctor has taught undergraduate courses in the History and Theory of Historic Preservation, Spanish and Latin American History, and Spanish Culture and Civilization at universities in Puerto Rico and Spain. He has a particular passion for Spanish cities and fortifications of the Middle and Early Modern ages. Héctor speaks Spanish and English fluently, and has an intermediate level of Italian.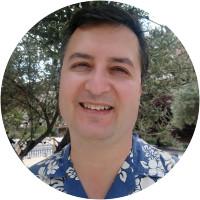 Chris Kostov is a lecturer in history and international relations at Schiller International University Madrid, Spain. He obtained his Ph.D. in history from the University of Ottawa, Canada in 2010. He has specialized in modern European history, ethnic nationalism and Canadian Studies. Dr. Kostov is the author of 2 books, 1 e-book and a number of academic and encyclopedia articles dealing with a wide range of topics from modern Balkan history to Canadian immigration policy and Native American cultures. His diverse interests allow Chris to see Madrid from different angles. He is especially interested in the ethnic, cultural and linguistic diversity of the city as well as the history of Madrid and Spain starting from pre-Roman times.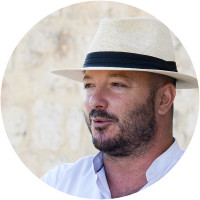 Sean has a 5 year History degree from UAM (Madrid) where he specialized in late medieval Castilian history. He also spent a full year at NUI (Maynooth, Ireland) researching the history of the Irish Colleges in the continent during the early 1600's. He later moved on to the study of the hispano-portuguese colonial presence in Asia and worked for the Spanish Association for Pacific Studies at UCM, Madrid. He's been a visiting professor at KYUDAI (Fukuoka, Japan) and has lectured at many seminars and conferences in Spain during the early 2000's precisely in the field of Southeast Asian studies. In the meantime Sean has been actively working as a tour guide in Spain running cultural tours for English-speaking travelers. He is currently working mostly as a local guide in Madrid.
Reviews can only be left by Context customers after they have completed a tour. For more information about our reviews, please see our FAQ.
First ~30 minutes were spent in a cafe with good illustrative maps and pictures to give a good understanding of both the reasons behind the Civil War and the actual facts of the war itself. The tour gave a good opportunity for conversation that contextualized things. Since it was 1-on-1 we could both bring our personal expriences to bear on discussions of lingering impacts of the War. I thoroughly enjoyed the 3 hours (although my joints hurt afterwards!)
Oct. 27, 2022
Jesus is incredibly knowledgeable, engaging and willing to answer all our odd questions. We learned soooo much! Plus he was willing to take extra time explaining the rare pieces of Picasso at the Museo Reina Sofia — great tour guide! And if you want to learn Spanish we highly recommend Jesus.
Sep. 24, 2022
Doreen is extremely knowledgable and pleasant. Wonderful and educational time.
Sep. 5, 2022