Tour Details
Tour Description
In this three-hour Introduction to Madrid tour, you'll join a local architect, historian, or other experts of the city to explore the central, medieval district of Madrid and get an understanding of the city's history, urban development, and key monuments. This is an introductory walking tour, perfect for the first few days of your visit.
Introduction to Madrid through the Centuries
We'll take to the streets of central Madrid as our expert guide traces the trajectory of the Spanish monarchy through to French occupation, Civil War, and dictatorship in the 20th century, starting with the city's Moorish roots. The approach will be an overview of these seminal events, designed to give us our bearings. Much of our tour will focus on the medieval core of the city near Plaza Mayor, which has remained remarkably unchanged since the period of the Habsburg dynastic rule of the Spanish throne (1516-1700), which we will discuss in detail.
Madrid with an Expert
We'll also look at non-academic topics like cuisine, local craftsmanship, and the cultural life of Madrilenos. As part of this discussion, we'll poke our heads into the market to learn about Jamon Iberico and the timing of meals, or pop into one of the most traditional and popular chocolate cafes in the city. We'll certainly stop in Puerta del Sol, where the uprising against the French in 1808 took place and where the terror attacks of 2004 are commemorated, allowing us to discuss the pattern of strife and conflict that have shaped Madrid and Spanish history.


For more on Franco's rise to power, for instance, we recommend our Madrid Civil War Tour. Or, to see the controversial Valle de los Caídos monument at which Franco is buried, consider our El Escorial Day Trip from Madrid.
FAQ About the Introduction to Madrid Tour
Will this tour include the Royal Palace?
Our tour will examine the palace from its exterior. We will not enter the palace on this tour.
I'm traveling with my family. Is this walk suggested for children?
As part of our
Family Program
, we offer a
Madrid for Kids
tour.
Is this tour walking-intensive and/or wheelchair accessible?

This tour is fairly walking-intensive and the route may include narrow sidewalks and cobblestoned streets. Please contact us to discuss in more detail your mobility concerns so that we can best advise. We are also happy to discuss any possible adjustments to the tour for clients with mobility concerns.
Where You'll Start
Tour Experts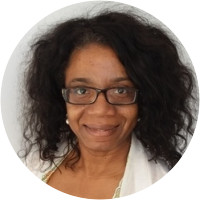 Originally from Equatorial Guinea, Clara moved to Spain when she was 2 years old. She holds degrees in geography and history and a Master's in art history from Sorbonne University in Paris. With more than fifteen years experience in museum education and public programs, Clara has worked at the Peggy Guggenheim Collection in Venice (Italy), the Smithsonian Institution in Washington, D.C, and a number of institutions within the cultural department of the Ministry of Culture in Spain. She also has designed art and cultural tours for groups for more than 10 years. At present Clara works as a Public Programmes and Communication Coordinator at the Museo del Traje (Costume Museum) of Madrid, organising events, lectures, group visits and educational programmes. An avid traveller, she has lived in Seville, Bilbao, New York City, Washington, D.C., Venice, Florence, London and Paris. Interested in different aspects of Spanish cultures, she also has been developing her other passion: food. She has certificates in wine tasting from the Spanish School of Wine Tasting and the Basque Culinary Center and in Gastronomy from the Complutense University. At the present she enjoys combining her research in Spanish Art History and Spanish Museums with her passion about food in Madrid and in the Basque Country.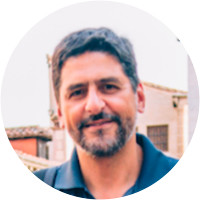 Héctor was born and raised in San Juan, Puerto Rico. He obtained a B.A. in Architecture and Humanities and an M.S. in Historic Preservation from Columbia University, New York City, and in 1996 he studied at Rome's International Centre for the Conservation and Restoration of Cultural Property. He returned to Puerto Rico to become Executive Director of Heritage Programs at the Institute of Culture, and then worked independently on research projects for historical and archaeological sites in the Caribbean. In 2003 he moved to Madrid, where he is currently working on his PhD thesis in Colonial Latin American History. Héctor has taught undergraduate courses in the History and Theory of Historic Preservation, Spanish and Latin American History, and Spanish Culture and Civilization at universities in Puerto Rico and Spain. He has a particular passion for Spanish cities and fortifications of the Middle and Early Modern ages. Héctor speaks Spanish and English fluently, and has an intermediate level of Italian.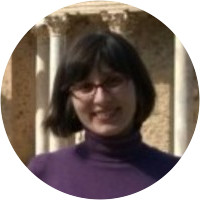 Barbara Perucka has been living for more than five years in Madrid. She earned her Ph.D. in Art History, as well as her Bachelor's degree in Italian Philology, at Adam Mickiewicz University in Poznań (Poland). Her research interests focus on medieval painting, art at European courts, and travel literature. Her doctoral thesis was dedicated to the decoration of a French manuscript "Livre des merveilles" (Book of Wonders, Paris, Bibliothèque nationale de France, ms. fr. 2810). She has published papers about late medieval tapestries and medieval illustrated accounts of a journey, and was a professor of art history at Adam Mickiewicz University in Poznań and Nebrija University in Madrid. She also received several research grants in Paris, Dijon, Vienna, Pisa and Brussels.
Reviews can only be left by Context customers after they have completed a tour. For more information about our reviews, please see our FAQ.
Barbara was a great guide and very knowledgeable. We enjoyed the tour and learned a lot.
Mar. 24, 2023
Very friendly and intelligent.. answered all questions and nice pace to the tour.
Mar. 17, 2023
The tour guide presentation was lacking and quite mechanical.
Jan. 1, 2023