Tour Details
Tour Description
Spanning nearly 170 miles in France, the Loire Valley alone contains more than 500 châteaux. Flourishing in the time of the Renaissance, the region was inhabited by the likes of Diane de Poitiers, controversial mistress of King Henry II of France, and famed Italian artist and inventor Leonardo da Vinci, making it historically interwoven with the great kings of France. Seeking to escape the pressures of Paris and enticed by the open lands and forests rich with game, the French kings made the Loire Valley their primary residence until 1589, when King Henry IV eventually moved his court back to Paris. Together, we will explore the Loire Valley through the eyes of the nobles who made the region their home. Over the course of our day trip from Paris to the beautiful Loire Valley, we will explore the elegant châteaux of the French aristocracy and discover the French Renaissance with an art historian.
Loire Valley Tour
Meeting our guide at the station in Paris, we will take the train to Tours, a charming city nestled between Orléans and the Atlantic coast. Using our time on the train to gain some valuable insight into the Loire Valley of the Renaissance, we will arrive to join our driver at the train station buoyed by our newfound context on the picturesque region's history. Called the "Garden of France," the region is characterized by its central river—the longest in France, vineyards (a subject of interest for anyone who has taken our
Paris Wine Tour and Tasting
), asparagus fields, and the stunning châteaux that lure tourists away from France's bustling capital. We'll turn our attention towards the châteaux, which are not only impressive and beautiful architectural feats but serve as a great tool to understanding the area's rich history.
Transforming Medieval Fortresses
While our route may vary depending on private bookings, we typically start with Château de Langeais. This château embodies the social and cultural turning point, marking the moment where the Loire turned from a medieval territory dotted with defensive fortresses, to the epicenter of the French Renaissance with artisans, intellectuals, and ideas imported from Italy. After the initial structure was destroyed during the Hundred Year's War, King Louis XI altered the original building plan to reflect Italy's new architectural ideals—with a French twist, of course. However, Château de Langeais maintains much of its defensive structure, which can be best seen in its dominant towers, blank, machicolation (covered parapet with openings for soldiers to fire upon enemies), and drawbridge entry. Observing this first hybrid between Renaissance architecture and the fortresses of the medieval age forms the foundation for understanding the significant shift.
Transitioning to Decadence
We will then head to the ethereal Château d'Azay-le-Rideau, which demonstrates an influence from the French and Italian styles. This graceful residence exemplifies how French architecture began to distance itself from fortified structures like Château de Langeais. After being razed to the ground during the Hundred Year's War, Azay-le-Rideau was reconstructed in an unusual L-shape plan by the King's Treasurer General Gilles Berthelot.
Château de Chambord
After a break for lunch, we will head west to Château de Chambord, the celebrated castle that is considered a true chef-d'oeuvre of the French Renaissance. Originally built as the hunting lodge, this château perfectly demonstrates the marriage between medieval French style and classical Renaissance form. This architectural feat may be accredited to the project's several undocumented architects, possibly including da Vinci himself. Passed through the hands of countless kings, dukes, and emperors, we will delve into the triumphant and torrid history of this castle. We will also note the discernible difference between Chambord and Langeais. While the layout is similar to a defensive fortress, with its towers and walls surrounding a keep, Château de Chambord was never intended to act as a defensive structure. Its innovations extend to the interior, which features a double helix staircase that may have been designed by Leonardo Da Vinci.
Take Aways
Each château provides unique insight into the chronological evolution and historical significance of this region. Together, we will reflect upon the architectural elements that characterized the French Renaissance style. Over the course of our walk, we will have seen three excellent examples of royal residences from this period, and will have learned to identify the difference between medieval fortresses and the châteaux of the Renaissance. As our walk comes to a close, we will board the train, traveling from Blois to Paris, leaving the rich beauty of the Loire Valley behind us.
FAQ
Where will I meet the guide?
You will meet your guide at the train station in Paris, and travel together by train to Tours, where you will meet the driver. The guide will then accompany you back to Paris by train at the end of the excursion.


Do you buy tickets ahead of time?
We'll buy your train and castle entrance tickets in advance. You're responsible for the cost of lunch.


Could you buy first-class train tickets?
We normally buy second-class train tickets for the TGV, but if you let us know in advance we can purchase first-class tickets. Please note that the prices fluctuate and we buy them based on availability.
There are 8 in my family but your website won't allow me to include more than 7 participants. Can't you make an exception?
Contact us to discuss the possibility of doing this tour with a larger group and car.


I'd prefer to take a car from Paris, rather than the train. Is this possible?
Please contact us to discuss this possibility and pricing.
Where You'll Start
Tour Experts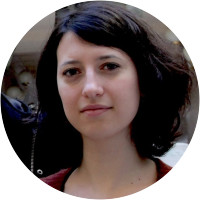 The daughter of a sculptor, Marie has been surrounded by art ever since she was born. A native Parisienne, she holds an undergraduate degree in history and art history, with a specialty in iconography and French and Flemish paintings from the 16th to the 18th centuries. She also holds a Master's degree in museology from the Ecole du Louvre and one in Art History from the Sorbonne. She currently works for the French National Art History Institute on special cultural events. Since she loves literature, ballet, theatre, opera, jazz clubs, and classical concerts—she has been playing the piano since she was 9—Paris and its artistic life are a perfect fit.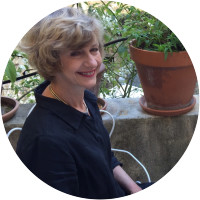 Marie Theres is a painter who has made Paris her home for more than two decades. She works in her studio in Montmartre and shows her paintings in galleries in Europe and the United States. She studied history at the University of Cologne, Germany and painting at the Pennsylvania Academy of Fine Arts in Philadelphia before coming to Paris to study art history at the Ecole de Louvre. Her knowledge of art history is enhanced by her practical painting experience. Beyond a purely academic approach, this enables her to convey the emotional dimension of the artwork and to focus attention on the act of creation. She loves to share her passion for art and painting and is fascinated by the 19th-century artistic heritage of Paris, its art movements, and urbanism.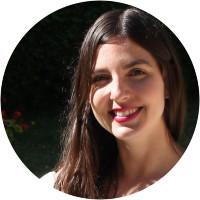 Marine comes from Marseille in the South of France but has been living in Paris for 12 years. A licensed tour guide since 2014, she first studied Art History at the Ecole du Louvre and then History at Nanterre University, from which she was awarded a Master's degree. She also spent a semester in Italy, at the Scuola Normale Superiore di Pisa. In addition to her academic work in history and art history, she has a diploma in enology from the Wine and Spirit Education Trust. Before becoming a tour guide, Marine worked for museums and art foundations. Now, in addition to guiding, she teaches History of Architecture at the Ecole du Louvre. She is passionate about architecture, the history of fashion and street art.
Reviews can only be left by Context customers after they have completed a tour. For more information about our reviews, please see our FAQ.
Marie was very knowledgeable and friendly. Great guide!!
May. 23, 2023
We loved Sylvie! We had so much fun and learned so many interesting things!
Aug. 13, 2021
Sylvie was so friendly and knowledgeable. The tour exceeded our expectations. The train trip was nice. Our driver was very good. We thoroughly enjoyed our day.
Jan. 11, 2020