Tour Details
Tour Description
The first decades of the 20th-century saw Paris become the epicenter of experimentation in art, architecture, and design. In architecture, in particular, cultural dissonance between the past and new realities emerged in the architectural designs of Le Corbusier and Robert Mallet-Stevens, among others. During this 3-hour Paris architecture tour we'll join a practicing architect or architectural historian, to explore the aesthetics of the Modernist movement. This tour will take place in the city's 16th arrondissement and include aspects of Art Nouveau and Art Déco movements, as well as the Villa La Roche & Maison Jeanneret by Le Corbusier
Paris Art Nouveau and Art Déco Tour
Known for its affluent residents and iconic landmarks like Palais Galliera, it's easy to overlook the 16th arrondissement's third draw: its Modernist architecture. This quiet neighborhood is home to the city's unusually rich collection of works designed by the top architects of this period. Our tour will begin at the Palais de Chaillot, taking in the scope of Carlu, Boileau, and Azéma's joint vision. This sleek, late 1930s, modernist reimagining of the original Trocadero Palace, initially built for the 1878 World's Fair, opens our conversation and allows us to define Modernism in contrast to the popular Neoclassicism, Art Nouveau, and Art Déco.


"The concept was novel. We often visit Paris, but we were unaware of its rich collection of modernist architecture! It was thrilling to see Hector Guimard's work and Le Corbusier's 'workshop.' It was as if we were seeing Paris for the first time."
Moving on from this initial large-scale example, we'll continue our exploration by revealing its foundations in Art Nouveau. Here, we will take note of a series of buildings designed by architect Hector Guimard, as well as his famous Paris métro signs, whose lingering presence have contributed to shaping the city's aesthetic. These works will give us a sense of the early triumphs of the period, and reveal the distinct departure from the revival style popular in the 19th-century.


Le Corbusier & Mallet-Stevens
Following our examination of Guimard's contributions, we will work our way to the Villa La Roche & Maison Jeanneret, which were designed by Le Corbusier and now form the home of the Fondation Le Corbusier. Here, we will discuss the architect's profound influence on Parisian architecture, as well as European and American Modernism. We may discuss his proposed contributions to city planning, which he called Ville Contemporaine, or his controversial Plan Voisin, which suggested replacing much of central Paris with modern skyscrapers.


Complementing Le Corbusier's modern vision, we will continue on to view several structures designed by Robert Mallet-Stevens in the mid 1920s on the street to which he gave his name. Striking for their streamlined, boxy design, these buildings stood out from the rest of the city's heavily Haussmannian aesthetic. (To learn more about Baron von Haussmann and the re-making of Paris in the 19th century try our
Paris City Planning Tour
.
Lingering Impact
As our walk comes to a close, we'll reflect upon the hidden structures we've uncovered and come away with an understanding of how these designs set the stage for contemporary architecture.


Note, many clients often pair this tour with one of our modern art walks such as our
Pompidou Center Tour
.
FAQ

Is this seminar walking intensive, and/or wheelchair accessible?
We do cover extensive territory on this tour, some of it by public transport. Additionally, some of the sites we visit are not entirely accessible to wheelchairs. Please contact us with any questions; we will be happy to advise if this tour will be appropriate for you, and can also design a private, customized tour for visitors with mobility concerns.


Where You'll Start
Tour Experts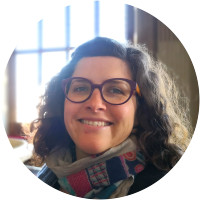 Gwennaëlle was born in the South of France. She has been living in Paris since 2002 and working as a guide since 2008. Ever since she was a child, she has been passionate about art and history and has wanted to become a guide. She studied Art History at the Ecole du Louvre and holds a Ph.D. from the University Paris-Diderot on the history of museums. She is both working as a guide and as an art history teacher in different universities for French and foreign students. She loves Paris and discovering the treasures of Parisian museums and monuments, as well as sharing her passion through visits.
Camille (PhD Art History) has published her first thesis in art history (Sorbonne): L'ameublement d'art français (1850-1900) in 2010. She is writing and teaching about French art history and decorative arts and is continuing her research on the luxury trade in 19th century Paris. Her area of expertise is connected to the history of Paris, the architecture and interiors but also the history of museums. Her approach is focusing on the persistence of 18th century patterns in 19th century France. She has a strong experience in guiding small tours. She has lived in Paris for many years and has returned after living and working in London, notably for the National Trust.
Reviews can only be left by Context customers after they have completed a tour. For more information about our reviews, please see our FAQ.
I may not be objective because architecture is my field. It seemed like there was knowledge there but more generalized rather than specific to the topic. Fine for someone whose knowledge about modernist architecture is non-existent.
Jun. 30, 2017
Nicole G was great and really well informed about her subject matter. It was really interesting and saw tons of great sites we never would have seen otherwise. Wished there were a few more architecture highlights to go with all of the walking, but as it was, this was still an excellent tour. We liked it so much we wanted to see more.
Nov. 27, 2016
Rebecca C was also very enthusiastic and into the subject. I really enjoyed the walk and high level of information which much appreciated.
Jun. 30, 2016