Tour Details
Tour Description
Home to Europe's largest collection of 20th-century art, Centre Pompidou is one of the most-visited museums in the world. On our 2-hour Pompidou Center tour, our docent will peel back the layers of this contemporary pilgrimage site. Illuminating the message behind its unique architectural design, the Parisian avant-garde, and the countless 20th-century masterpieces that make up the museum's permanent collection, we will clarify the dialogue between the art and the cultural events that contributed to its evolution. Perfect for both the art history aficionado and the novice alike, our walk will bring the Centre Pompidou and its stunning highlights to life.
An Innovative Design
We will start at the Place Georges Pompidou, with a brief discussion of the notorious building. Architects Renzo Piano and Richard Rogers turned the typical design of a museum structure on its head. The museum's guts—the elevators, water ducts, air pipes—are made visible, as if the structure had been turned inside-out. These functional aspects can be seen clearly from the exterior of the building and identified by their bold, color-coded paint: blue for air, green for water, red for elevators, yellow for electricity, gray for corridors, and white for the building itself. This immense complex houses not only Paris' impressive collection of 20th-century art, but also a free public library, bookstore, cinema, and a modern, gourmet restaurant with a panoramic view from the building's 6th floor.
Introducing the Avant-Garde
Entering the museum, we will ride one of the exterior escalators to the permanent collection, housed in the building's top two floors. Here, we will begin by exploring the cubist canvases of Pablo Picasso and Georges Braque. Their distinct style ignited curiosity, and subsequently launched the wave of avant-garde movements of the 20th century. We will also consider the oeuvres by Fernand Léger, Henri Matisse, and Piet Mondrian, all of whom reacted to and developed from the Cubist movement.
Dada & the Surreal
Moving on from Cubism, we will look at Francis Picabia. As the primary example of the Parisian strain of the international Dada movement, we'll see how this work transitioned into Surrealism, which is amply represented throughout Centre Pompidou's collection. Finally, we will return to Picasso, who was a fellow follower of the Surrealists in the 1930s, to see how his point of view evolved over time.


"Our docent expertly wove together the historical influences of the various movements in a memorable manner. She didn't just explain the art, but made it come to life!"
Take Aways
We will conclude with a brief examination of some postwar trends and a look at some of the more recent works. Offering us the opportunity to question the avant-garde's contemporary legacy, these contemporary pieces will highlight the importance of Modernism—examined from a different perspective on our Modernist
Paris Architecture Tour
—in context. Together, we'll come away with an understanding of the evolution of 20th-century art and some of the factors contributing to these movements' intrinsic artistic value.
This walk is a great compliment for those who have already taken our
Louvre Tour
and
Musée d'Orsay Tour
, which cover art up to the early 20th-century.
FAQ
Is it possible to view the temporary expositions as well?
Our walk focuses on the museum's permanent collection, but we encourage you to continue your exploration of all of the Centre Pompidou's cultural offerings independently.


Is the Centre Pompidou wheelchair accessible?
The museum is wheelchair accessible and we can request a temporary wheelchair loan from the information desk.


There are 6 in my family but your website won't allow me to include more than 5 participants. Can't you make an exception?
Unfortunately not. The group size restriction is imposed by the museum. If you are interested, we can run several groups simultaneously.
Where You'll Start
Tour Experts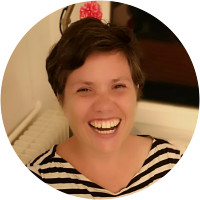 A native Parisian, Laure-Caroline completed her Ph.D. at the Sorbonne, with a focus on Paul Cezanne and other impressionists. She has published many books on these subjects: Lire la peinture de Cezanne (Larousse 2006), Les oeuvres clés de l'Impressionnisme (Larousse 2007), and l'Art Abstrait (Larousse, 2010), Paul Gauguin (Larousse, 2018) and Toulouse-Lautrec( Larousse 2019) in addition to contributing to various French publications on art history. She had taught art history at the Sorbonne University and is currently senior lecturer for French and American universities study abroad programs, such as Sciences Po, and NYU Paris. Laure-caroline is extremely passionate about art and art history and tries to convey this passion to the people she teaches.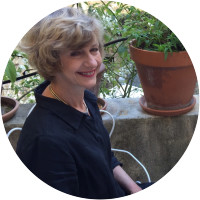 Marie Theres is a painter who has made Paris her home for more than two decades. She works in her studio in Montmartre and shows her paintings in galleries in Europe and the United States. She studied history at the University of Cologne, Germany and painting at the Pennsylvania Academy of Fine Arts in Philadelphia before coming to Paris to study art history at the Ecole de Louvre. Her knowledge of art history is enhanced by her practical painting experience. Beyond a purely academic approach, this enables her to convey the emotional dimension of the artwork and to focus attention on the act of creation. She loves to share her passion for art and painting and is fascinated by the 19th-century artistic heritage of Paris, its art movements, and urbanism.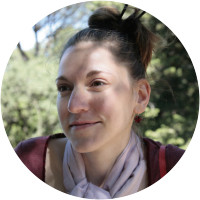 Born and raised abroad, mostly in Asia, Lorraine discovered Paris intimately while studying art history at Ecole du Louvre, a school which holds most of its classes directly in museums and monuments. After several years spent in NYC, getting her Master's degree in Modern Art at Columbia University and working at the Guggenheim Museum, she returned to her adopted city in 2008 to start a PhD. Currently specializing in the history of photography and visual culture, active member of the Laboratoire d'histoire visuelle contemporaine, Lorraine also works as a freelance art critic, teaches art history, and nurtures a few artistic projects of her own.
Reviews can only be left by Context customers after they have completed a tour. For more information about our reviews, please see our FAQ.
Very knowledgeable and informative. Delight personality.
May. 12, 2022
Camilla was very knowledgeable. More info on painting techniques would be great too.
Feb. 25, 2020
Great! She was wonderful and knowledgeable.
Jan. 19, 2020