Tour Details
Tour Description
Intrinsic to the Paris' growth and the heart of this cosmopolitan city, the Seine river serves as the the ultimate reference point for the age-old Left Bank and Right Bank distinction. On this 2.5-hour Paris boat tour you'll take a boat shuttle with a local expert, traveling down the River Seine and learning about the layout of the city and its highlights. This is a perfect orientation to the city for anyone with reduced mobility, families, or those looking to get a city overview at a relaxed pace.
Paris Boat Tour
Over 2,000 years ago, Paris was born as a humble fishing village on the banks of the Seine. Throughout the centuries, the city depended on the river for everything from washing and drinking water to trade and transportation. Even the city's municipal coat of arms, dating back to the 12th-century River Merchants' Guild, features a nautical motif.
On Dry Land
Your tour begins on foot on the the
Île de la Cité
, the oldest part of the city and its geographical center. A small metal plaque, set into the vast cobblestone square in front of Notre Dame (which we visit on our
Notre Dame Tour
), marks the Point Zéro, identifying the island as the city's historic center. Home to many medieval monuments including the Conciergerie, La Sainte Chapelle, and Notre Dame Cathedral, this ancient city center eventually grew into the cosmopolitan hotbed of arts and culture we know today. Here, you will explore how the city expanded from this central point onto both sides of the Seine during its existence as Lutetia, a Roman outpost. You will also look at the importance of Notre Dame and talk a little about its place in Parisian history.
On the Seine
After this initial introduction to the City of Light, you will board the Batobus, a municipal boat service that allows us to see some of the city's most beautiful monuments built on the river's edge. Taking in Paris' landscape from the Seine allows us to reflect on the city's historical progression from a bustling Roman city to France's political and cultural epicenter. One of the first sites you will cruise by is the Musée du Louvre. Once the palace of the kings, you will engage with the immensity and splendor of this former royal residence and may touch on the controversial role of royalty in French history. Now a world-class museum boasting masterpieces like Delacroix's Liberty Leading the People and Da Vinci's Mona Lisa, as well as lesser known yet stunning artifacts, this structure continues to play a significant role in the city's identity.


Following the bend of the river, you will then begin to pass by the structures built for the Expositions Universelles of 1889 and 1900. These elegant constructions were designed to showcase France's progress, and those that remain serve as architectural snapshots of belle époque design. Built close to the river, these stately buildings span a period of over 50 years, the different styles apparent in such buildings as the Musée d'Orsay, the Grand Palais, the Palais de Tokyo, and the Tour Eiffel, bien sur. During the expositions, visitors commuted between the venues by boat, and following their example, you will see these structures from their intended perspective.


"[Our guide] was bubbling with enthusiasm and appreciation for this beautiful city. He showed us favorite hidden spots and an informed view of the traditional highlights. His energy was contagious and his answers to questions very helpful. This is the perfect way to "meet" a new city!"
Take Aways
This tour is accommodating to those looking for a more leisurely pace than our more walking intensive tours. As we float along the river, passing under some of the city's 37 unique bridges, and along the
lively banks
of the Seine you can also use your time with your guide to ask any questions you may have about Paris. This tour should provide a good introduction to Paris and prep for a more in-depth discovery of additional points of interest.
FAQ
When during our stay would you recommend we take this tour?
The Paris by Riverboat tour is ideal for first-time visitors and, serving as an introductory "highlights" tour, is best taken at the start of your stay. It is a great starting off point for a more in-depth discovery of additional points of interest.
What other tours should I take along with Paris by Riverboat?

Any of our museum or food tours would make a great addition to Paris by Riverboat. If you are looking for outdoor walking highlights, we suggest following this tour with one of our neighborhood tours, such as the
Marais Walking Tour
or the
Montmartre Tour with Sacré Coeur
. We do not, however, suggest reserving Paris by Riverboat along with Paris in a Half Day or Paris in a Day. These tours visit largely the same monuments and cover the same topics.
Will we see the Eiffel Tower on this tour?
The iconic Tour Eiffel watches over the City of Light and is visible from multiple vantage points in the city center, most especially the river Seine. We will certainly discuss the history and significance of the tower on our tour, and many experts do choose to end their tour within walking distance of this magnificent site, allowing for independent exploration.


Where do we meet? Where does it end?
The walk begins near the Place Saint-Michel and ends near the Eiffel Tower in the 7th arrondissement.


Will you pre-purchase tickets for the river shuttle?
Yes. We'll pre-purchase 1-day Pass (valid 24 hours) for each participant. Your guide will have the tickets on hand.


What if it's raining?
Tours operate rain or shine, and the boat is covered in glass. It also never hurts to have an umbrella on hand.


Is this tour good for kids?
Yes! We have some excellent family-friendly expert guides who can appeal to the learning styles of children. Please book privately if you have children under 13. Feel free to provide us with information about your children such as favorite school subjects, and hobbies. This way we can match you with the best possible expert.


I understand this tour is done by public boat. What if I want a private boat?
We can arrange this as well on our
Paris by Private Luxury Yacht
tour.
Where You'll Start
Tour Experts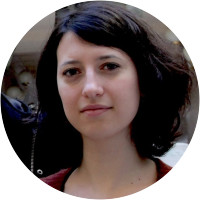 The daughter of a sculptor, Marie has been surrounded by art ever since she was born. A native Parisienne, she holds an undergraduate degree in history and art history, with a specialty in iconography and French and Flemish paintings from the 16th to the 18th centuries. She also holds a Master's degree in museology from the Ecole du Louvre and one in Art History from the Sorbonne. She currently works for the French National Art History Institute on special cultural events. Since she loves literature, ballet, theatre, opera, jazz clubs, and classical concerts—she has been playing the piano since she was 9—Paris and its artistic life are a perfect fit.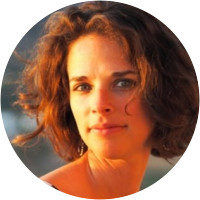 Rebecca was born and raised in London. She fell in love with Paris as a teenager and cultivated her passion for French culture through a study abroad program as an undergraduate art student. She went on to earn her Master's Degree in History of Decorative Arts and Design at New York's Cooper-Hewitt National Design Museum, in partnership with Parsons the New School for Design. Her research in French Art Deco brought her back to the City of Light in 2007, where she has lived and worked ever since. She teaches design studies at Parsons Paris, and translates art and design-related texts for publishing houses, museums and cultural organizations in France and the USA. Rebecca is also a singer, performing and recording regularly with her jazz ensemble, The Chamber Jazz Quintet, and with her husband in their electro-pop duo, Wonder Room.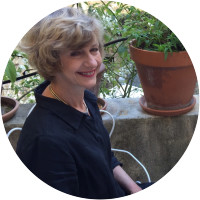 Marie Theres is a painter who has made Paris her home for more than two decades. She works in her studio in Montmartre and shows her paintings in galleries in Europe and the United States. She studied history at the University of Cologne, Germany and painting at the Pennsylvania Academy of Fine Arts in Philadelphia before coming to Paris to study art history at the Ecole de Louvre. Her knowledge of art history is enhanced by her practical painting experience. Beyond a purely academic approach, this enables her to convey the emotional dimension of the artwork and to focus attention on the act of creation. She loves to share her passion for art and painting and is fascinated by the 19th-century artistic heritage of Paris, its art movements, and urbanism.
Reviews can only be left by Context customers after they have completed a tour. For more information about our reviews, please see our FAQ.
I highly recommend Context based on our experience. Rebecca was fantastic! Super knowledgeable, extremely kind and accommodating. It was so much more interesting and efficient than wandering around ourselves trying to figure out what everything was and the background. And she shared insights we never would have found from a guidebook. A truly wonderful experience!
May. 16, 2023
Georgia was great! She spoke to our various levels well
Mar. 29, 2023
Perfect tour - terrific guide - exactly what we were hoping for!! :) :)
Mar. 15, 2023