Tour Details
Tour Description
Meet Dimo, your expert private guide to the history and archaeology of the eternal city. If you're after an exclusive curated experience with an expert guide who will take you through Rome's most famous monuments and sites, this is the perfect in-depth 8-hour tour for you.
With his knowledge of archaeology, ancient art history and Roman architecture, Dimosthenis provides you with an expert and unique perspective on ancient Rome.
During his studies at PhD. from La Sapienza, the University of Rome, he participated in national and international projects as well as several archaeological excavations including the Roman Forum, Palatine Hill, and the Mausoleum of Augustus. Outside of the city, in collaboration with the British School at Rome and the German Institute of Archaeology in Rome, they covered Falacrinae, Segni, and Albano Laziale.
His intriguing work as an archaeologist led him into the fascinating study of Latin epigraphy and Roman pottery as well as researching classical art and architecture. His career has allowed him to study abroad and research in Paris and Athens and explore the interaction between Roman and Greek architecture.
It's safe to say that Dimo is an expert in archaeology, and not only will you have a great time during this specially curated private tour, you will also leave with a deeper knowledge of ancient Rome's fascinating rich history, architecture, and archeology.
Languages: Italian, English, German, Greek.
Sites Visited
Colosseum
Roman Forum
Palatine Hill
Pantheon
Largo di Torre Argentina
Historic District
Mausoleo di Augusto
Included
8-hour private tour with Ph.D. archaeologist, Dimo
Skip-the-line tickets to the Colosseum
Dimo's Roman Itinerary: Highlights of the Ancient World
Dimo has designed this itinerary exclusively for Context and it covers the most spectacular highlights and architectural masterpieces of the ancient city. Join him on this full-day exploration of Rome's archaeology, history, and architecture.
Your day begins at the Colosseum, one of the world's greatest wonders, and learn all about how and why it was built. After, Dimo will take you to the Roman Forum and Palatine Hill to continue your explorations. After a break for lunch nearby at one of his favorite local spots, the tour will continue through the archaeological heart of the city along Via dei Fori Imperiali and towards Piazza Venezia.
Passing by Trajan's Markets (and his mighty Column), we'll discuss the role of public spaces in ancient Rome as we walk towards Largo Argentina, a fascinating archaeological site and the scene of Julius Caesar's assassination in 44 BCE. Dimo will point out the impressive temple architecture and explain the layers of history visible below street level.
Next, at the Pantheon, the learning continues with a focus on the role of architecture during the reigns of Emperor Augustus and Emperor Hadrian and how the surrounding area, the Campus Martius, evolved from swampland to battle training ground. We will stop for an afternoon coffee or gelato while we enjoy a stroll in one of the most elegant areas of the modern city rich with ancient historical landmarks, from ancient Roman construction to Renaissance residences to opulent Baroque churches.
We will end our day together at the site of the Mausoleum of Augustus and visit this monument from the outside and place it in historical context. Surrounded by Mussolini's Fascist era architecture, you will come away with a deep and fascinating understanding of how the pieces of ancient Rome interconnect with the modern metropolis, drawing on Dimo's deep love for the history and archeology of the eternal city.
FAQ
For more information about Context tours, please visit
our FAQs
.
Book with confidence — see Context's flexible cancellation policy
here
.
Where do we meet? Where does the tour end?
We meet in front of the Oppio Caffè, which is located at Via delle Terme di Tito #72 and ends at the Mausoleum of Augustus. Your confirmation email will have the exact meeting point details along with a map, and a 24-hour phone number for any last-minute issues.
Can I change the itinerary with Dimo?
The published itinerary represents Dimo's favorite way to visit Rome. If you would like to customize the experience, please contact us and we will be happy to discuss options and pricing with you.
Is this tour suitable for children and/or clients with mobility challenges?
Yes. We can adapt the itinerary based on the ages, needs, and interests of travelers in your party.
What is included in the itinerary?
Rome private guide itineraries include the cost of your time with your expert and usually include museum or monument entrance tickets. Lunch and refreshments are at your expense. Accommodation is not included.
Does Context offer Pre-Travel seminars about Rome?
Yes! Dimo would be delighted to meet you virtually, prior to your travel. To explore our available virtual learning pathways,
please click here.
Do we buy children's passes?
We only buy adult tickets for our Colosseum tours because people with reduced tickets have to wait in a different line to go to the cash desk and show their ID. In order to save time, we purchase skip-the-line tickets so families may enter as quickly as possible.
Can Roma Passes be used?
We don't accept Roma Pass; holders have to wait in a different line and won't be able to access priority tickets, so they cannot be used on this tour.

Do you reserve headsets for this tour?
Depending on your group size, we may be required by the venue to order headsets in which case you'll see a "Headset Fee" added to your order. If you would like to guarantee headsets for your tour regardless of your group size, please email us and we'll be happy to get them reserved for you.
Where You'll Start
Tour Experts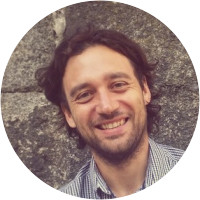 During his university studies at "La Sapienza" in Rome, Dimosthenis participated in several national and international projects, such as the study of Latin epigraphy and Roman pottery as well as various archaeological excavations in different areas of Rome (Roman Forum, Palatine, Mausoleum of Augustus). His work as an archaeologist brought him to carry out research in classical art and architecture, exploring in particular the relationship between iconography and architecture as ancient Greek and Roman artistic expressions. Dimosthenis completed his Ph.D. with a thesis on temple architecture in the Italian peninsula during the Republican period. This topic became his area of expertise. His knowledge of archaeology, ancient art history and Roman architecture is the key that he uses to share his unique perspective on the Eternal City.
Reviews can only be left by Context customers after they have completed a tour. For more information about our reviews, please see our FAQ.
Dimo explained the history of the Colosseum with so much detail and energy. He was also willing to speak with Italian with me and that made the experience even more memorable.
Jun. 9, 2022
Dimo was a fantastic guide, and our tour turned out to be one of the main highlights of our trip. His seemingly endless knowledge made each location a fascinating visit. He had a tremendous amount of patience, and tried to answer each and every one of our questions as thoughtfully as possible. His passion for Rome and history was infectious and a delight to be around. We would recommend the experience to anyone we know travelling to Rome in the future.
Mar. 22, 2022
Dimo was fantastic. He is extremely knowledgeable about Rome and its archaeology, and we walked away from our tour with extensive knowledge about the Colosseum, the Roman forum, and how Ancient Rome interacts with the modern city. He was very patient with us and answered every one of our questions with thought and care. After our tour, I feel that we can start to identify parts of historical Rome for ourselves, and our curiosity about this city has grown. We would recommend him enthusiastically to anyone interested in learning about Ancient Rome's extensive history, archaeology, and progression to present day.
Aug. 12, 2021
Rome with Dimo
Get to know Dimo, Rome archaeologist