Tour Details
Photos & Highlights
Get acquainted with Sicily's main sites, history, and neighborhoods
Led by a family-friendly expert in history or local culture
Neapolis, Piazza Duomo, Apollo Temple, Fountain of Arethusa, Valley of the Temples, Capo Market, Oratory of Santa Cita, Piazza Marina, and Your choice of sites
Tour Description
Explore the beauty of Sicily with your younger learners on this private Sicily for Families, discovering the main historical and cultural sites geared towards kids in this spectacular region of Italy. These tours, led by a scholar trained to work with children, are adaptable to your specific interests and needs. Choose between an adventure of Palermo, Agrigento or Syracuse (or a combination of all three!)

Whether you already have something in mind or want help crafting something entirely new, our dedicated planning specialists are on hand to make the most of your travels. Context planners, all travelers in their own right and experts in their dedicated territory, will partner with you to create an itinerary suited exactly to your needs and schedule.

Important: Please let us know at checkout which tour option (Palermo, Agrigento or Syracuse) you would like to book. If you would like to book all 3, please let us know your preferred dates. We'd be happy to arrange 3+ days of family touring for you and your kids!
Sites Visited
Palermo OR Agrigento OR Syracuse
Included
3 or 3.5 hours with a family-friendly expert guide
Itinerary Inspiration
For those unsure of exactly what they'd like to do, below are
example
itineraries to ignite your imagination. Another good place to start brainstorming is with a perusal of our other private and small-group
Sicily tour options
:
Palermo Tour for Kids: Playing with Art, Food and Tradition - 3 hours
This itinerary is designed for families who want to explore Palermo's multifaceted historical center. We begin our stroll at the Capo market, one of the city's four historic markets where children are given a "food buster" card, giving them a sense of adventure as they go about exploring the market. As they walk through the colorful stands, children need to identify the various products that are on their card. Your expert guide will then mark each product the children identify. With your guide, this part of the tour will expose children to a variety of typical foods from the Mediterranean, and to introduce them to culinary differences between countries. At the end, the children receive a prize when their foodbuster has been successfully completed.
After the market, we stop at one of the city's most acclaimed gelateria to sample some local gelato. Afterward, we will visit a historic oratory decorated with stuccos designed by Giacomo Serpotta. Here the children can take part in another treasure hunt with the assistance of your guide. At the oratory, they'll attempt to recognize some particularly fun stucco putti, and complete their putti drawings. For the last section, your expert guide takes you to Piazza Marina, which is mainly occupied by the Garibaldi garden with fine palms and gigantic ficus Magnolia with the imposing 14th century Palazzo Chiaramonte. After this morning of fun, the children have the opportunity to enjoy a picnic, sampling the various foods they will have picked up throughout their walk at the Capo Market.
Please note: The itinerary and activities in this walk are designed for families with children between the ages of 6 and 10 years old.
Agrigento Tour for Kids - 3 hours
The itinerary for our Agrigento for Families tour aims to raise kids' curiosity and perceptiveness towards archaeological sites. Agrigento's Valley of the Temples boasts superb archaeological remains and an incredible landscape. The Greek colony of Akragas is a perfect archaeological experience for both children and adults. The site has been a UNESCO World Heritage Site from 1997 and hosts the ancient acropolis, filled with sacred buildings perfectly restored and surrounded by impressive defensive walls.
With your family-friendly guide, who has a background in archaeology, the children joining the walk will learn to reconstruct the past, looking for clues and artifacts within the Valley of the Temples. Provided with a map and a compass, children learn to orient themselves. Using flashcards, they identify key temples and collect information about the history of the site. Our young archaeologists also learn to recognize the architectonic pieces and the sculptures that used to be part of the same temple. Your expert guide will elaborate on the use of colors in Greek architecture, showing the kinds of natural pigments that were used. Lastly, the tour concludes near the ruins of the Temple of Jupiter, in the shade of centenary-old olive trees, where our young explorers will indulge in some delicious local ricotta sweets or granita.
Syracuse Tour for Kids: Archaeology, Myths, and Adventures in Syracuse - 3.5 hours
This tour is designed for children and their parents, who will equally benefit from the experience. Your guide, who will be an archaeologist or local historians with knowledge of the archaeological museums and parks will use various visual clues to make the ancient history of Syracuse and Greek mythology come to life.
The Greek theatre is carved right into the rocks and is surrounded by superb pine trees and their clicking cicada. The famous "Ear of Dionysus," a prison used by the tyrant Dionysus, is a majestic cave that resembles an ear and has remarkable acoustics. While enjoying the spacious park, children learn about Greek and Roman theatres, pagan religion, fights between animals and gladiators, secret underground passages connecting the different areas of the ancient city, and much more. Following this visit, you will then move on with your expert guide to the nearby islet of Ortigia, which hosts some of Syracuse's most representative and important buildings, including; Doric Temples, Gothic churches and baroque palazzi. Within those ancient streets and alleys ancient divinities, as well as legendary heroes and monsters, hide.
This family walk will expose your children to some of the myths and legends that inhabit the streets of Ortigia. The walk, with support from your expert guide, will enable them to become familiar with the most popular divinities of Olympia such as Apollo, Athena, and Artemis. Walking Ortigia's streets, you will also discover Arethusa, the nymph of Syracuse, together with her eternal companion Alpheus, and fight off Medusa with the help of Pegasus and Perseus. By the end of the tour, you and your children will understand why Sicily was once known as "Trinacria".
FAQ
What is a private tour?
Our private tours are limited exclusively to travelers in your party. They are designed to provide a learning experience that is completely tailored to you and your traveling companions. Private tours give you more flexibility with scheduling (you decide when the walk best fits in your trip), the ability to tailor your itinerary (we'll work to match the itinerary to the interests and dynamics of your group), and more personalized time with your guide.
Where do we meet? Where does it end?
This will depend on which itinerary you choose. Your confirmation email will have the exact meeting point details along with a map, and 24-hour phone number for any last-minute issues.
What if it's raining?
Tours operate rain or shine, but in the case of inclement weather, your expert will modify the tour so more time is spent indoors. It never hurts to be prepared; we encourage keeping an eye on the weather and bringing along an umbrella, sunscreen, water, or a hat as needed.
Who leads this tour?
We work with experts who are great with kids and younger learners.


Is this tour walking intensive, and/or wheelchair accessible?
We do cover quite a bit of ground on this tour and therefore we recommend contacting us with any mobility questions; we will be happy to advise if the itinerary will be appropriate for you or propose modifications where necessary. Please feel free to contact us.
Where You'll Start
Tour Experts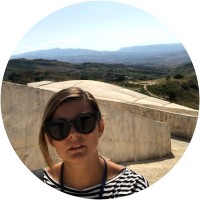 Rachele has a degree in History of Art from the University of Palermo. Her dissertation was on Gender and Racial Studies in the feminist movement. After University, she completed a Master degree on Museum Organization and Management at the Cattolica University in Milan. At the same time she completed a four- month stage at the Museum of Contemporary Art " Villa Zito" in Palermo where she reorganized the main picture gallery.Rachele is a member of Associazione Osservatorio Outsider Art and she has delivered lectures on such topics as naif painters in Sicily and Puglia.Occasionally, she contributes to the organization of Art events at the local Gallery "Beatrice ", at Palazzo Sambuca, that specializes in late nineteenth- century Sicilian and Neapolitan painting.An area in which she has proved particularly successful is dealing with groups of children or elementary-school students. She has joined in an initiative taken by the local administration meant to show junior citizens the most outstanding landmarks of the area they live in.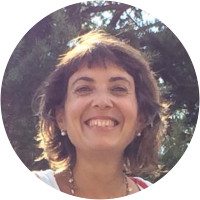 Lucia studied Conservation of Cultural Heritage at the University of Agrigento, then she moved to Rome to focus her studies in Christian Archaeology at the Vatican Institute Pontificio Istituto di Archeologia Cristiana. She worked as an archaeologist in Rome, in Puglia (southern Italy), in Corsica and of course in Sicily. She published scientific papers in the course of her career, and presented her research at various conferences, among which at the XV International Congress of Christian Archeology in Toledo. She is now settled in Syracuse, where she shares her passion for archaeology and her city with travelers. She enjoys being with kids and she leads children centered tours in Syracuse.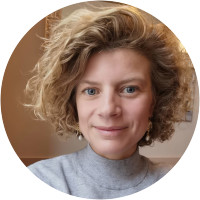 Alice holds a degree in Classics from the University of Bologna and a postgraduate master degree in Art History and Archaeology from the Ecole Pratique des Hautes Etudes, Paris. She has been working for many years as a field archaeologist. Since the beginning of her career, her main goal has always been to make archaeology and art more approachable to the general public. Her long experience as a museum educator gave her the right training to work easily both with children and adults. She likes to see herself as an enthusiast and passionate ambassadress of Sicily' s cultural heritage.