Tour Details
Tour Description
Scandinavian society as a whole is often viewed from the outside as a progressive Utopia. To what extent is that stereotype true? On this Swedish Socialism Tour we critically assess some Swedish stereotypes in the company of a local expert, using the Klara, Stockholm district in the borough of Norrmalm as a backdrop for discussion. The renovation of the district was among the most emphatic in postwar Europe and part of the biggest ever building program in Sweden. Together, we'll discover the architecture of the modern Swedish welfare state, the cultural idea of Sweden, and explore the city through the lens of Sweden today.
Trade Routes, Tracing Roots
Beginning at the epicenter of Stockholm's transportation network, Central Station, we'll find ourselves equally so at the hub of the modern-day city. First, we'll briefly place Stockholm's history in context, linking the sleek city that we see today with the first trading post settlements of Gamla stan and the suburban expansion to Norrmalm, the district in which today's Central Station is located. Together, we'll start to stroll the streets of the old district sometimes known as Klara and peel back the layers of its story.


For a closer look at the city's history, try our
Gamla stan Tour
, exploring Sweden's Old Town.
Klara, Stockholm
Along the way, we'll spot landmarks like the Klara Church, the ancient monastery and house of worship which gave this area its nickname. As we take in its medieval Northern architecture, complete with red brick and sharp-spired turrets that pierce the sky, the meaning behind this towering site will guide our discussion of the area's structural renovation: progressive renewal or disregard of heritage buildings?
Stockholm's Mod Facelift
Moving further through Klara and towards Sergels torg, we'll see how the church stands alone in this area, one final bastion of visible ancient history. The landscape around us will swiftly progress to the 20th century, giving us the opportunity to examine pervasive external stereotypes about Swedish social systems, governance, and everyday life today. At bustling Sergels torg, bordered by institutions like the Kulturhuset (House of Culture) and the Stockholm City Theater, we'll stand in this truly modern square and consider how it contrasts with what might once have been, when Stockholm was a waypoint for merchants transporting valuable goods or during its renaissance as a cultural cosmopolitan destination, dating back decades but accelerating towards the 20th century.
Sampling Stockholm's International Side
We'll also save time for a nibble at Hötorget Saluhall, the site of a market hall that has been providing local producers with a space to offer their wares since the late-19th century. Today, it's a smorgasbord of cuisines from around the world, and we'll pass all kinds of vendors. For those ready to taste Stockholm's cuisine, this is the place to sample a local delicacy or two—perhaps smoked salmon, cheese pastry, or one of the three versions of the infamous traditional herring: pickled, with mustard, or simply raw.


Swedish Socialism Tour
Before our walk draws to a close, we will have looked at Norrmalm, and Klara in particular, through the eyes of a local expert who can help us to unlock its stories and secrets: of 1960s-era developers reimagining their city's mercantile roots as foundation for a glossy commercial district, of architecting urban change on a massive scale, and more broadly, of what insight this can give us into Swedes and their social and cultural values.
Where You'll Start
Tour Experts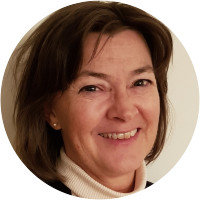 Karin grew up in the Stockholm area and spent her studying years in Uppsala, a university town one hour north of Stockholm, before deciding to move back to the capital. She holds an MA in Languages Education and has been teaching English and French in Swedish schools for about 30 years. To improve her language skills and knowledge of different cultures, she spent time working and studying in the UK, France, Switzerland, and the USA. During her years of studies in Uppsala, she also took some time off to work as a tour leader in Brussels, Paris, and on the Channel island of Jersey. More recently, during the summer holidays, she has hosted passengers traveling through the 58 locks of the Göta Canal, a waterway between the two cities of Stockholm and Göteborg, known as "The Blue Ribbon". Besides her background in linguistics and culture, her interests are music, dance, art and spending time with friends and family. Working as a qualified Stockholm guide constantly gives her plenty of new discoveries and knowledge about her city.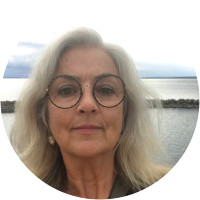 Tina was born in Stockholm by an English mother and Swedish father and has lived in the heart of the city since her early teens. She carries a BA in Cultural Studies from the University of Stockholm and is qualified as a guide by the City of Stockholm in English and Swedish. Tina has a passion for the arts and history and long experience of working in the cultural field, promoting, producing, as well as working professionally as a web editor and in marketing and media relations. The spring term of 2021 Tina updated her Stockholm history with a course at the University of Stockholm. Tina is also passionate about sustainable living and is very happy spending time outdoors any season, preferably walking or using the great public transport system. In her free time she enjoys meeting up with friends and family and keeping up with all that goes on. Tina is a curious person who loves to share her time and passions with visitors to Stockholm.
Reviews can only be left by Context customers after they have completed a tour. For more information about our reviews, please see our FAQ.
Tina was very knowledgeable and outgoing Represented her city and country well Friendly ambassador
Mar. 31, 2018
Excellent and learned a lot as usual. The docent was able to tailor the tour to what we were interested in since it was a small group of 3. Thanks again for an awesome experience!
Apr. 3, 2017