Tour Details
Tour Description
Meet Sara G, an expert who has been leading Context travelers through both the highlights and deeper secrets of Venetian art since 2016.

Following her postgraduate studies in art history, Sara gained a professional license in art conservation at the Venetian Institute for Cultural Heritage. Her dual fields of study enabled her to deepen her expertise in the artistic techniques and the modern conservation methodologies of the cultural heritage. She now owns a restoration laboratory where she operates on oil paintings on canvas and polychromed wood sculptures.


A Journey Back in Time

Our full-day itinerary with Sara begins at St. Mark's Square, with a journey into the Doge's Palace right as its doors are opening for the day's guests. This palace served as a seat of government and as the home of the Doge of Venice, an elected official who ruled for life over the Republic of Venice. Following an orientation to the Venetian republic's political systems, we will move deeper into the palace's complex labyrinth of meeting rooms as we gain an understanding of the role that various doges across time played in the republic's commerce and trade network.

Once we have a foundational understanding of the palace, Sara will direct our attention to the many priceless artworks, artifacts, and frescoes that adorn this splendid complex. Throughout our day together we will pay special attention to the works of Titian and Tintoretto.

Following a pause for lunch near the Rialto Market, we will venture towards the Frari Church–one of the city's largest churches. As we tour this beautiful basilica, Sara will contextualize two major altarpieces by Titian, the Assumption of the Virgin and the Pesaro Madonna. As we journey through the afternoon, we'll notice that the artworks we experience together were created by the same artists featured within the Doge's Palace, but their works convey alternative messaging.

Artworks in Doge's Palace were commissioned as a display of political propaganda. But within the Frari Church and Scuola Grande di San Rocco, Titian and Tintoretto struck a much different chord for their viewers–creating masterpieces that embody theological devotion, the city's noble families, and the friendly competition of Venetian merchant cohorts.

To conclude our journey through the heart of Venice, Sara will lead us on a tour of Scuola Grande di San Rocco. Within these hallowed halls, the finest Venetian painters honed their skills and went on to commissions elsewhere. Thanks to her extensive knowledge of art conservation, Sara will elaborate upon the conservational challenges facing the caretakers of this priceless collection.


FAQ

What is a private tour?
Our private tours are limited exclusively to travelers in your party. They are designed to provide a learning experience that is completely tailored to you and your traveling companions. Private tours give you more flexibility with scheduling (you decide when the walk best fits in your trip), the ability to tailor your itinerary (we'll work to match the itinerary to the interests and dynamics of your group), and more personalized time with your guide.

What is included in the itinerary?
Our Venice Private Guide itineraries include the cost of your time with your private guide and usually include museum or monument entrance tickets. Lunch and refreshments are at your expense. Accommodation is not included.

Does Context offer Pre-Travel seminars about Venice?
Yes! Sara would be delighted to meet you virtually, prior to your travel. To explore our available virtual learning pathways,
please click here.

Where do we meet? Where does it end?
Sara's tour will meet at St. Mark's Square and end near Scuola Grande di San Rocco in the San Polo 'sestiere" of Venice. Your confirmation email will have the exact meeting point details along with a map.

What if it's raining?
Tours operate rain or shine, but in the case of inclement weather, your expert will modify the tour so more time is spent indoors. It never hurts to be prepared; we encourage keeping an eye on the weather and bringing along an umbrella, sunscreen, water, or a hat as needed.
Where You'll Start
Tour Experts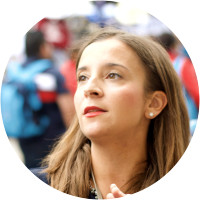 After her postgraduate studies in Art History at the Ca' Foscari University of Venice and at the University of Padua, Sara took up the charming road of restoration, getting her professional license at the Venetian Institute for Cultural Heritage (IVBC), again in Venice. This dual path between Art History and Art Conservation enabled her to deepen her expertise in the artistic techniques and the modern conservation methodologies of the cultural heritage. She owns a restoration laboratory where she operates on oil paintings on canvas and polychromed wood sculptures. The passion for her country and for the city of Venice has prompted her to research on particular themes, such as the Venetian painting of the XVIII century and the Venetian villas in the mainland countryside. She is authentically fond of museums and churches, too. Spending some time with her in Venice means getting to know the magnificent artistic heritage that is spread throughout the city. Guests are generally fascinated by her descriptions about how Venetians were able to mount a huge gilded ceiling, to stretch the largest paintings in the world, to move monumental columns from one side to the other of the Mediterranean Sea, to patiently position thousands of mosaic tiles. She is mother of two young children, and she does know that each family member has different needs. She boasts more than 10-year-long experience in museum education. Therefore, she accompanies with pleasure families that visit Venice, who are for her a stimulating challenge.
Reviews can only be left by Context customers after they have completed a tour. For more information about our reviews, please see our FAQ.
Sara was an excellent guide through the art and history of Venice.
Mar. 7, 2023
Sarah was amazing she brought insight and knowledge to old art that we would not have fully enjoyed without her
Oct. 11, 2022
Sara was one of the best guides we ever had. She has an encyclopedic knowledge of the art and history of Venice which she conveys in a fascinating and un intimidating fashion. Unlike most she goes well beyond the bare facts of a work but also explains how it fits into a larger history of the development of art, how to "understand" it's message and why it was important. She was a splendid companion to spend the day; we most strongly recommend her to be your guide when visiting Venice.
Jun. 15, 2022