Duration

1 hour and 25 minutes
Lecture Details
Photos & Highlights
Presented by the same world-class experts as our walking tours, Context Lectures highlight must-see attractions, reveal hidden landmarks, and explore the best things to do during your trip so you don't miss a thing.
Lecture Description
As Homer once described it, this captivating island sits amidst the "wine-dark sea," offering a unique blend of landscapes that have enchanted travelers for centuries. From majestic snow-capped mountains and deep ravines to fertile valleys, olive groves, and sandy beaches with crystal clear waters, Crete's natural beauty enchants all who wander its diverse terrain. Embark on a journey through time and mythology, as you explore the ancient birthplace of Zeus and the enigmatic civilization of the Minoans. Delve into Crete's rich history and cultural tapestry, a reflection of the many civilizations that have graced its shores over millennia.


With each segment of this lecture, immerse yourself in the allure of this captivating island, where history and nature coalesce to create an unforgettable experience. Discover the wonders of Crete, where ancient tales blend seamlessly with the contemporary charm of its towns and villages. Embrace the spirit of adventure and exploration, as you uncover the secrets of this Mediterranean gem.
Meet Your Expert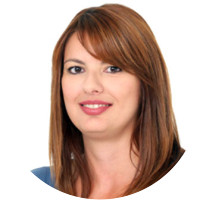 Dimitra is an archaeologist with a Master's degree focused on Minoan civilization. She is originally from Athens and moved to Crete to study it's wealth of history. She has been working both as a licensed guide and archaeologist for more than 15 years. She has excavated in sites all over Greece such as Akrotiri in Santorini, the Temple of Apollo in the Cyclades, Minoan settlements & tombs around Knossos & Phaistos, a Hellenistic town and a Roman cemetery in Crete, a Neolithic setllement in Northern Greece and Geometric & Roman finds in Athens. She represented the University of Athens in a post graduate seminar in the International Olympic Academy at Olympia where she gave a lecture on the Ancient Olympic Games to students from all over the world. As a tourist guide she has been giving tours to students from schools, colleges and universities from USA, Great Britain & Australia as well as individual travelers, families & VIPs including ambassadors & the Vice-president of China. She has appeared as a specialised Minoan archaeologist in two documentaries about the Minoan civilization on Travel Channel and History Channel.
Crete's amazing scenery was the backdrop of Europe's first advanced civilization, the Minoans. They graced the island with their extraordinary palaces destined to become in the course of millennia the stuff of myths and legends. Greeks, Romans, Byzantines, Arabs, Venetians, Ottomans followed and left their imprint on the culture of the only island that has been a part of every single empire. 

Charming, picturesque villages harmoniously coexist with ancient Greek and Roman ruins, Venetian castles, and Ottoman minarets. Amidst this extraordinary blend of natural beauty and Crete's history, the Cretan people, proud of their island's heritage, are extraordinarily open-hearted and hospitable: real children of ''Xenios" Zeus, the God of hospitality, who was born on Crete and never left.


Led by an expert on Crete's history, archaeology, and culture, Dimitra Pilarinou, this lecture will offer a thorough introduction to the island of Crete: its landscape, history, culture, gastronomy, towns, and villages. Designed to inform curiosity and future travels, participants will come away with an increased knowledge of the wonders that Crete has to offer.
How do I access the lecture?
Once you complete your purchase, you will receive an email with a link to stream the lecture on the Context Travel website. You can also access your past purchases anytime under
My Orders
. Please ensure you are logged into your account to open the streaming page. 
Is closed captioning (i.e. subtitles) available?
Yes! All of our lectures have the option to turn on closed captioning should you have difficulty hearing the expert.
How long does each event last?
Our recorded lectures typically run for 60 minutes.
How can I share this lecture with friends or family?
You are welcome to watch together with friends or family but each person viewing on their own device will need to purchase the lecture individually.
How long does my access to the lecture last?
Once you purchase a lecture, you are welcome to view it as many times as you like and your access does not expire.
What is your cancellation and refund policy?
Sales for recorded lectures are final upon purchase. Please contact us at
digital@contexttravel.com
if you have any questions or concerns about your purchase.
Can I purchase a gift card for a friend who is traveling?
Absolutely! Gift cards can be
purchased here
. Gift cards are good for 365 days from the date of purchase.
Reviews can only be left by Context customers after they have completed a tour. For more information about our reviews, please see our FAQ.
Dimitra did a wonderful job of providing an overview of Crete -- the topography, natural resources, history, culture -- and all the enticing reasons to visit different places. We are planning a 10-day/2 week trip there in the spring, so this was helpful. But some of the most helpful information for us came in the few minutes at the end of the talk: how much time does one need to really feel that they have had a chance to "see" and experience Crete; how to organize the time one has, so one is not flitting from location to locations. And where to stay, in how many locations (when one is trying to minimize the number of times one has to relocate). Earlier presentation of this information, and more information of this type, would be really helpful to us.
Nov. 25, 2023
Once again, Dimitra does an amazing job of presenting the highlights, adding context to make the information fascinating and meaningful.
Apr. 23, 2023
This was a great presentation. Dimitra a fantastic presenter
Apr. 23, 2023